Taking The Toddler Trampolining at Jump 360
January 20, 2020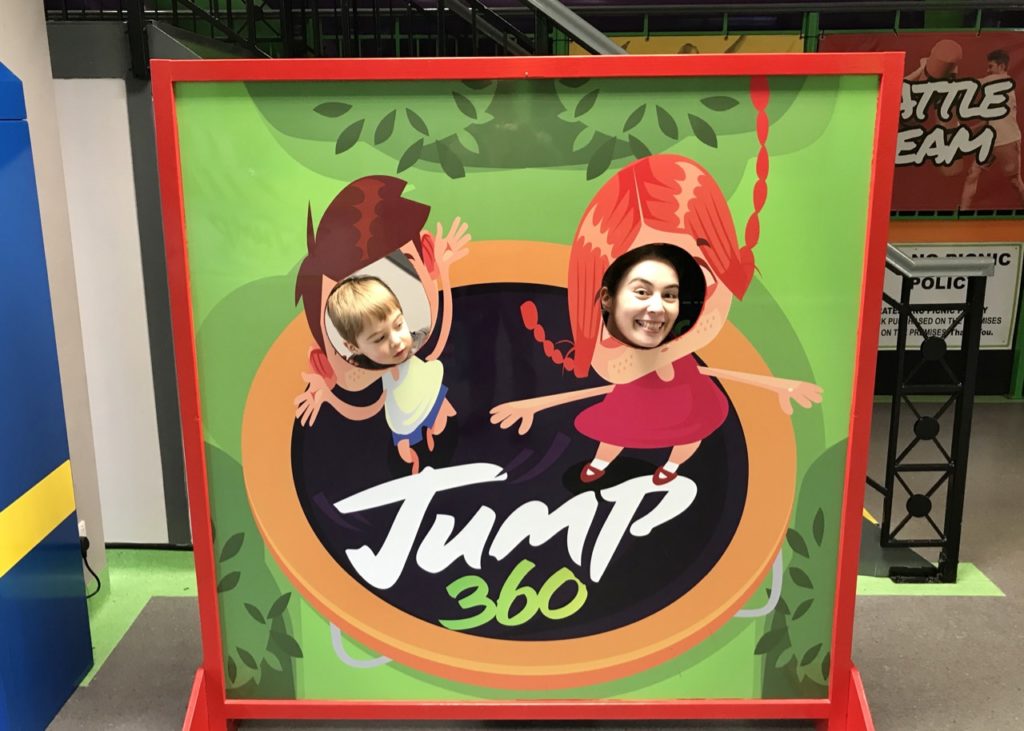 DISCLOSURE: AD / This post was made possible by a paid for visit to JUMP 360. All imagery, wording and opinion expressed is my own.
If there's one thing I've learnt having a toddler, it's that they need exercise. I make it sound like they're dogs but, in that respect, they're not too dissimilar. Speaking of my own (almost) three year old, if he doesn't get his daily dose of physical activity and burn his energy, the day's not done. And that's no fun for anyone.
Last week I received an invitation for a family day out trampolining at Jump 360, a small chain of trampoline parks in the North East. Always looking for new experiences to thrill our Duracell Bunny, I thought it was a pretty cool idea.
Choosing the closest of the venues, Stockton on Tees, I discovered the park runs various sessions to suit everyone. With options including additional needs hours, teen nights, adults only and family sessions, I went for the toddler friendly slot called Jump Junior.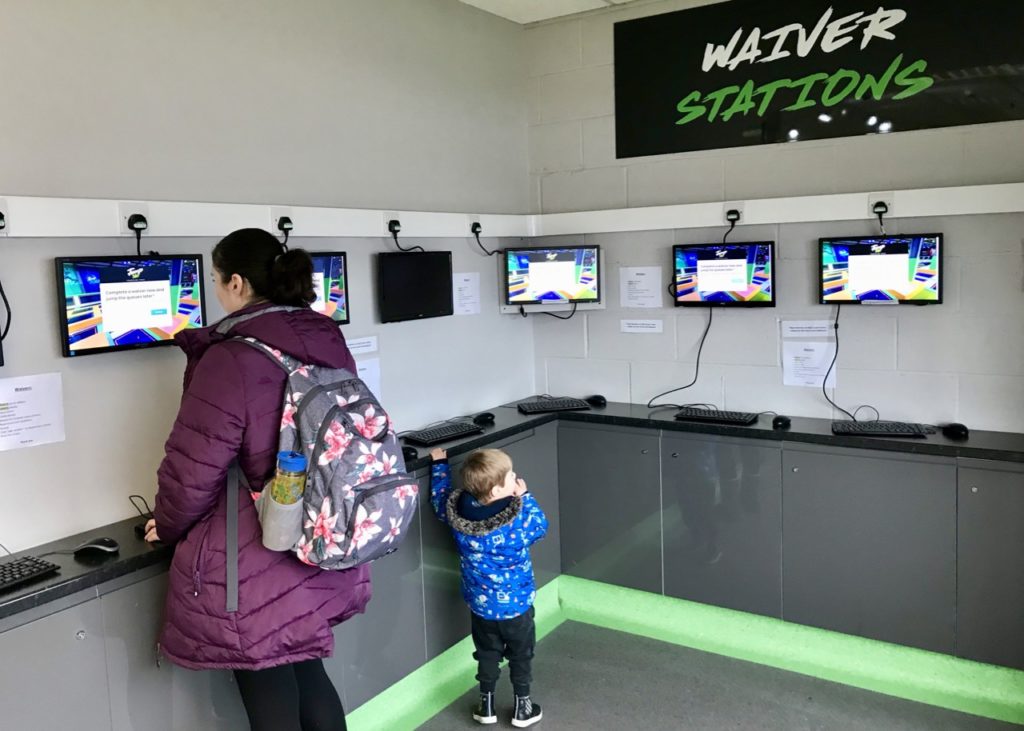 CHECKING IN
We arrived at Jump 360 about fifteen minutes before our 12pm session so we had plenty time to get ourselves ready. At the checking in desk we were asked to complete waivers by entering our details on computers around the corner, and then assigned our coloured wristbands before being sent onto the waiting room.
Realising everyone in the room was wearing special Jump 360 socks – short trainer style socks with branded grippy soles – and we didn't have any, we popped back to the reception to ask for some. Costing £2 a pair, our sizes were catered for – mens size 9, ladies 6 and infant 6 – and they fit snugly. Back in the waiting room we were given a short health and safety briefing before being released into the park for our hour of fun.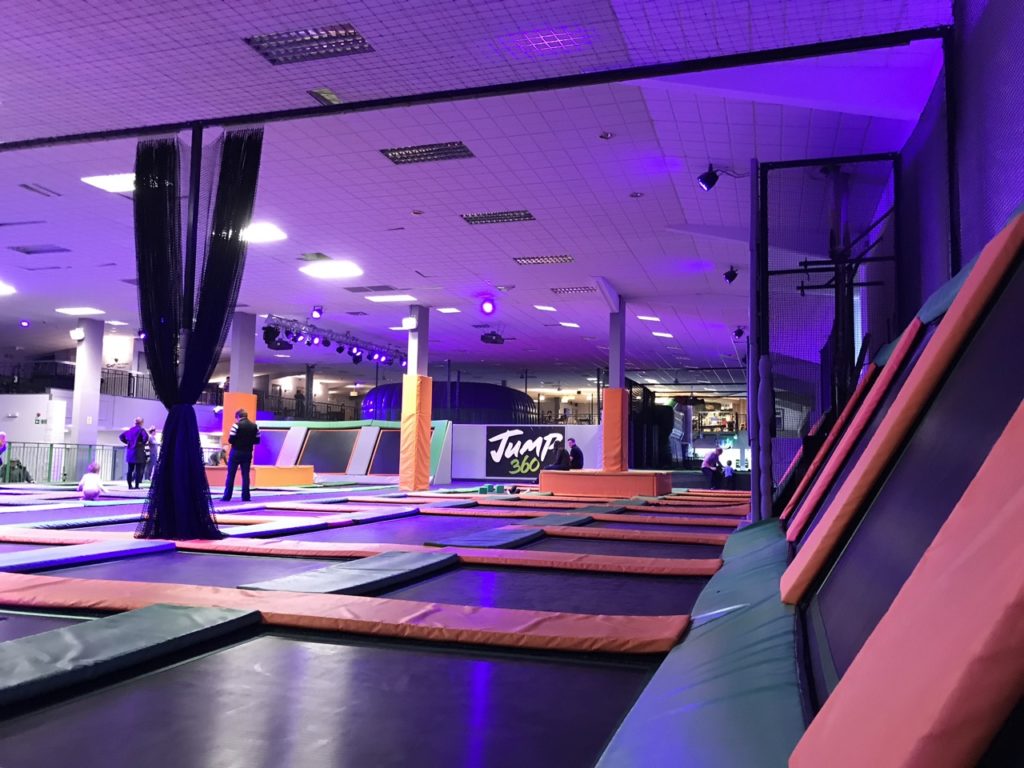 THE TRAMPOLINE COURT
The park is divided into two main zones, with the main trampoline court to the right side, and a 'bouncy castle' style inflatable zone to the left.
Within the main park, there's a range of trampoline based areas. Dotted around the vast open space, over 100 trampolines covered the court, each divided by padded bumpers and cushioned flooring. Ball game courts for dodgeball, football and basketball were available to use, although while we were there for the toddler Jump Junior session, not all the facilities were available for safety reasons.
The foam pits with battle beam and giant air bag wouldn't have been suitable for tots to play in, although they weren't cordoned off areas. Every now and then I'd eyeball a stray toddler find their way into the air bag situated to the corner of the room just off the basketball courts, and it was quite frightening to see how far the little ones dropped down into it, so it was just as well their parents were there to fish them out.
Because the toddlers didn't have the foam pits to play in, the staff had brought out some of the foam cubes so the kids could at least play with them on the trampolines. Reuben delighted in collecting the cubes and stacking them up so he could knock them down as he'd launch himself into them. And even when staff were tidying up at the end of the session, he happily helped out throwing the foam back into the pit.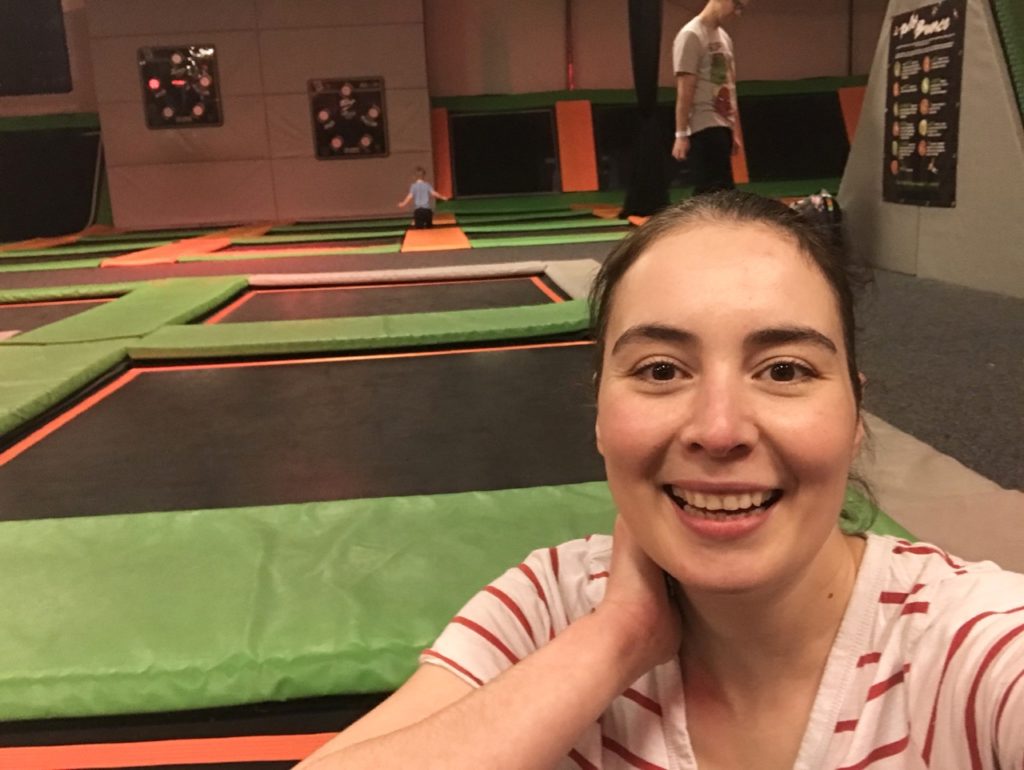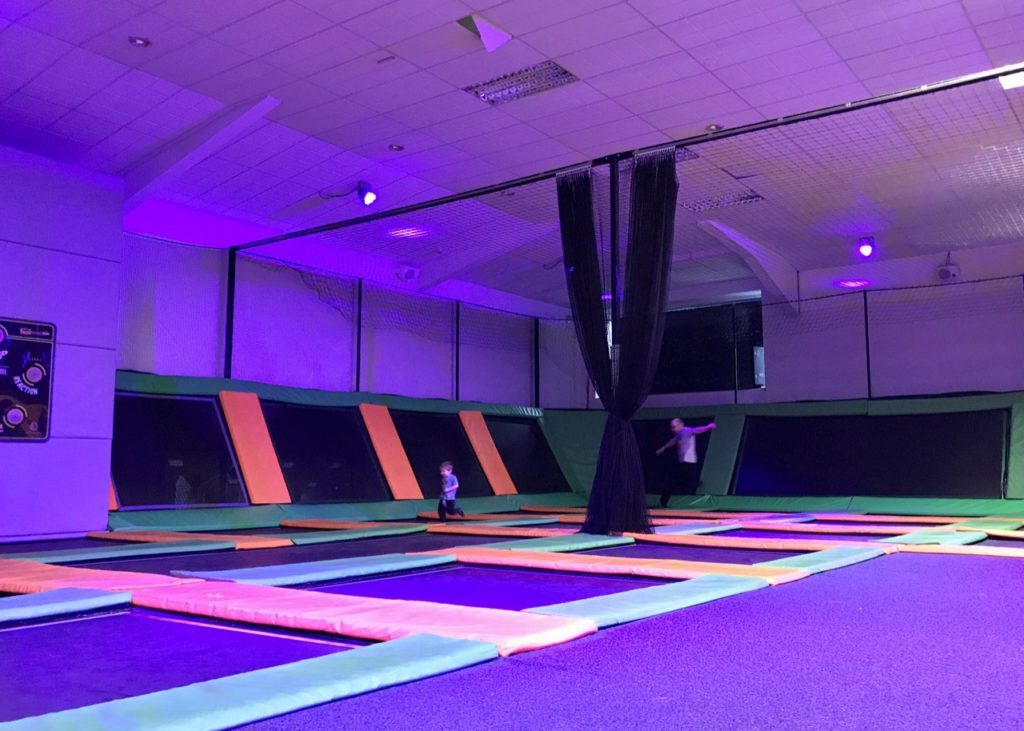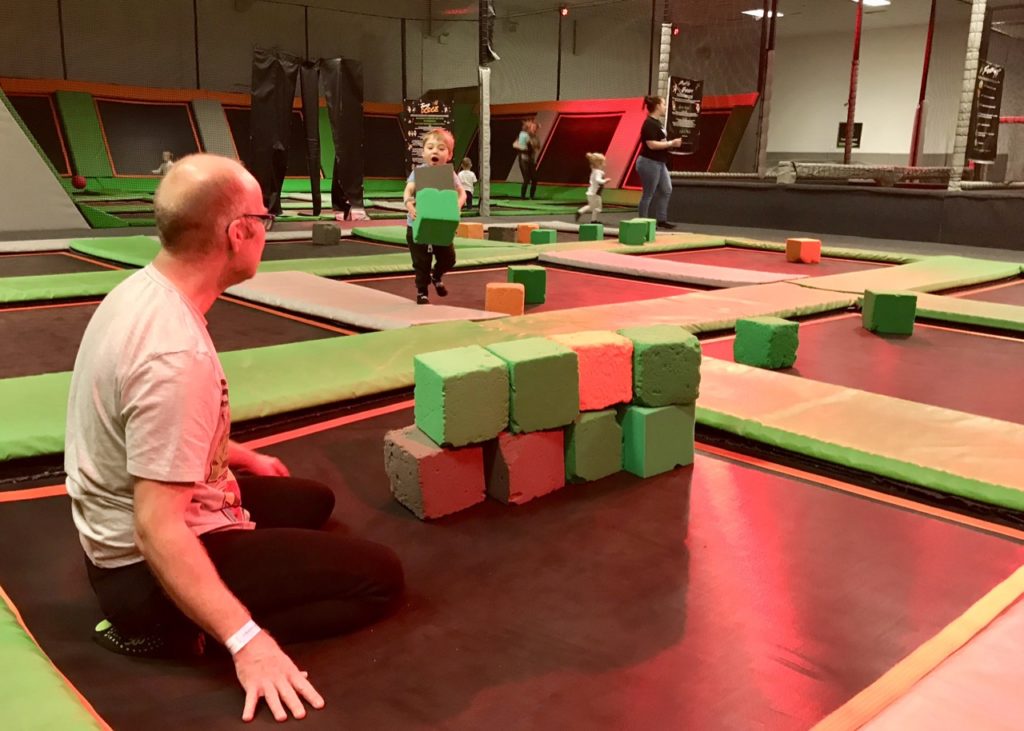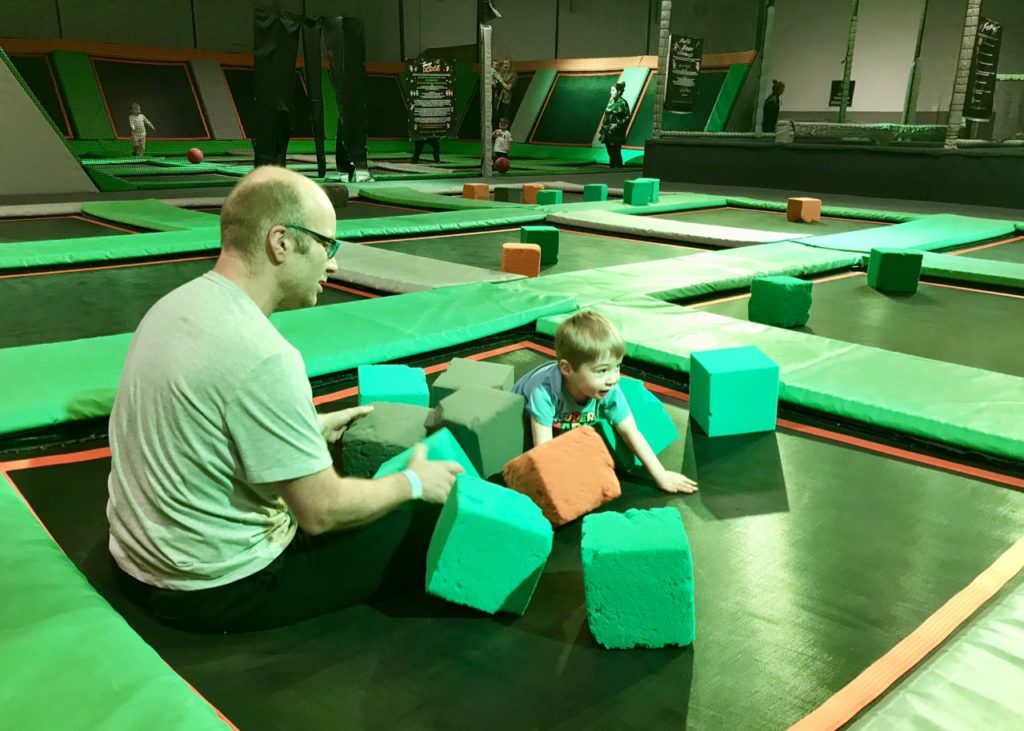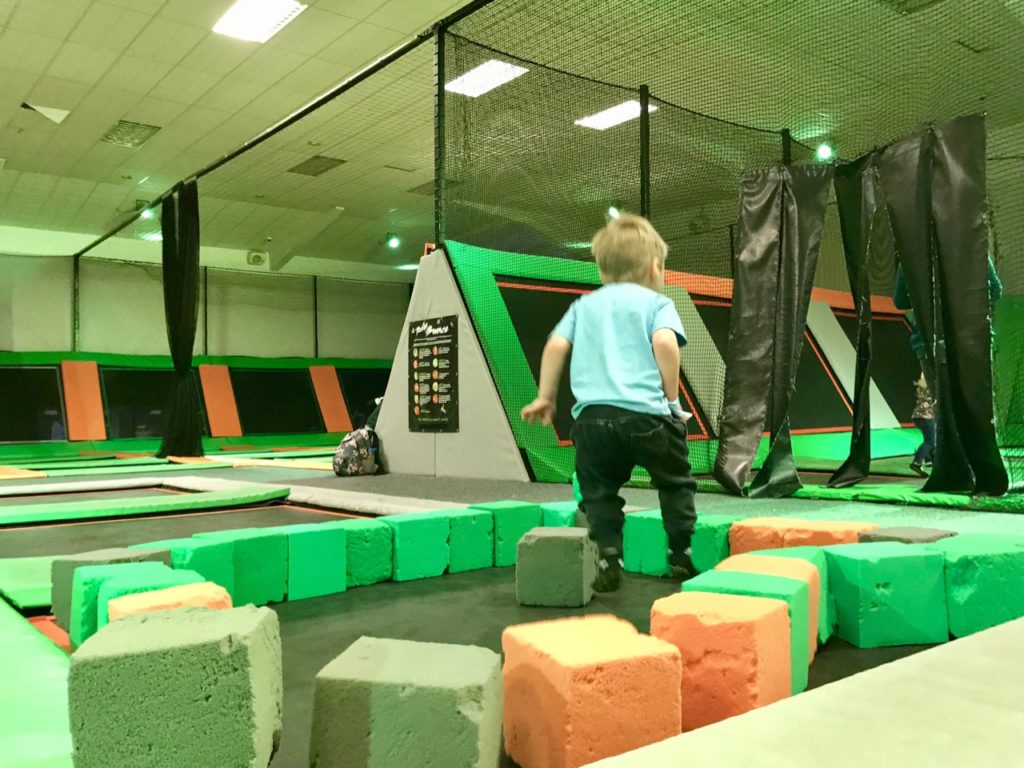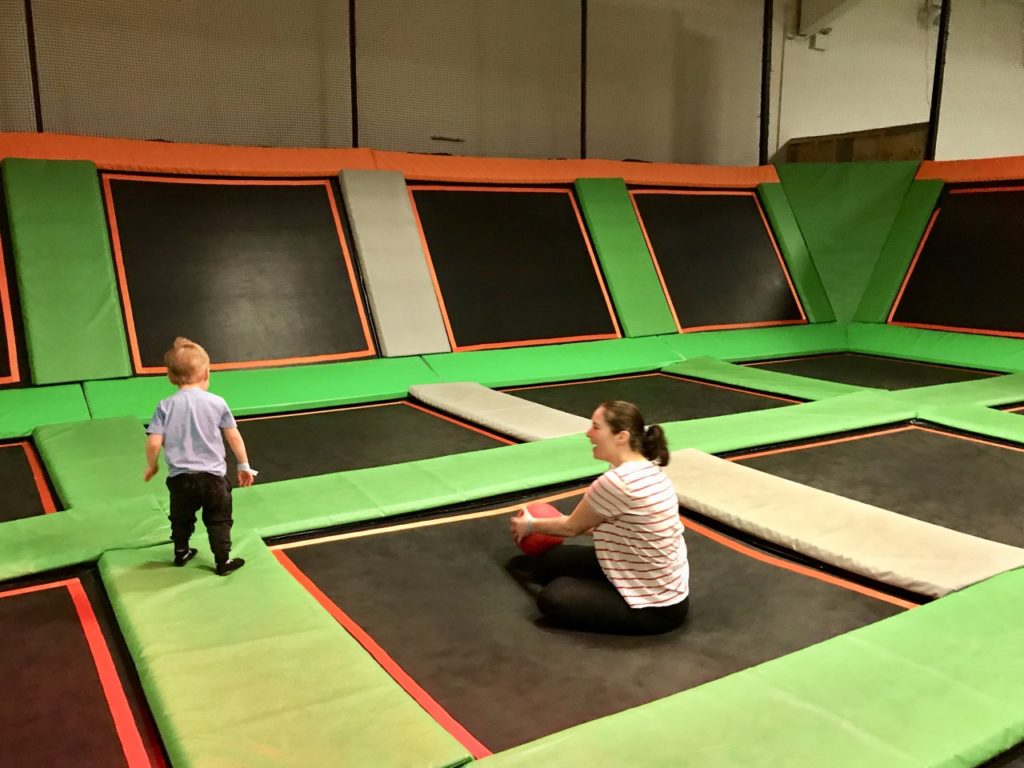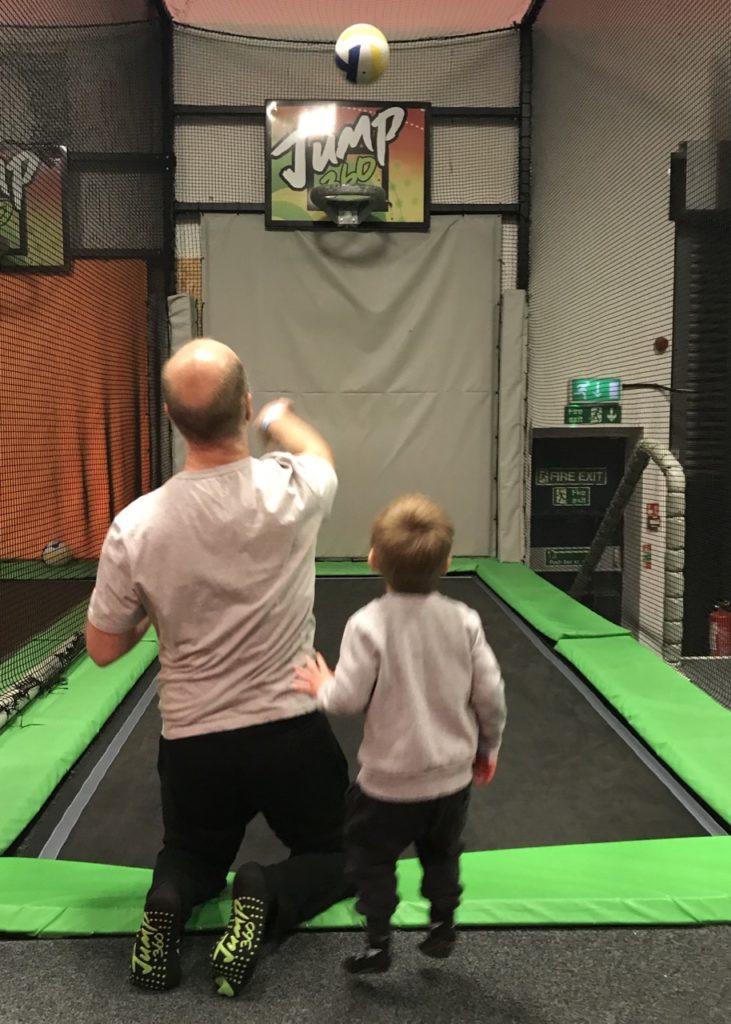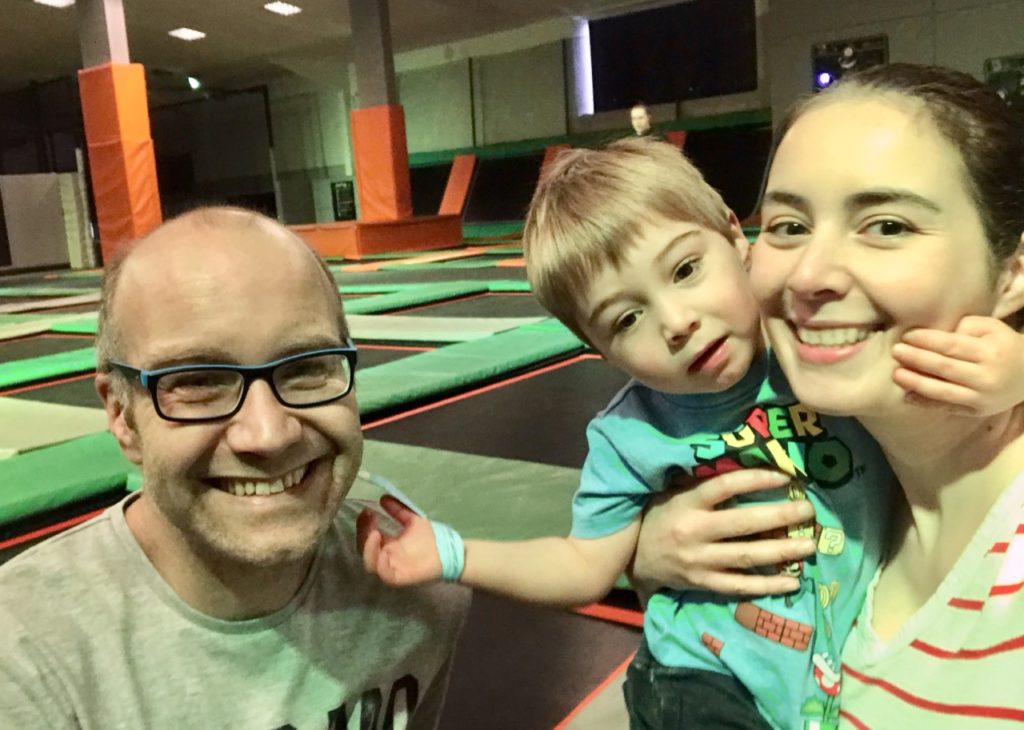 The basketball court provided some Daddy and Reuben time, who shot hoops and threw balls around together. Obviously Reuben was doing more of the cheering on and bouncing around than shooting hoops but he thought it was great fun.
For the best part of our session, Reuben didn't want to jump up and down on any single trampoline, instead he galloped around the pads, leaping onto one trampoline, then the next. But we had the space to do it: despite what looked like a large group of families entering at the same time as we did, we had heaps of room to galavant without needing to get too close to anyone.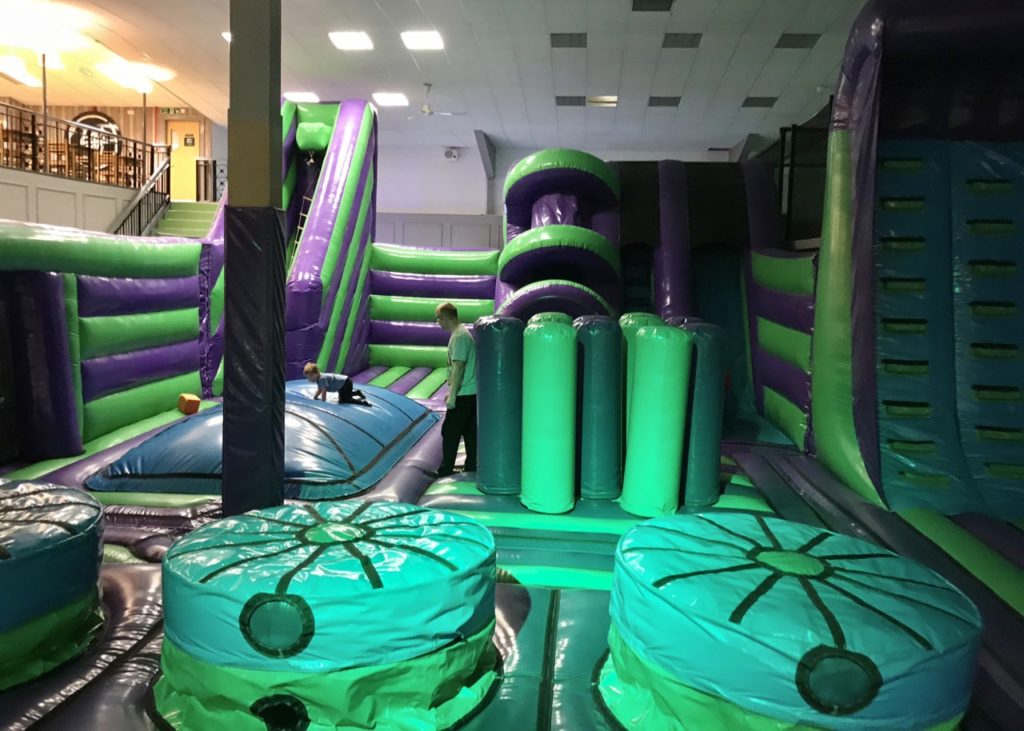 THE INFLATABLE ZONE
Within the inflatables, there's a range of activities that all ages and abilities can enjoy. The big padded 'air mountain' was Reuben's favourite in here, as you could jump onto or roll around on it for a bouncy bit of fun.
Punch bag pillars and balance platforms provided a fun rough and tumble play which the little ones found challenging enough, while an inflatable climbing wall and 'unclimbable ladder' better suited those more physically adept.
Reuben wanted to try the slide but got upset at the top, mainly because it was so dark and made the slide quite daunting, so I followed him up. For safety reasons you're only allowed to slide one at a time so I tried to drop Reuben down so I was still holding him for the best part of the slide, but he still face planted. I didn't fair much better; the slide's drop was so vertical I couldn't figure how to go down it without dropping so I gave that one a miss after I'd plopped to the bottom.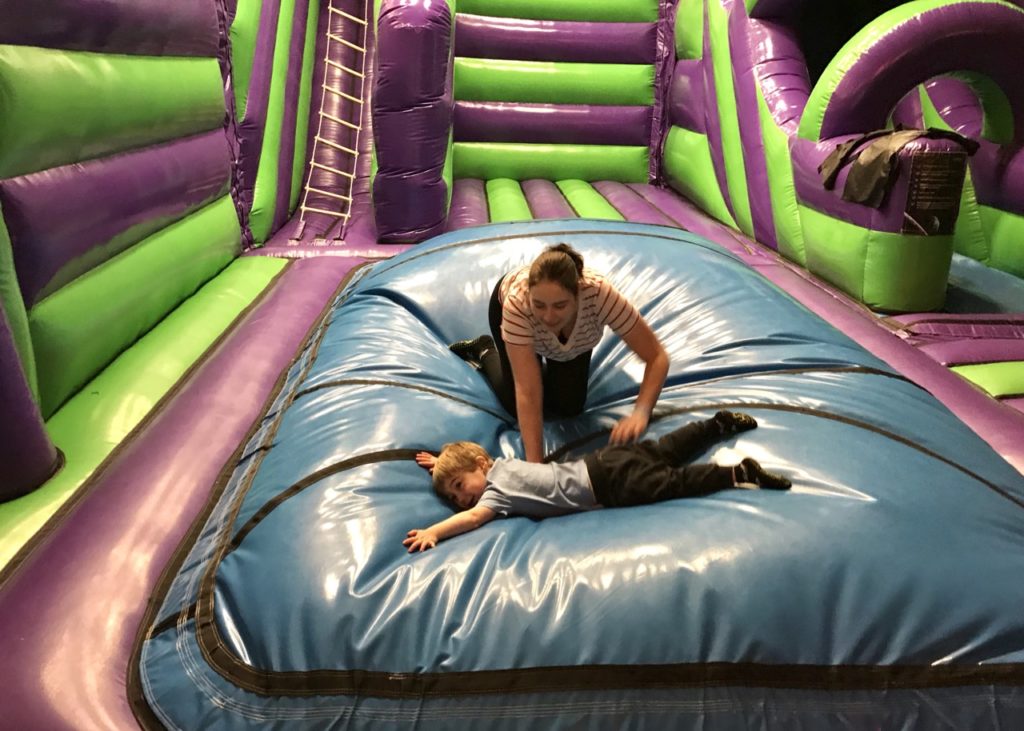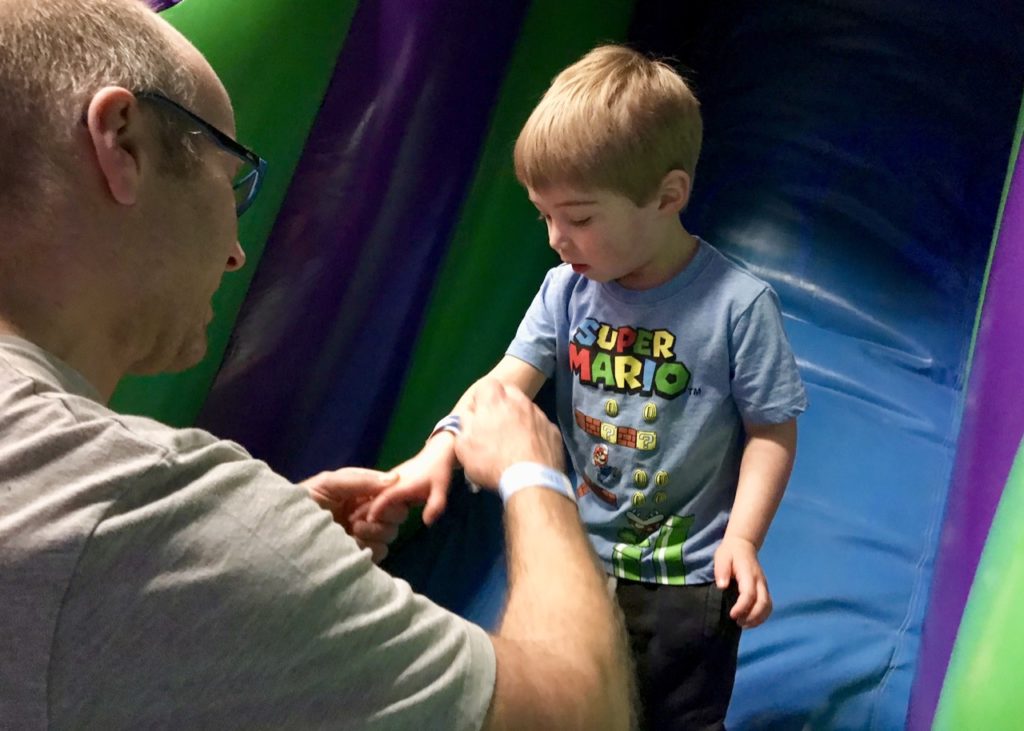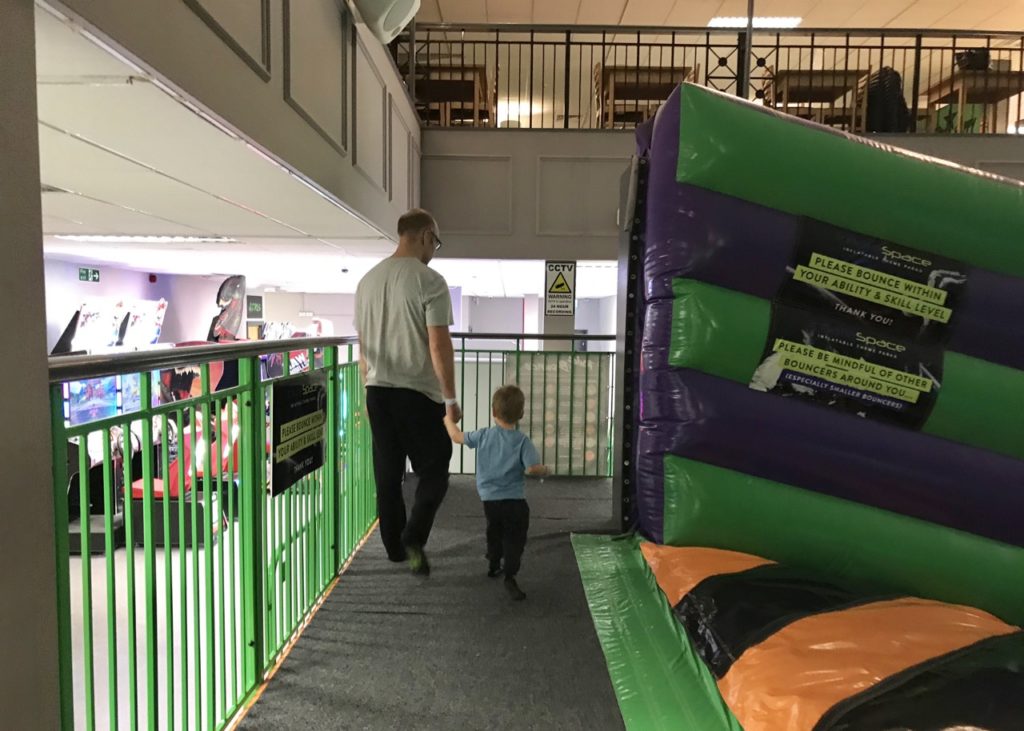 By the time our session was up, Reuben was just getting into his stride and I was floundering. Amid the party music and playful cavorting, it's easy to forget trampolining is a sport, so an hour long bouncing around does actually feel like, well, an hour spent exercising. My body's still crying in places I forgot could hurt (but that's fibromyalgia for you), meanwhile Reuben's asking to go back with his friends.
It appears toddlers quite like trampoline parks, and this one may have met his match.
---
Have you ever taken the whole family to a trampoline park? How did it go? Where are your favourite places take the little ones?
---
---