My Visit to the Emma Bridgewater Factory: Experiencing the Tour and Decorating Studio
September 1, 2022
We made a visit to the Emma Bridgewater factory in Stoke-on-Trent, where we got to see heritage workmanship come together with eclectic design that makes this British brand so desired.
Nothing screams 'living my best forty-year-old life' like the thrill of a factory tour.
The Emma Bridgewater factory, if it scores me points, but a factory none-the-less. When I announced one of our summer trips would involve watching mugs and plates being made, I got raised eyebrows. The husband mumbled something about it sounding "a lot of fun", and as for the littlest guy of the house, proposing a visit to the dentist would've been more appealing.
We went anyway. If Mum can't score a win in the holidays when can she?
Ever since I won an Emma Bridgewater mug some years ago (one thing Twitter was good for) I've truly been bitten by the Bridgewater bug, and I have no day beginning without a mugful of tea in one of my favourites. The consensus goes that if it has a rabbit on it, it'll be my mug, and there's a few of them I can tell you.
About the Factory
The Emma Bridgewater factory in Stoke-on-Trent (the motherland of British pottery production) is the working factory where the much adored pottery pieces are actually made. From the raw material to the moulding, the decoration application to the glazing, it's all performed in-house.
Carrying the baton for pottery manufacture using heritage skills, the factory attraction allows visiting members of the public to experience the world of British pottery-making through factory floor tours and creative activities. There's also a gift shop and factory shop for bargain shopping, as well as a cafe, outdoor seating space and (importantly) toilets to extend your day. With the tours suitable from age 5 for only a fiver per person (under 18s free but you need to ask for reimbursement from the factory shop) and a family-friendly decorating studio for just under £3 per person, it sounded a good value day out for the family.
The hugely popular tours and decorating studio book up super fast so I made a point of booking via the website way ahead of our trip. It can be tricky aligning times and dates together when slots start selling out, but given enough time it is possible. Initially I booked our hotel and the Emma Bridgewater activities for the first week of the summer holidays but car trouble happened and we couldn't make it. Thankfully I was able to re-schedule the factory really easily just by emailing their customer services who moved our booking to another date that I'd found available on the website. We did, however, end up with a mix up come the point of our tour, which I'll touch on shortly.
Finding the factory was pretty straight forward; sat-nav directions took us right to the factory building. You don't drive in through the big blue gates though, instead look for a sign directing left to a large, free car park sited in front of the factory entrance.
My first impressions of "wow, look at the cool painting on the wall" outside sharply switched once inside the building, on entering the gift shop. I mean it was fabulous and all, the lovely new collections looked stunning, but the vibe was cold. The two ladies working in the shop who were just floating around the till-point didn't say two words as we went in and looked around. We weren't sure where to go for the tour so asked, and one of the ladies said she'd take us over, which saw us go into the factory shop. Then came the confusion with the booking. My booking confirmation said 11am, but this was apparently mistaken as there weren't 11am tours and besides, we were down for a 10am tour! Argh. A bit of stress ensued but we got added onto a 11.30am list that was thankfully still free.
The Guided Tour
After killing some time looking around the factory shop and visiting the little garden, we eventually got to our tour. Reuben loved getting to wear a special 'factory tour' lanyard, and as we spent the following hour being guided through various stages of the pottery production, I was really impressed by how he held up, despite some waning of interest.
The workers on the factory floor were amazing and very open to talking about their job whenever we stopped. One gentleman working on the shaping of the clay into bowls, which required him to slam the clay down onto a dome shape was great. I think he knew kids needed some interaction so he beckoned Reuben forward to hand him a small wad of clay. I mean, this made his day! He kept that clay till it dried up at home and even then took it in the bath with him as he said he was "making slip". Quite impressive what a bored five year old can take in.
I was in my element just getting to see the new collections being made, so for sneak-peeks the tour's brilliant! I spotted some gorgeous Christmas mugs and plates that I'm itching to buy so I'll have to keep watch of the website. They depicted little log cabins amongst a forest which looked so perfect for festive treats.
The artists working on the painted designs made it look effortlessly easy but you could see the skill. Each press of an intricately carved out sponge applied so carefully. Spots of colour dabbed on, well spaced but perfectly haphazard so the look is wholly hand crafted.
The Cafe
After a satisfying tour walking around the factory we had half an hour free before our 1pm studio slot. Frustratingly not long enough for lunch, (looking at you, wrong tour booking) but just right for some tea and cake. I enjoyed a lovely Earl Grey and some vegan chocolate cake (just because it looked gooey), Reuben chose a different chocolate cake, and Sean went for a latte and carrot cake.
Prices were more reasonable than I expected them to be, and it was cute getting all the crockery pieces in mismatched Emma Bridgewater. My tea came in a two-mug teapot which I loved the size of and would now quite like to get myself. The mugs were clearly customer returns because they had random names on, which was pretty funny. Well I guess they're not going to waste!
The Decorating Studio
One o'clock arrived and I hadn't finished my tea so Sean kindly asked for a takeaway cup for me, which they gave no problem. So we headed over to the decorating studio which was just across the courtyard. It looked quite busy with budding artists but had a hum of positive contentment about it.
We queued, and already Reuben was asking when we were going home. "I'm bored". Interestingly his attitude sharply switched from the "I don't want to paint" earlier in the cafe to an enthusiastic "I'm painting my own big plate!" on being led to our table. There was clearly something in the air!
A dresser displayed the pottery pieces available that day, including jugs, mugs, various size plates and even eggcups. Reuben was firmly decided on his big plate, which was the 10″ dinner plate priced at £13, and Sean and I chose 8″ side plates, £10 a piece.
Though we were handed a laminated guide what to do, I got myself quite overwhelmed by the studio. I tried to focus on helping Reuben first, so we started with choosing some paint colours before sourcing some sponges. At the top of the room all the paints were numbered and arranged by colour to correspond with the colours on a guide plate, so you had an idea what the fired paints would turn out like. You were free to squirt out what paint you wanted to use onto your paint palette, before selecting sponges which were all contained in pots on some shelves. There were so many to choose from, such as stars, spots, animals, tractors, flowers, letters, and even techie designs like hash symbols.
Once Reuben had picked what he wanted, I went back up to choose mine, completely chuffed that there were rabbit sponges.
I have no idea whether I used my sponges and painted 'the right way' but I do know we had some truly pleasurable crafting. The process was just really nice to do together, and even though I'm a perfectionist and like things to be just right, it still felt fun.
So my plate is basically rabbits, hearts and more rabbits. Reuben's plate is an adorable mash-up of randomness that I *really* had to drop the control over ("Why don't you want your name on? I picked out your letters for you!") And Sean started out very particular about his design, ending up letting Reuben 'help', so who knows what his creation will return looking like.
I wanted to look around the factory shop again before we left so I purchased a few mugs and a little plate with a bluetit on that I thought was cute. I wanted to buy a rabbit plate that was displayed on the wall but it was unquestionably not for sale so I didn't get that. (Sorry I asked.) And I was indecisive about getting a big 'seconds' teapot for £29.99 which was a good price but not good enough when the imperfections are too obviously annoying. So I didn't get that either.
One thing had me flummoxed. To one side of the factory shop there's a table laden with random sample pieces. I found a mug from the Lovebirds collection which I thought was a lucky find, until I spotted its price: £22.99. For a product permanently marked as a sample, is it really worth first quality price? Doesn't sound right to me.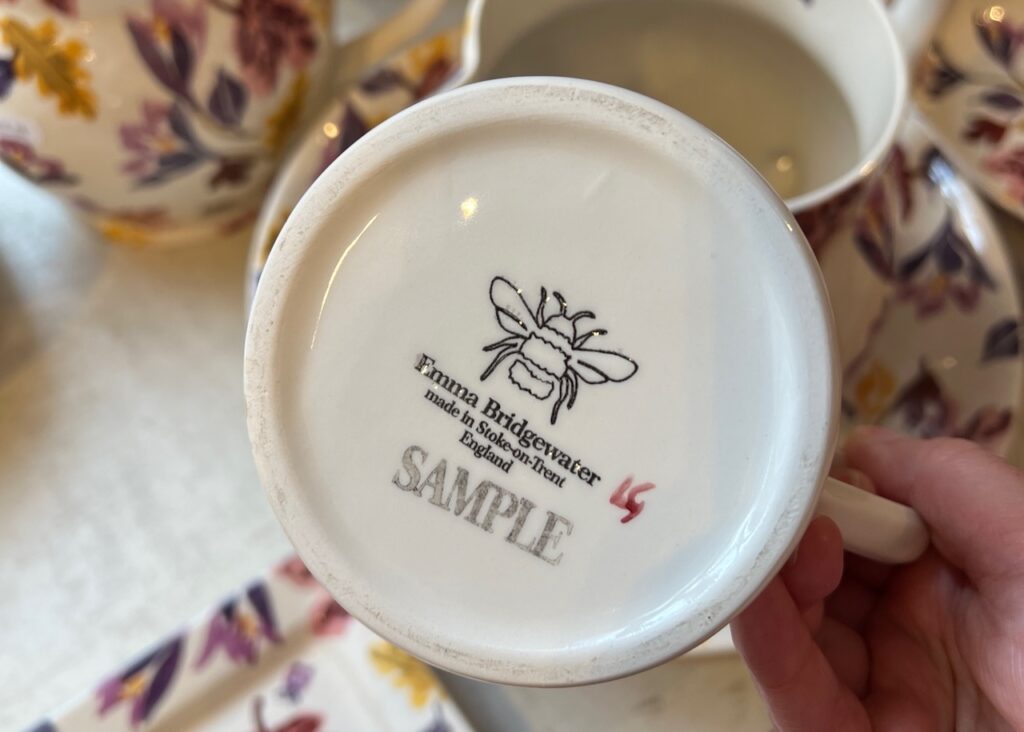 Since the tour, we've pulled up some questions: how is text created on personalised pieces or collections such as Black Toast and Marmalade? It is stencilled? Free-hand written? And how are the images (typically Matthew Rice illustrations) applied? Are they transfers? Maybe each tour divulges something new.
And another point since revisiting the website: under an updated Summer 2022 page there's the mention of a free children's trail that the kids can do to entertain themselves throughout the visit, which excitingly results in a treat at the end. Sadly I didn't see this prior to our trip so we weren't to know to ask about it. So that was a shame to miss out on.
I fully recommend doing the tour whether you're an Emma Bridgewater fan or just interested in the craftsmanship and history because it is really quite interesting.
For all the shenanigans, confusion and the odd unwelcomely impression, we did actually have a good day. I still love Emma Bridgewater pottery. The makers behind the brand are super clever and were friendly and accommodating when it wasn't their job to be. I just don't have an affinity with some of the factory/gift shop staff who'd do best adopting a more kindly and approachable demeanour with visitors.
Now to await the delivery of our wonderful pottery creations, which I've heard is already winging its way here. Not expecting them to be mistaken for proper Emma Bridgewater though! I'm sure we'll be laughing at how tragic they've turned out. Oh well, if we don't try new things we'll never know what we may be good at (or in this case, best leaving to the experts.)
---
---