Create Your Best Special Occasion – Moonpig style!
August 7, 2020
If you like your birthdays with a bang, cocktails and flowers may be your answer. With the help of leading online greeting card and gift merchant, Moonpig, I recently got to grips with cocktail making and flower arranging on a very celebratory press event.
DISCLOSURE: AD / This post contains gifted product from MOONPIG. All wording, images & opinion are my own.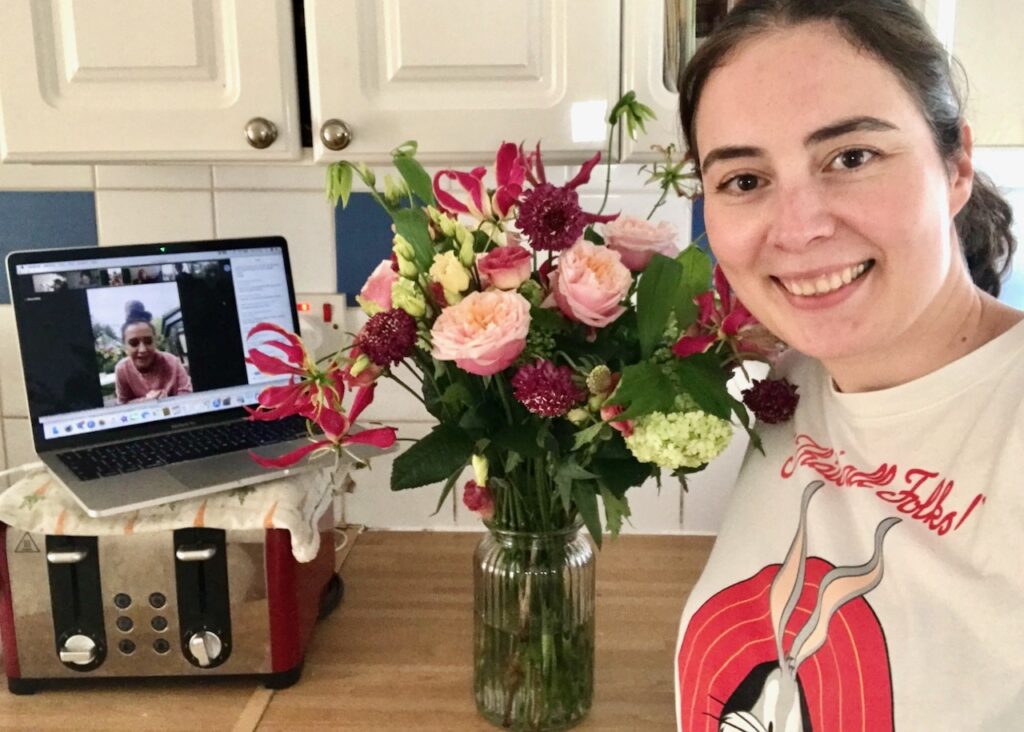 If you had a lockdown birthday, chances are it was a day to remember – and probably not for the reasons you'd expect for a day that deserves all out celebration. Boo to that!
We had several lockdown birthdays in the family; including Sean's (which saw me overcompensate by making a three tier birthday cake just for the three of us) and then my mum's, that was frustratingly a big milestone birthday we would usually have gone all out for. So instead of a big friends and family get-together, a 'happy birthday' phone call promising pressies later had to suffice.
Lockdown birthdays are sad, sad days.
Moonpig birthdays are probably the total opposite to low key lockdown birthdays, because they're all about bigging up the big days. Yay!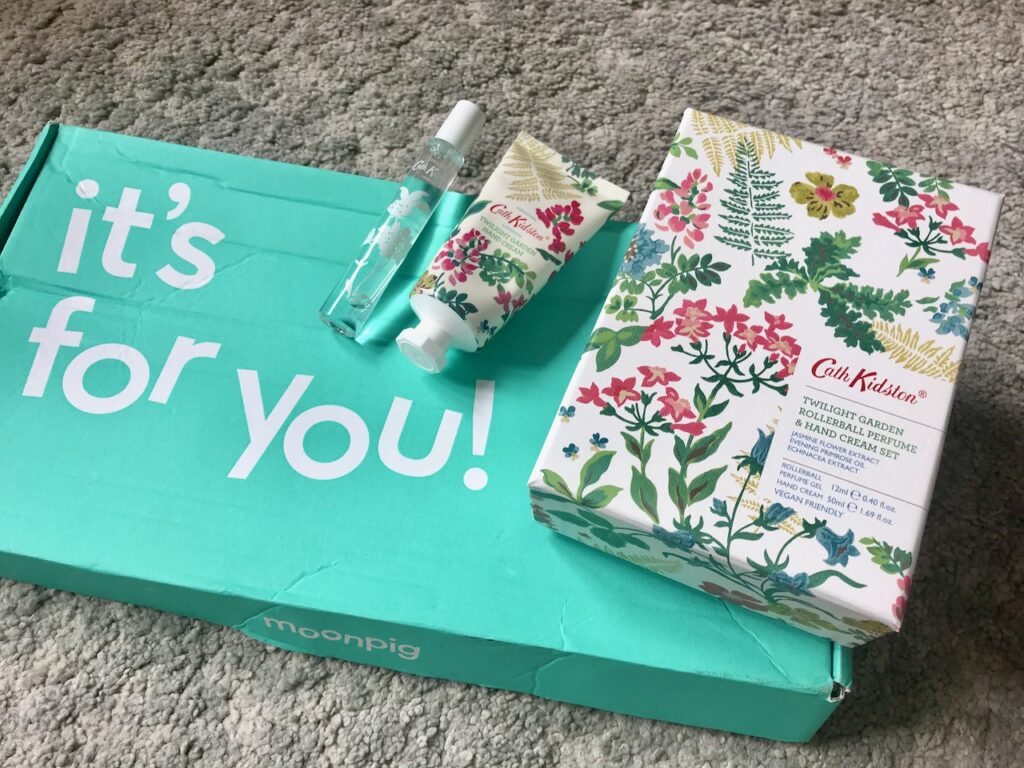 Back in the noughties Moonpig was the only name you'd head to for your online curated greeting card, and since then they've created over 100 million 'Moonpig Moments' – including 63 million birthdays! Nowadays we take the ability of doing such a thing, without needing to visit a physical card shop, pretty much for granted. And now that you can buy the gifts, drinks and floral bouquets as well as the personalised card from Moonpig, you can do it all without clicking away from the new app.
I was recently invited to a blogger event to sample some of Moonpig's celebration magic. Of course, with social distancing being our current way of life it meant a virtual party, and I don't think it could have been more appropriately Moonpig.
Prior to the press day I took delivery of some interesting boxes. My first consignment contained cocktail equipment, spirit and mixers, and some yummy smelling fresh ingredients. A second box revealed a gorgeous Cath Kidston gift set (the scent is divine), and inside the biggest box was a gorgeous bouquet of flowers. Turns out our celebration evening was going to get colourful.
Lined up for the event, myself and my fellow online blogger group had some activities to look forward to getting hands on with – cocktail making of course, and flower arranging!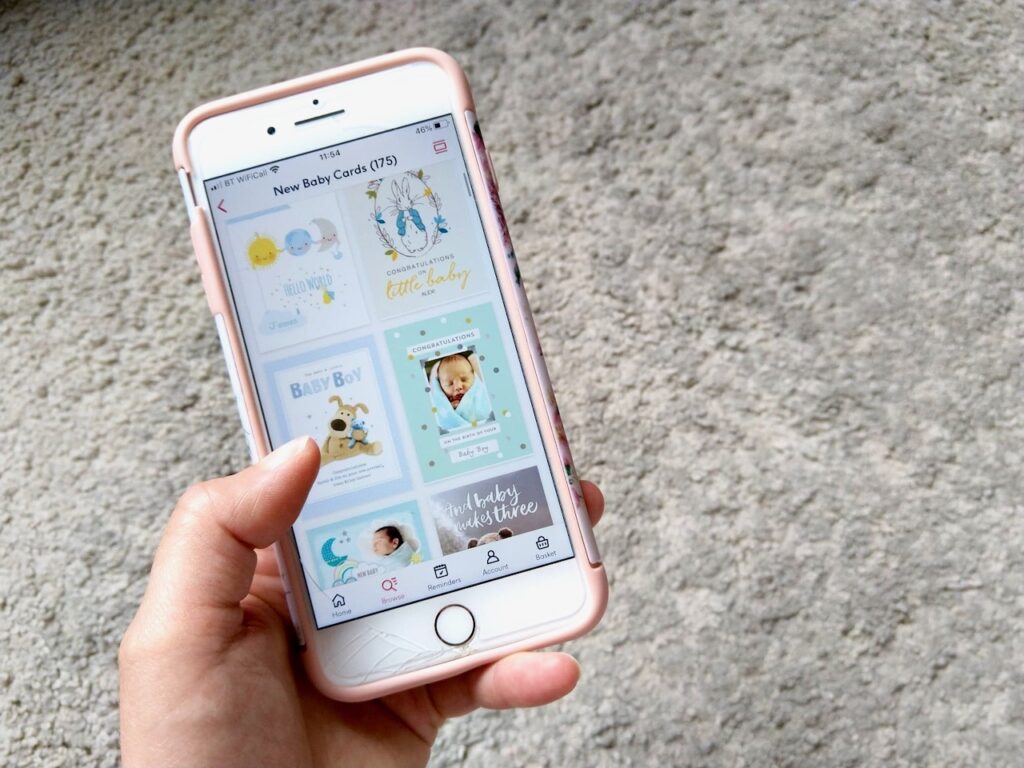 To start, we had a masterclass in Moonpig's device app; getting to know the low down on why this is the brand's most advanced app that for the customer means an easier, quicker personalised card buying experience.
The Moonpig app (available on iOS and Android) is a doddle to use. And with shiny new features like AI technology allowing you to visually gauge the size and look of your card, along with the ability to add your very own handwritten message, it's easy to let the pros at Moonpig do all the work.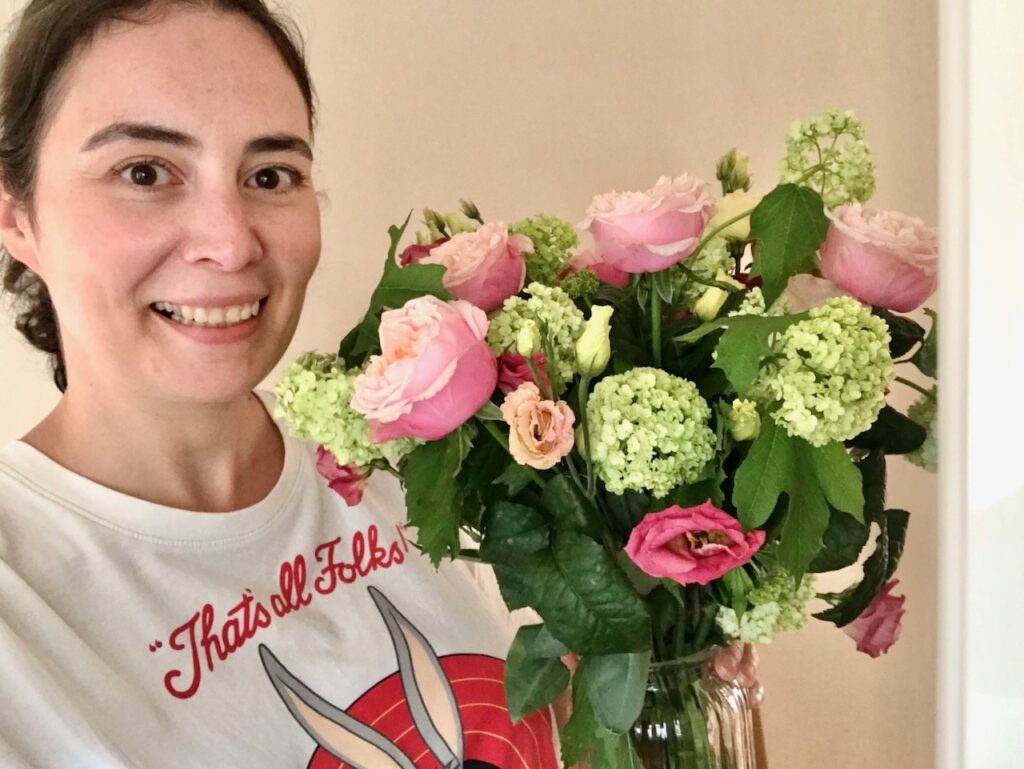 Then it was onto flower arranging, by which point it felt a huge shame to dissect such a lovely bouquet already made beautiful by a florist. This is the Luxury Summer Garden bouquet which is a beautiful collection featuring classic English roses with accents of exquisite tropical gloriosas.
I was looking forward to learning a few tips how to make my cut blooms look their best which was just as well we had pro florist at Moonpig, Roxanne.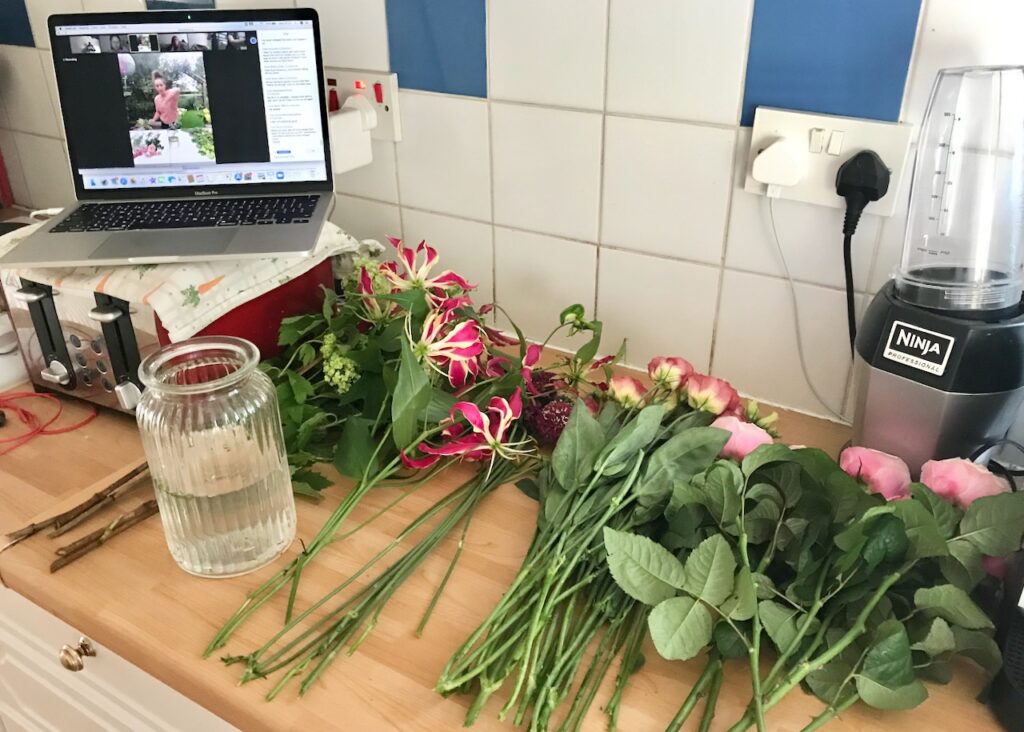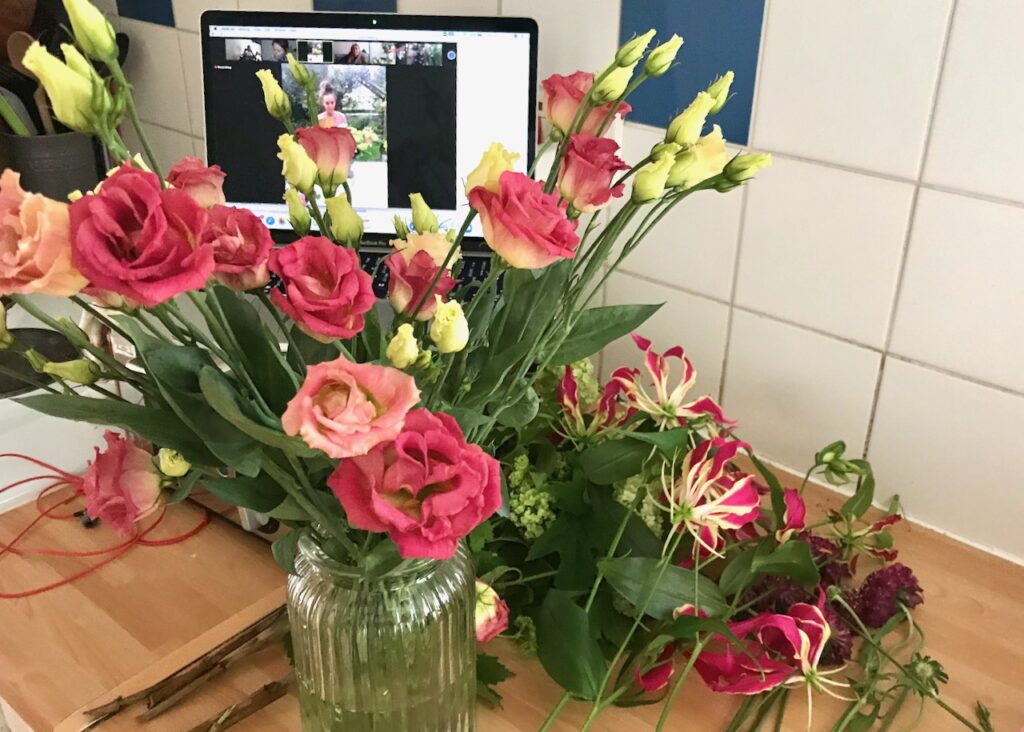 Before placing in my favourite vase I diagonally trimmed the stems by an inch or so, which is to aid hydration once placed in water. If you're going to keep your bouquet in the arrangement it's come in, you can trim while keeping it tied. So once I'd separated all the individual blooms and cut the ends off, I removed some of the foliage too so no leaves would sit in the water (and go sludgy and mouldy – yuck).
Then Roxanne demonstrated how we should start arranging by placing stems opposite each one and rotating around the vase, so that the following flowers can slot into the created gaps. I found it really tricky ensuring I wasn't breaking any of the delicate stems, so I'm sure half of my sorry looking flowers got at least a good bruising in the process of my cack-handling. Never mind, it still looked alright for a super novice.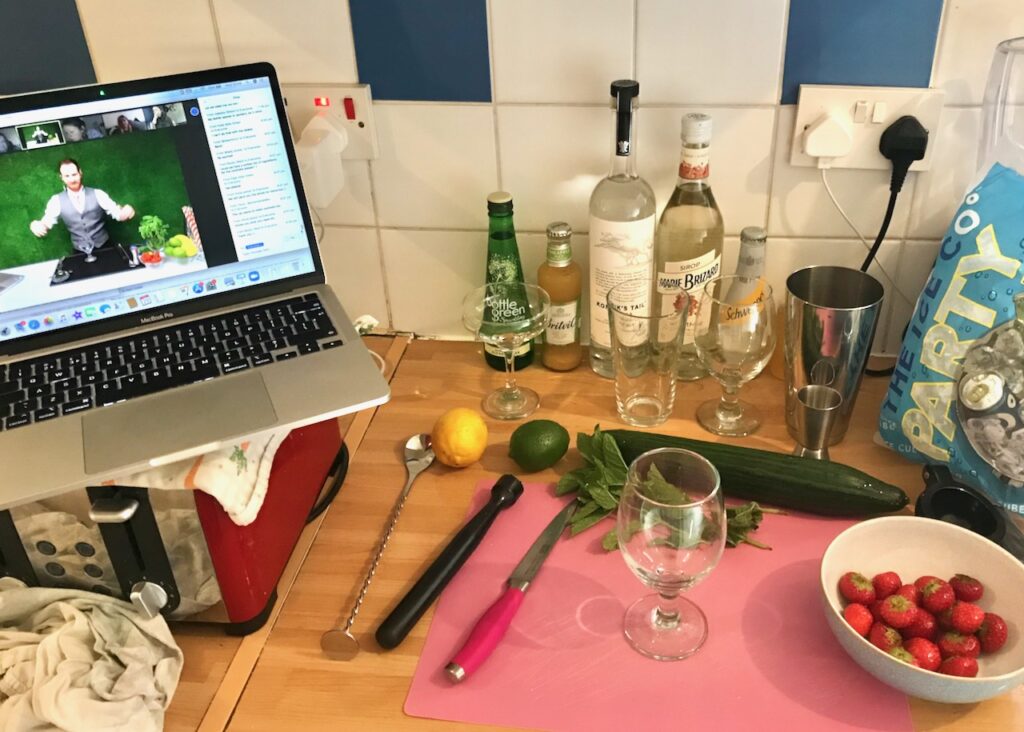 Cocktail making next! And taking us step by step through the process of curating three delicious cocktails was mobile bar company Mix and Twist.
I spotted some curious looking contraptions in amongst my kit. Clearly these were tools of the trade I'd come to be pro at (or not) using within our messiest hour.
Before launching into the tipples we learnt a few golden rules to a good cocktail. Firstly, there's the four component rule that every cocktail should contain: something sour (like lime or lemon juice), something sweet (a sugar syrup), alcohol and lengthener, which is your mixer like tonic water. Additionally, a generous amount of ice is paramount because it actually prevents the dilution. And lastly, a decent cocktail is pleasing to the eye, which is where your straws and decorative fruit come in. Interesting!
So the first cocktail we made together was definitely my best and tastiest, so I was happy with that. The 'Summer Garden' cocktail, a flirty take on the classic mojito, is a zingy, green drink that's refreshingly light and totally drinkable! The recipe calls for: 45ml Vodka (we used Konik's Tail), 25ml lime juice, 25ml sugar syrup, mint leaves, cucumber, and 25ml elderflower soda.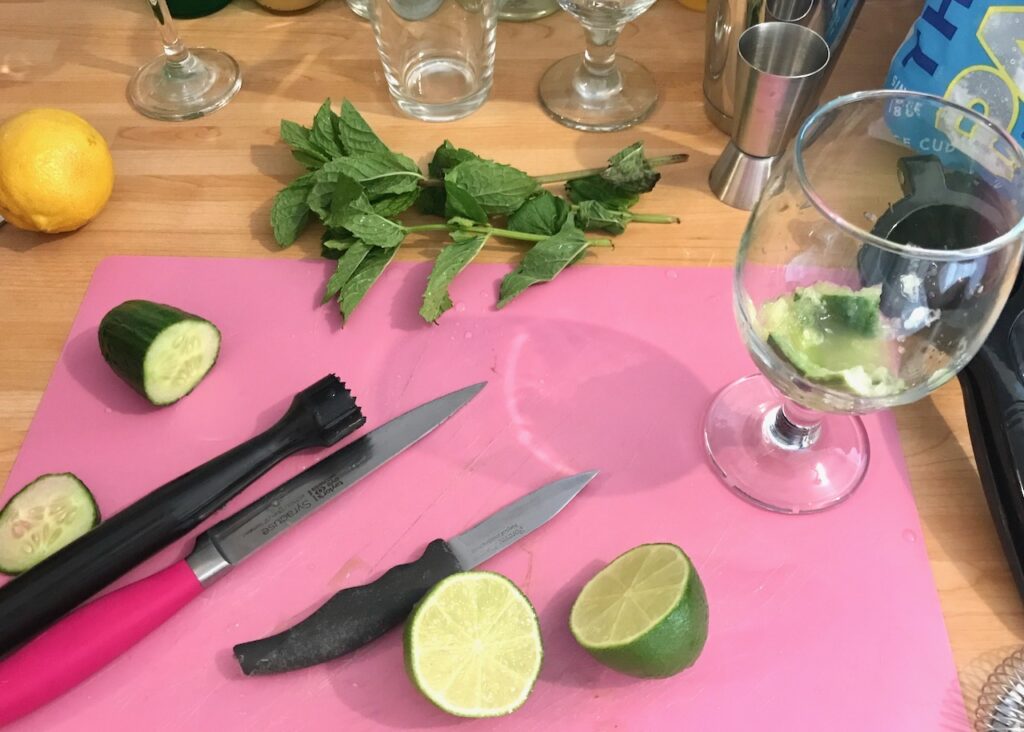 Following the Summer Garden was the Strawberry Fizz – the foamy contents of which I managed to engulf my kitchen countertop with – and to end, a super sweet Passionfruit Martini. This one required a confident shake up of the pineapple juice, it's agitation providing the layer of froth that was so lacking on mine. Never mind.
I really enjoyed this session. With the friendly competition and memory games, it had all the fun only a party piled with cocktails could get away with. Just a shame mine were booze-free mocktail versions (well, I am still TTC…)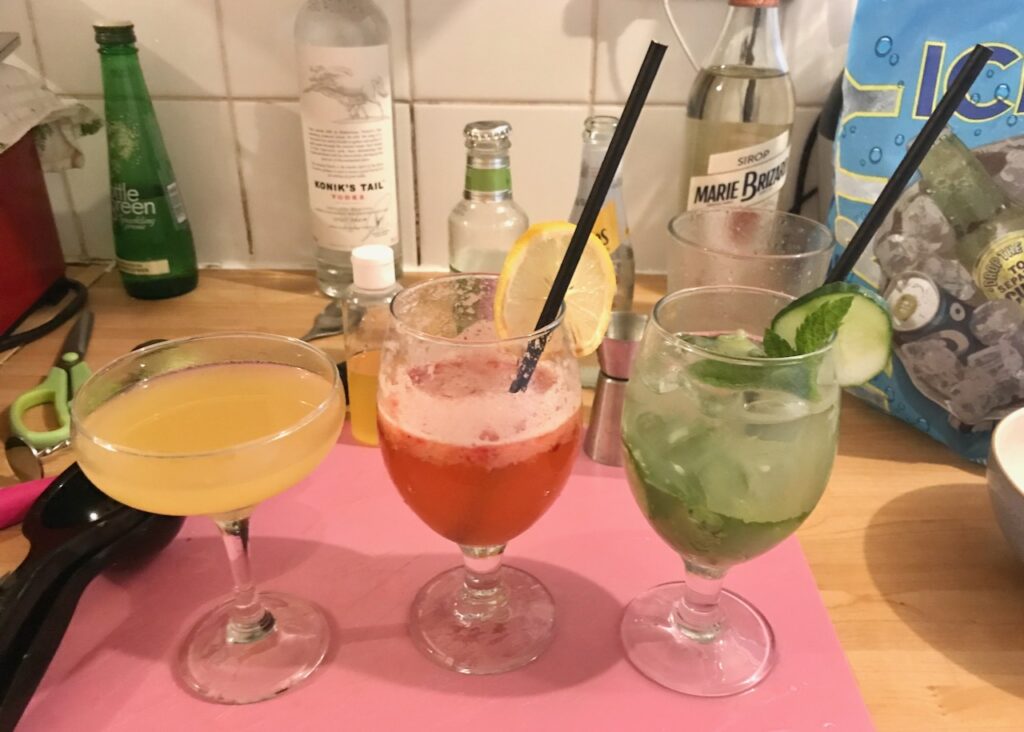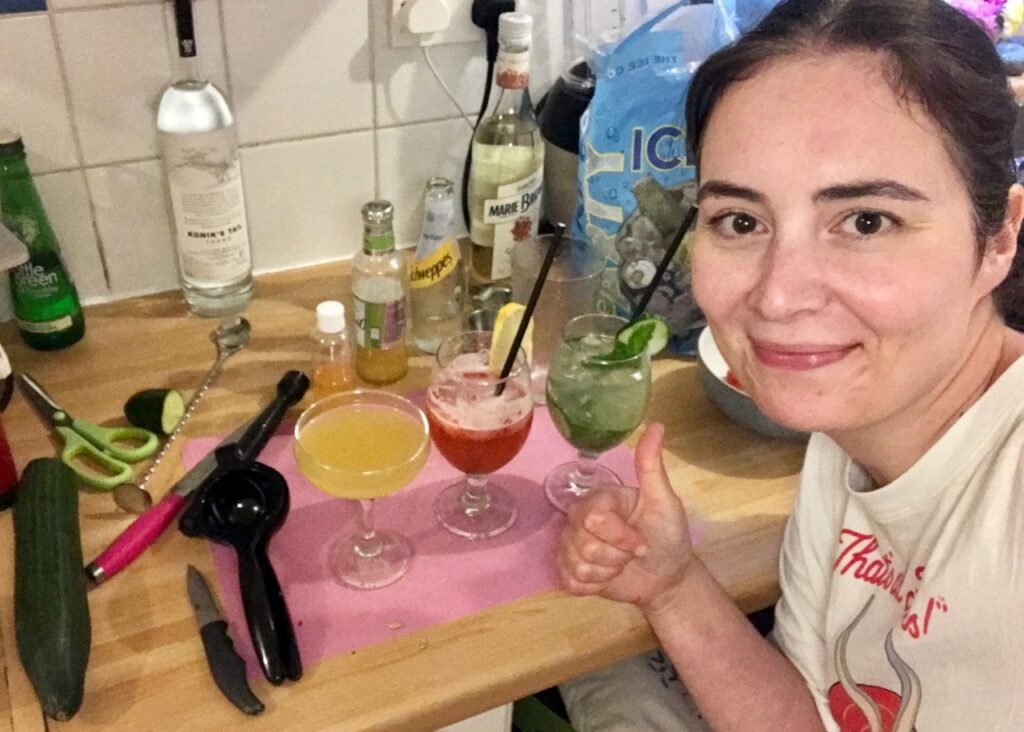 It was a long evening – I took a night off from my usual bath, books and bed routine with the little man, letting Dad take the reins so I could 'make merry' in the evening. And I enjoyed it! When actually was the last time I ever did this?
Having this much fun: learning to make cocktails and making gorgeous floral bouquets look their best is something I'd attribute to a pretty marvelous celebration, birthday or otherwise. It just goes to show Moonpig do know a thing or two about making the most of a big day – a royally good #MoonpigMoment if you will.
---
Download the Moonpig app before August 26th 2020 to claim a grand 30% off the purchase of a card and gift. To redeem use the code: APP30ORDER.
---
Did you have a lockdown birthday? How did you celebrate?
---
---