All Aboard the Optimist: A North Yorkshire Moors Railway Heritage Experience
October 30, 2020
We hopped aboard the North Yorkshire Moors Railway for a leisurely ride to the coast – blowing those covid cobwebs away for the day!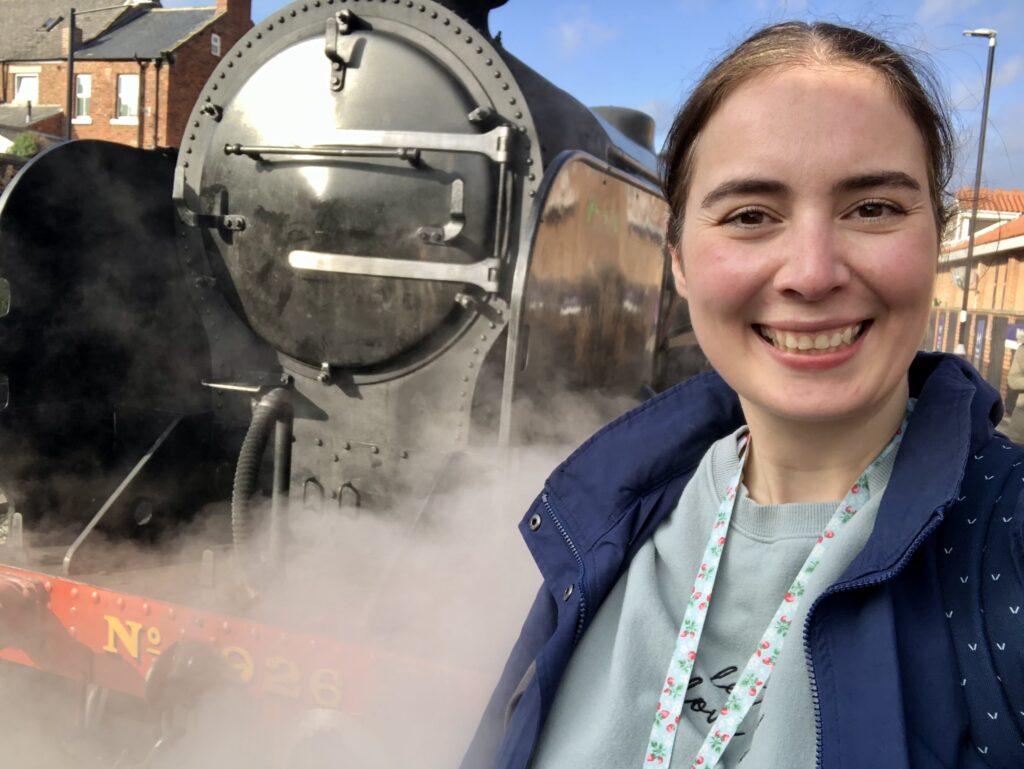 DISCLOSURE: AD / This post was made possible by the provision of tickets from North Yorkshire Moors Railway. All wording, images & opinion are my own.
Now we've the darker days of Autumn drawing in, and covid restrictions still dominating daily life, it's not easy keeping upbeat. Staying home can drain the soul, so any chance to get out for a change of scenery is the encouragement we all need in these tough times.
So with a positive mind, we stepped aboard "The Optimist" – the latest steam engine service to grace the rails of the North Yorkshire Moors Railway.
Shuttling passengers from the Pickering station to Whitby and back, The Optimist delivers a traditional Yorkshire day out to the coast at yesterday's pace. The stresses of modern life fading to grey, as the imposing grandeur of the heritage engine sweeps you through moorland in its Autumnal colour.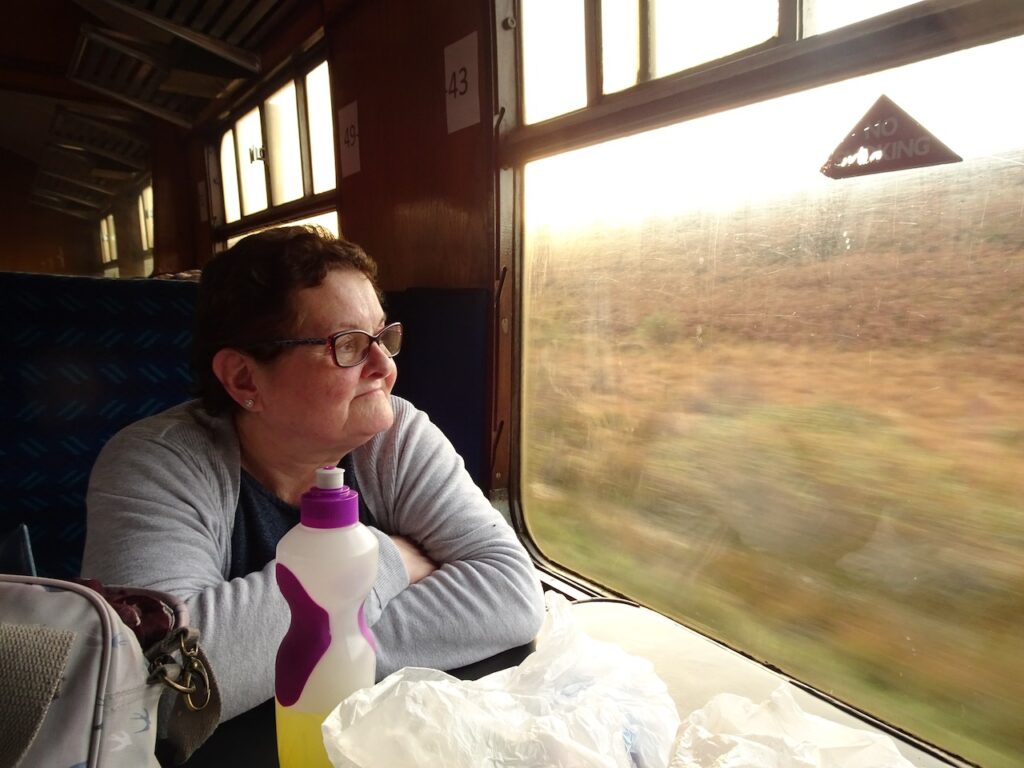 My poor mum has stayed home far longer than Boris told us to, so I asked her to join us on our jaunt to the sea. Of course she was thrilled to come along, not least to spend some quality time together in a relaxing family setting, but to revisit childhood memories of when these giants of the land were to her fond days of travel.
With the timetable providing two options: 9.20am departure or 12 noon, we chose the latter; arriving about 11.30 to allow good time to park up, admire the train and grab some drinks before boarding. With a car park on site there was no hassle finding space, however – let me be frank – I was irked by the £5 parking fee (with no disabled badge exemption). After paying a pretty penny for your ticket (in this instance £35 per person), I think it's a lot to charge, when in comparison parking was free at Wensleydale Railway for the Polar Express experience.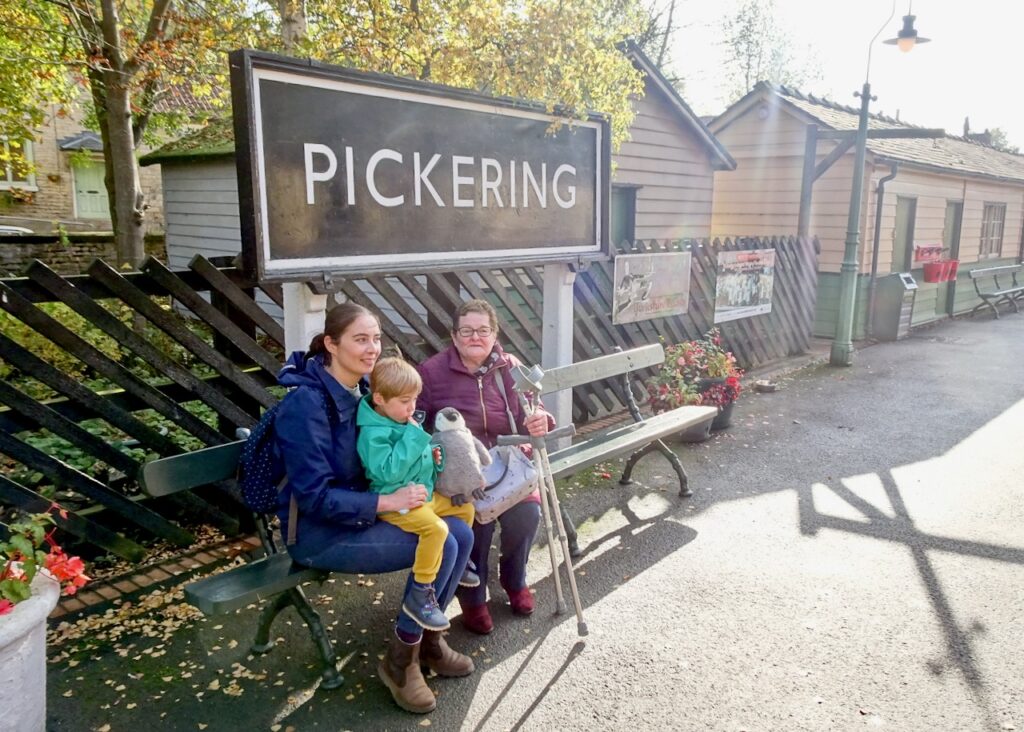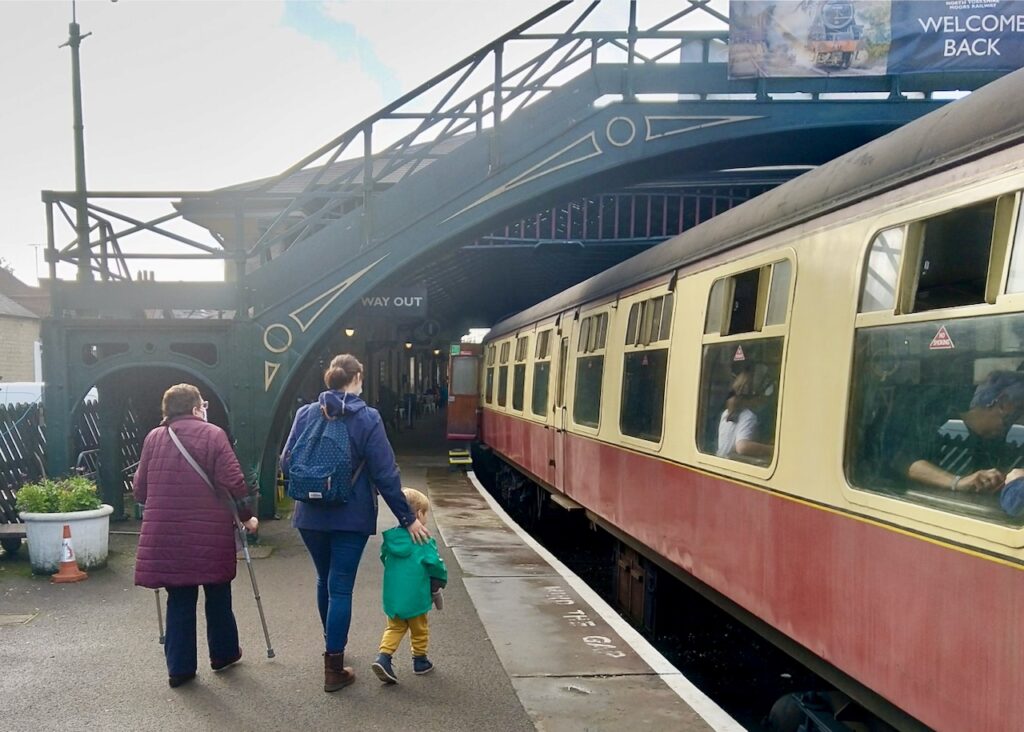 The train was already waiting when we made it to the station. With a covid-safe one way system, we walked round the perimeter of the track to get to the right side, where several guards wearing face coverings awaited. Considering many, if not most, staff are volunteering their time and expertise, they were very friendly and enthusiastic; readily available if you had a question and offered assistance with steps or in my case, happy to hold a coffee or two while you heave a preschooler onboard. Lovely, enthusiastic staff all round, and in the coffee shop too.
Before heading to our carriage we walked up to see the engine first. It was awesome! The black engine looked like The Optimist although it didn't have it's name plate on at this point, and it looked like it would be pulling us in reverse. I didn't know they could travel in this way (aside from shunting around) so that was quite funny!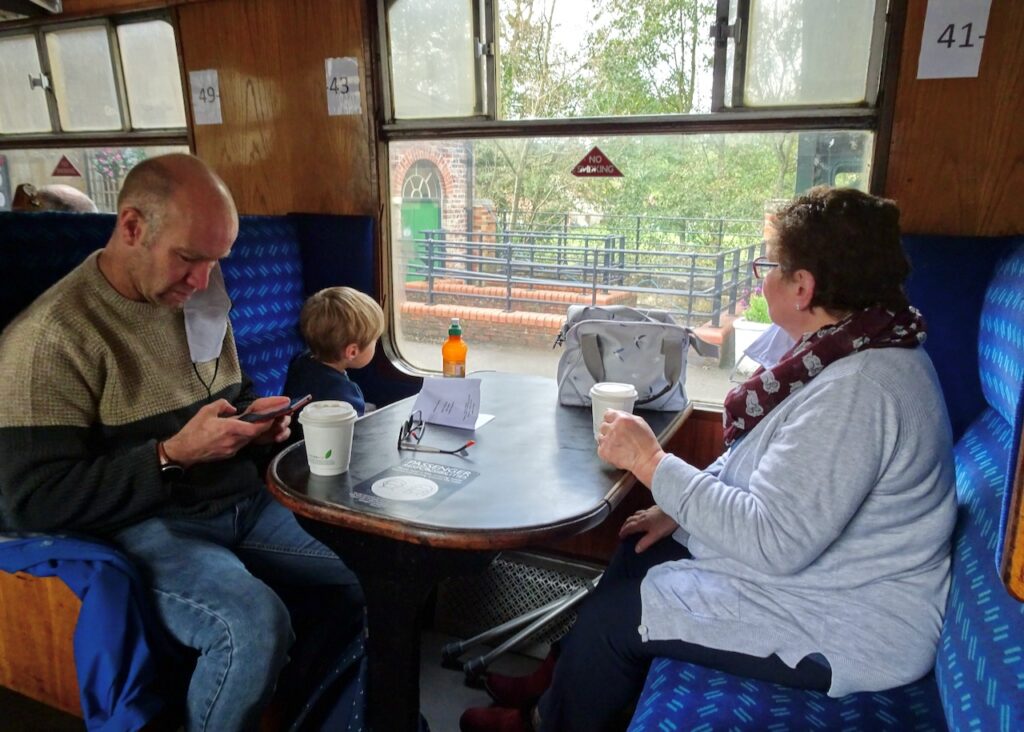 When you book there's the option to occupy a private compartment or sit in the regular carriage, which was where our seats were. I would have felt more relaxed having us all contained in a compartment, what with having a three year old, but thankfully the boy was very well behaved. The regular seats, which oppose each other over a table, are on the snug side for two people sharing 'in comfort', however as we had additional seating booked it meant we ended up spreading out across the the two areas.
Sadly there's no refreshments on board (likely a covid reason) but you're welcome to take your own food so I ensured we had a packed lunch to eat on our journey. Good old fashioned sandwiches and hard boiled eggs, of course! Reuben barely ate anything, he was too consumed by pressing his face against the window, giggling at the beat of the clickitty clack tracks.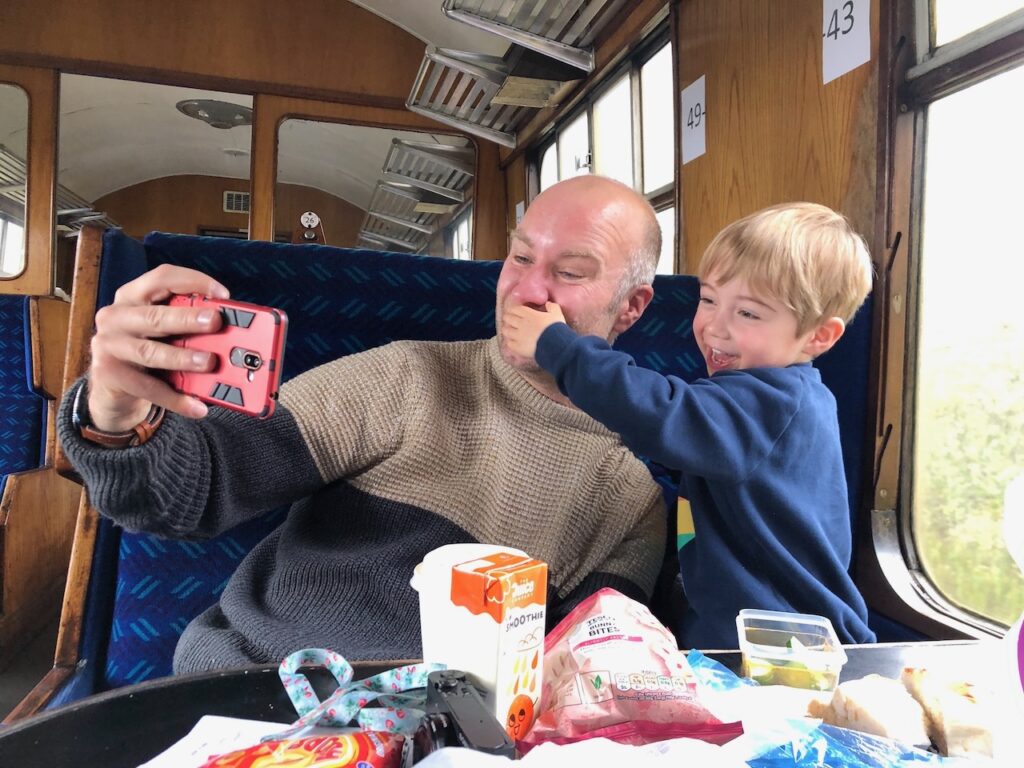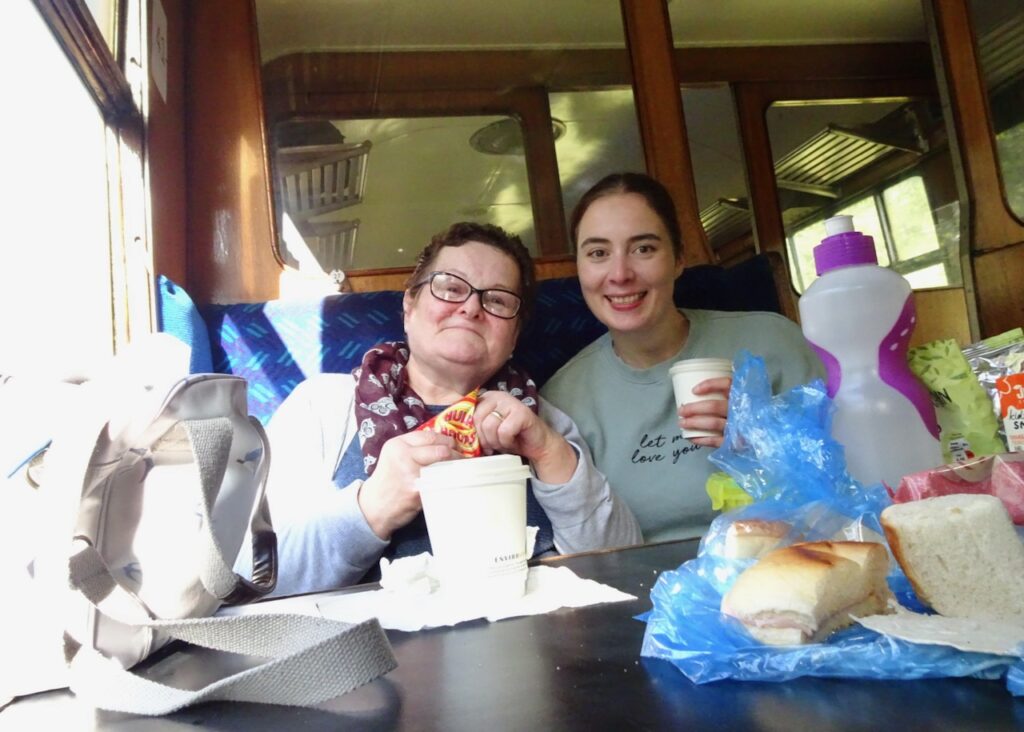 Being able to just sit and watch the world go by is mostly an unfamiliar situation. I think it's in these moments that you realise this is mindfulness, and how though it may not come naturally to just be and feel what's happening 'in the now', it's a positively pleasant thing to do.
There were no loud tannoys throughout our journey and no music; just the hum of quiet nattering and the rhythmic canter of the train. We got great big Thomas-style peep peeps too! I love hearing the whistles of old trains and The Optimist doesn't disappoint.
The Pickering to Whitby service would usually allow stop offs at several stations along the route, however with covid and all that, you have to remain in your carriage. This made the stops a bit frustrating because you didn't know why the train was stopping, so it just felt like wasted time. I'm sure it wasn't, and that these stops are likely necessary for line clearances, but if you don't know, you don't know.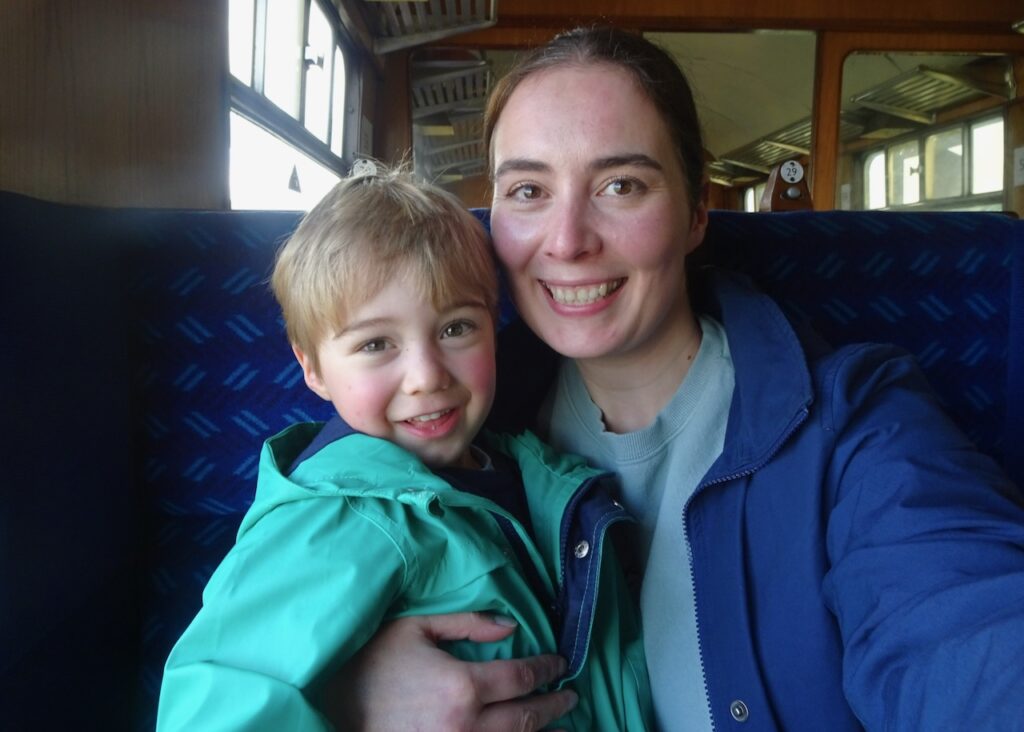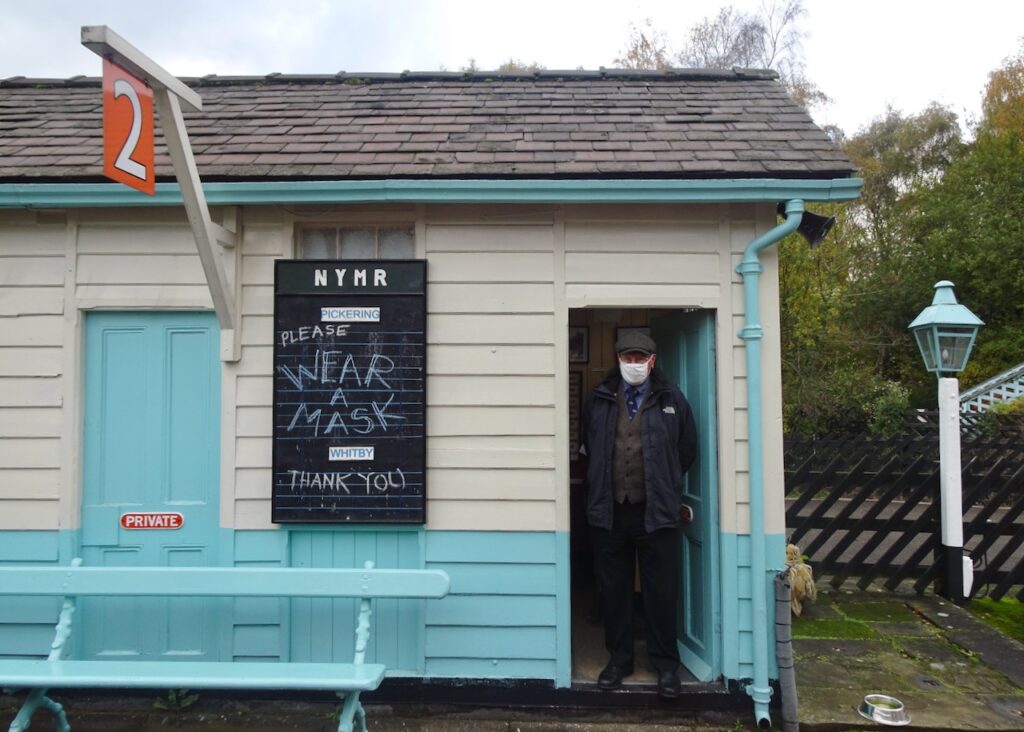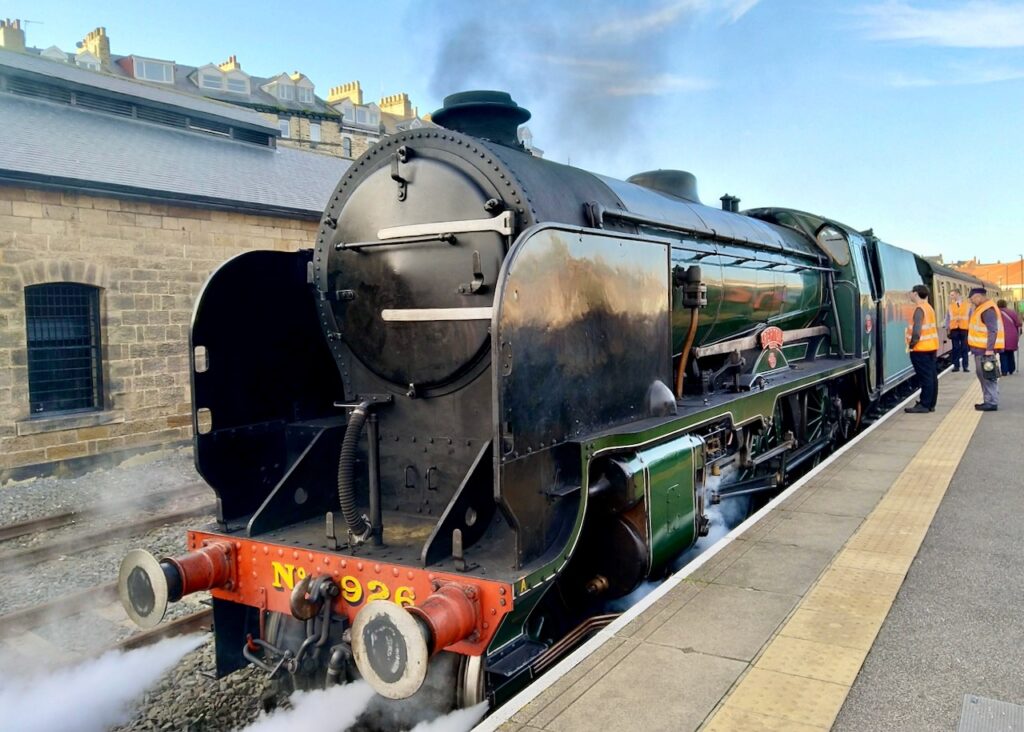 Now at some point during our journey to Whitby we had an apparent switch of engines, because on arriving the now green 'Repton' was number 926, whereas the all black Optimist is number 92134. Hmm. I can only speculate, but I wonder if the Optimist cannot run the entire line for some reason, or maybe there was a mechanical issue? If anyone knows, I'd love to know.
After the morning's misty start, the sun appeared in good time for our afternoon. We pulled into Whitby NYMR station just before 2pm, by which time I was glad I hadn't brought my scarf – it was super sunny and warm, the perfect weather to wander along the radiant harbour in search of some yummy ice cream.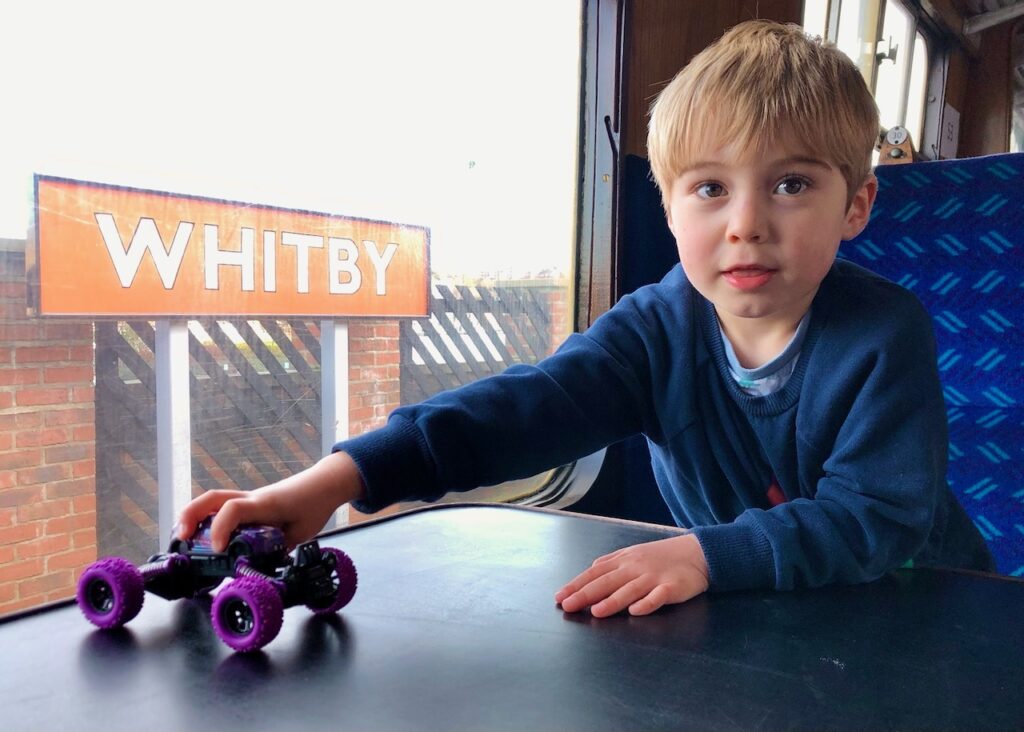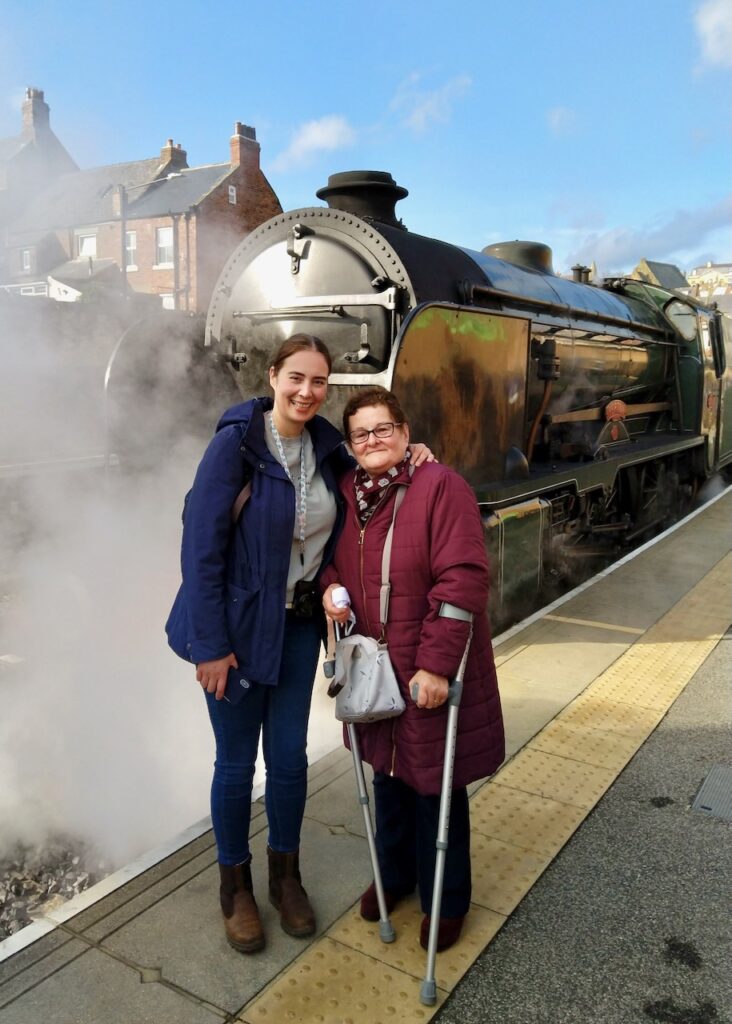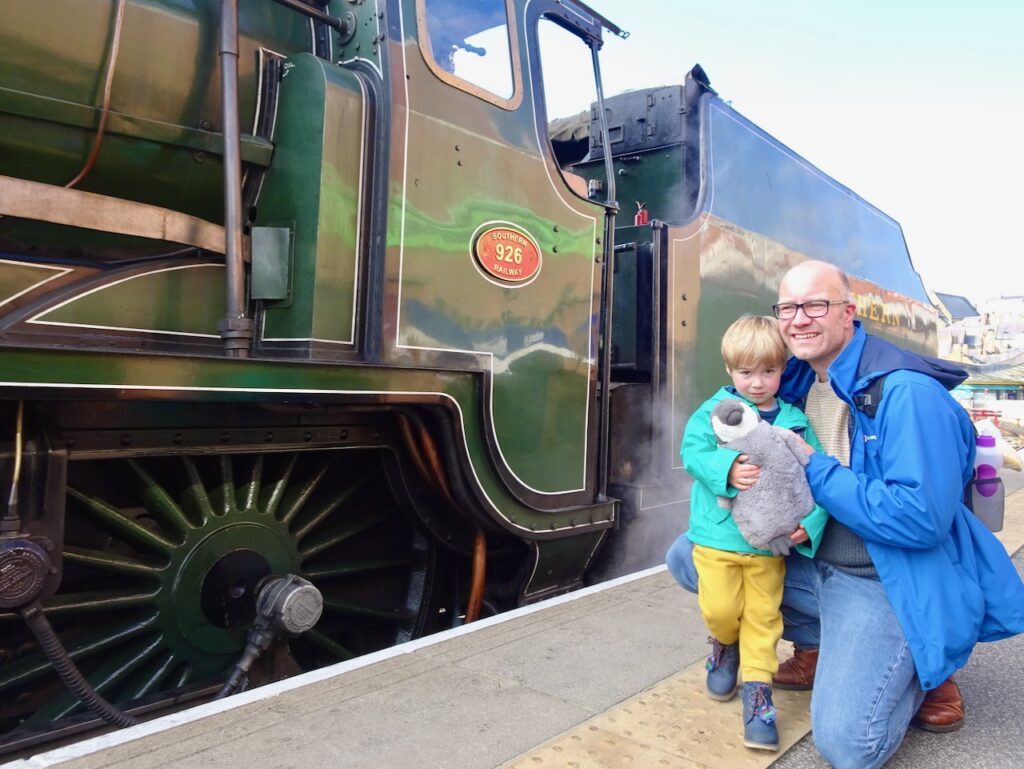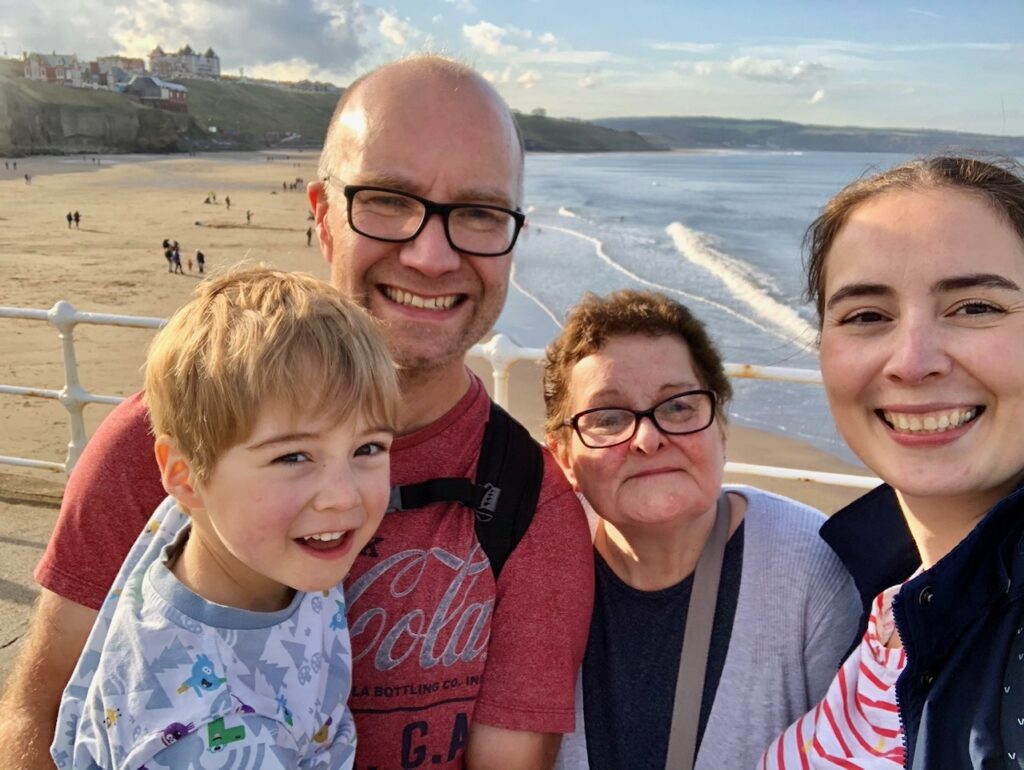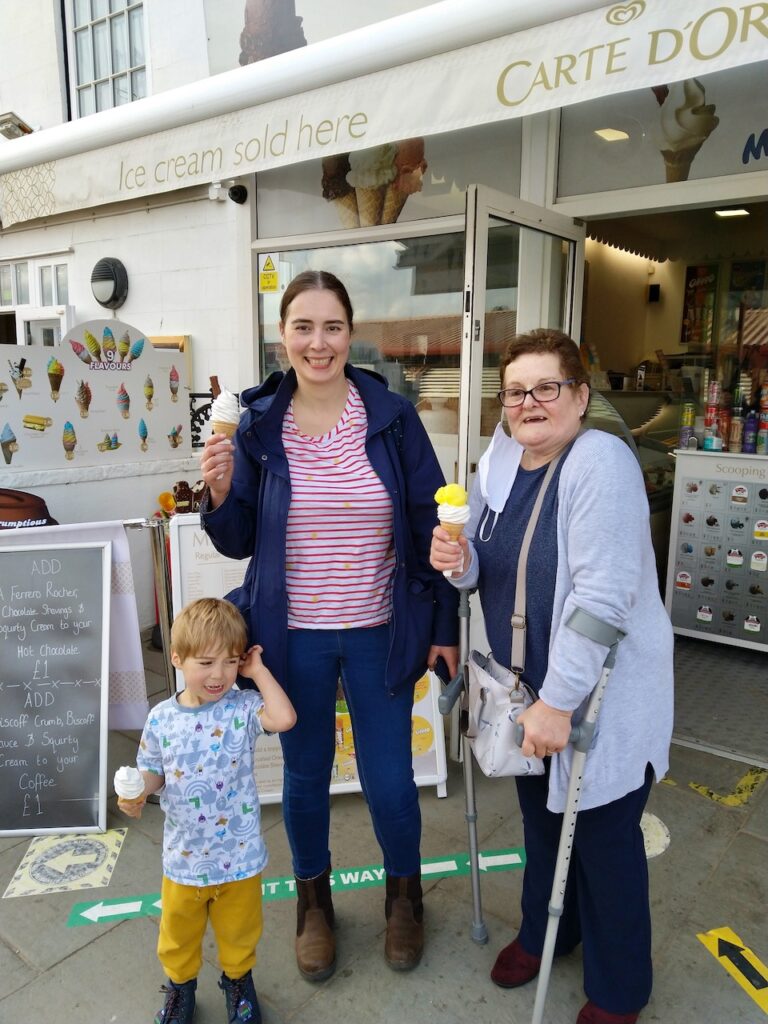 With the station conveniently located at the sea front, we hadn't far to walk at all. There were no hilly areas down this end, so my Mum was able to manage with her crutches.
Little over two hours didn't seem a very long time for tourism but we did manage to fit in a satisfying albeit swift visit. We stopped for ice creams (the Carte D'or shop was particularly good value), we perused and bought from a lovely quaint shop selling all manner of shells and gems, where Reuben (of course) found a monster truck to add to his collection. And taking in the sights and sounds of the fishing town, we enjoyed a leisurely wander up the pier.
Not wanting to rush, we headed back to the station at 4pm; departure was 4.30 so we needed to be seated before then. There was never any stressing about boarding quickly or being rushed, the schedule just seemed to run like clockwork.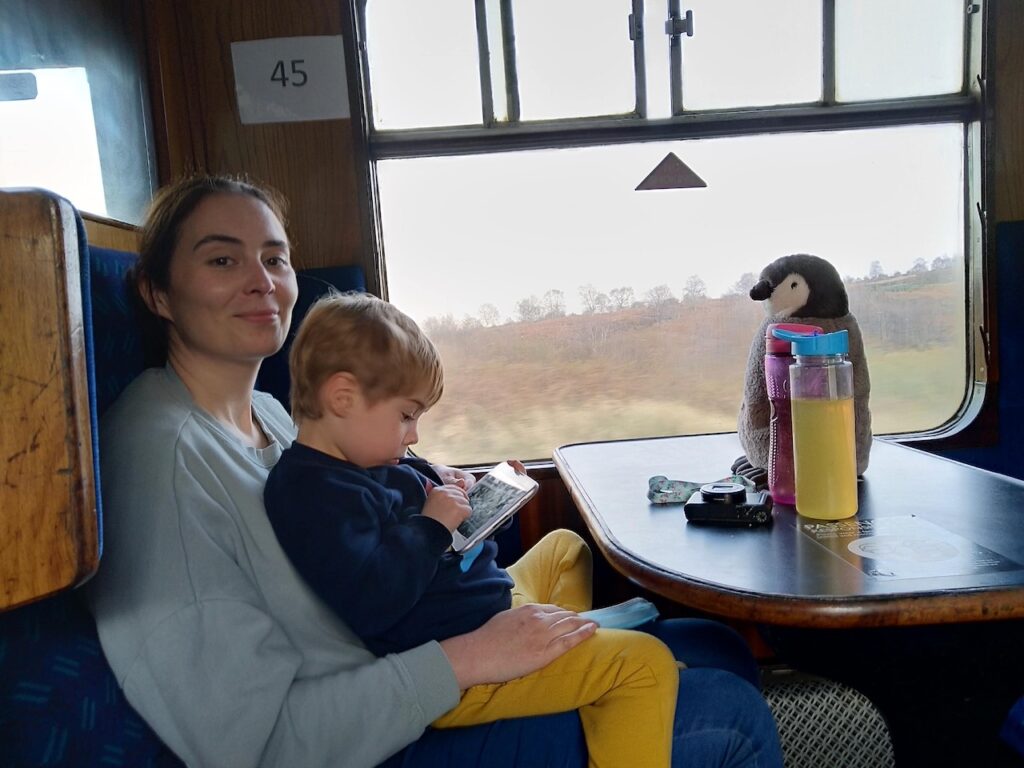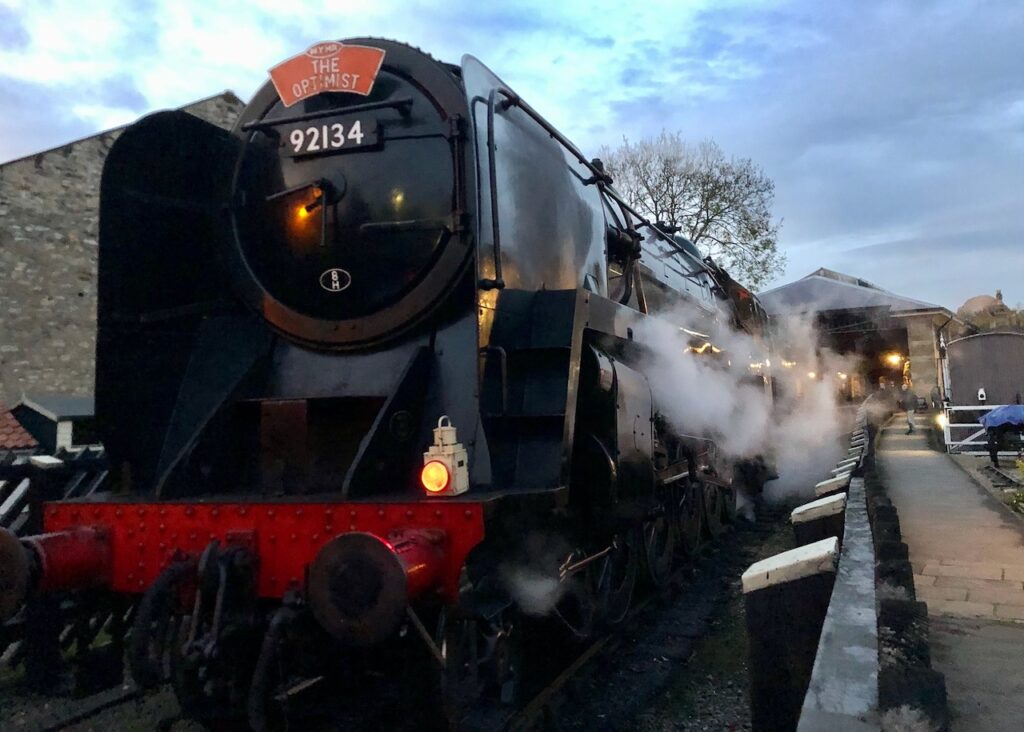 All in all, it was a long day, one which we'd squeezed in a fair amount of miles and sightseeing. From leaving the station at midday to returning back to Pickering after 6pm, you've covered a lot of ground. A lot of track! But it was a great day out. Definitely something for the whole family, not least the Thomas and Polar Express fans nor the ardent train spotter, but anyone who could do with 'taking five'. In these exasperating times, aren't we all in need of a bit of that?
---
---
Let's imagine The Optimist could whisk you away to anywhere (in a covid-free world!) – what would your dream destination be?
---
---