Feeling The Cold? Heat Holders Have Your Socks Sorted
November 6, 2020
Once the clocks go back, autumn comes into its own – and don't your feet know it. Today I take a look at some of Heat Holders warmest socks, including a pair specially made for Raynaud's.
AD. This post contains gifted product from HEAT HOLDERS. All wording, images & opinion are my own.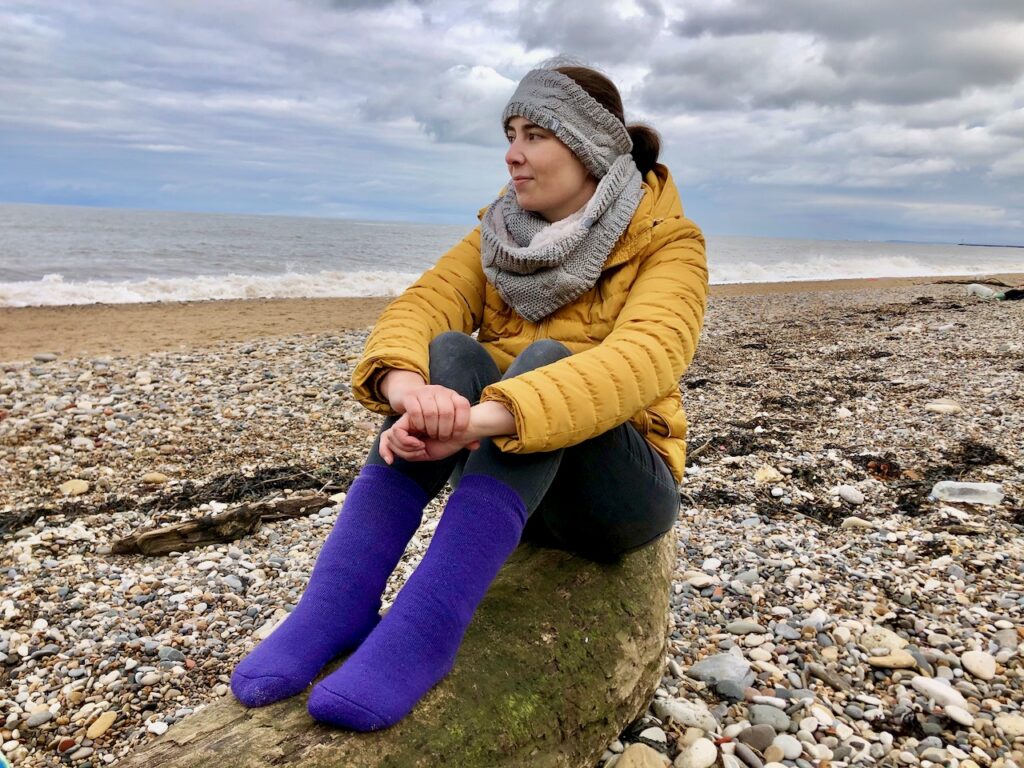 I quite like Autumn: the crisp air, the crunch of fallen leaves and coming in from the cold to sofa snuggles and hot cups of tea. However, living with Raynaud's Disease – the circulatory disorder that makes my fingers and toes painfully numb – means this time of year is far removed from the cosy idyll.
I've spoken about my experience of Raynaud's before, it's a chronic condition I've had to learn to live with since I was very young; enduring icicle-like fingers on the school playground and trying to warm up frozen 'bonfire night' toes in front of the coal fire. Yet while I've had this condition for the most part of my life, I've never got used to it.
My Raynaud's attacks vary in magnitude, and whether triggered by anxiety or provoked by a drop in temperature, the blood vessels in my fingers, soles of my feet and nipples go into "vasospasm". It's in this agonising state that I can't use my hands or feet properly, if at all. And when the nipple blanching starts, it's excruciating.
So how do you manage Raynaud's? Aside from various medications such as nifedipine, and becoming pregnant (which temporarily 'cured' me, but that's a story for another day) it's self care and prevention that's key.
If you can maintain a consistent, comfortable body temperature while protecting your extremities, it's possible to limit the risk of a Raynaud's attack.
In other words: wear good socks.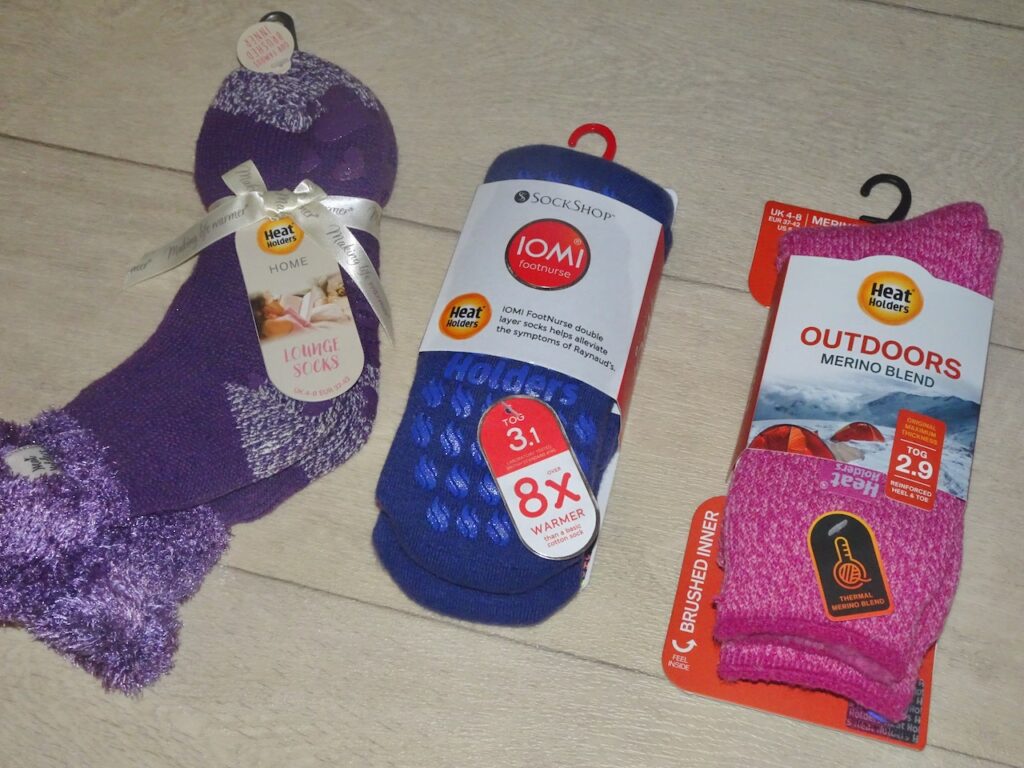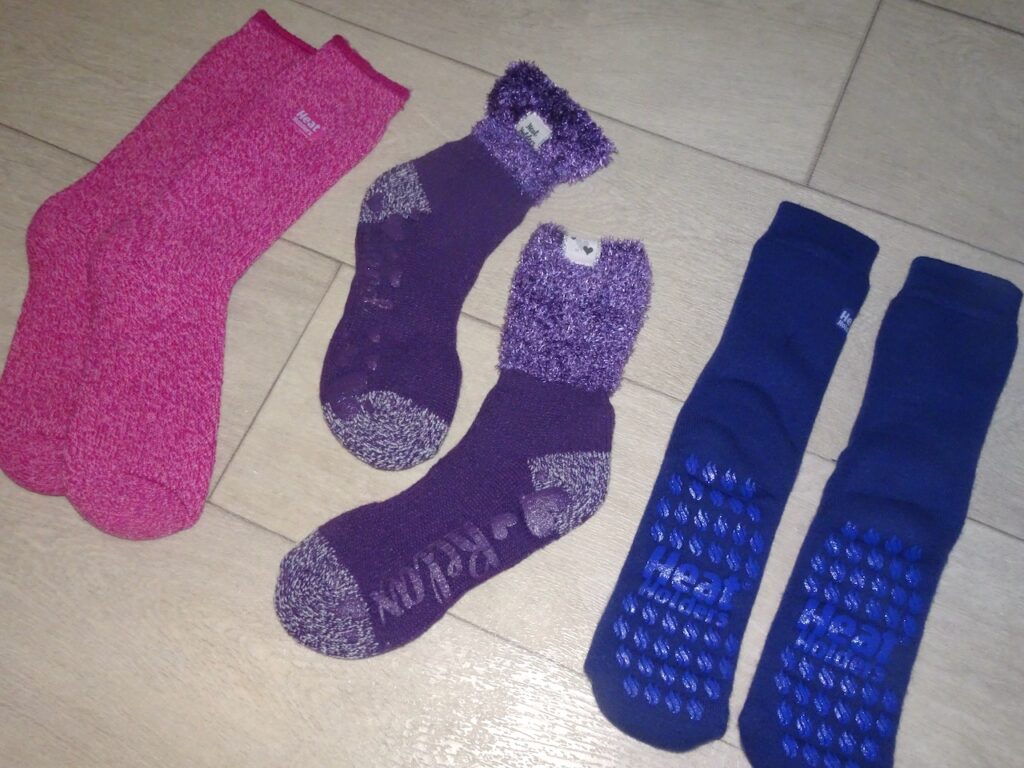 Heat Holders socks are, hands down, my top Raynaud's must-have. What I can only describe as 'super thermals', Heat Holders socks consistently provide me with much relief through the colder months.
Heat Holders sent us a wonderful boxful of cosy essentials, which was an exciting (and very welcome) delivery to receive on a nippy day like today.
If you've never worn Heat Holders socks before, you'll think I'm silly for raving so much about the smallest item of clothing in the wardrobe. But that's just it, they're not just any socks, they're tog rated socks offering ultimate levels of insulation and warmth. So, if you're prone to the misery of cold toes or have Raynaud's like me, these socks are for you.
What's New?
An exciting and relatively new addition to the Heat Holders range are the Raynaud's Slipper Socks. At first glance, it's a pair of comfy lounge socks with a non slip sole. They're available in mens and women's sizes, and come in a choice of colours. Beyond that, they're a sock like no other.
Featuring the cosy brushed inner that Heat Holders are famed for, these advanced design socks feature ultra soft yarn and dual fabric layering enabling them to lock in more warmth. So not only are they super duper soft, but they're specifically tailored for Raynaud's sufferers, boasting the highest tog rating of 3.1 that Heat Holders have offered to date.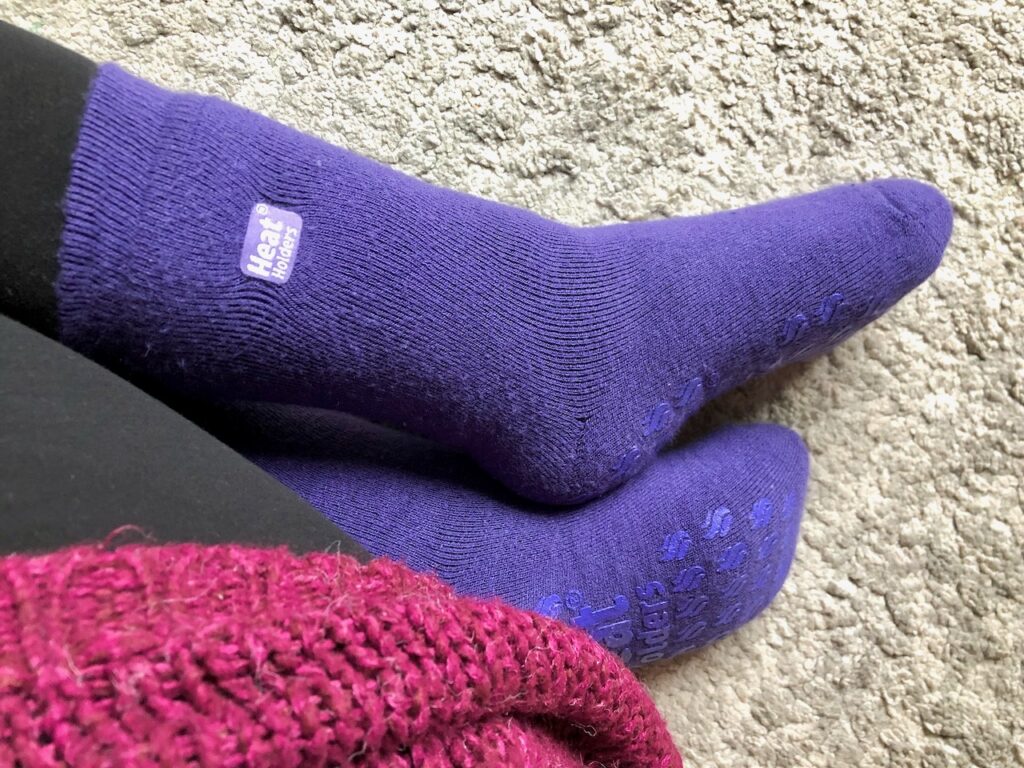 I can wear slipper socks just like the non-slipper sock variety (the grippy sole never bothers me inside footwear), so I've been fortunate to road test the Raynaud's socks in a variety of settings both indoors and out.
Around the house, they're just the most gorgeous socks to pull on. They come up mid calf so a nice generous fit. And I love the ultra softness against my skin, whether I'm chilling on the sofa or heading to bed.
But my favourite way to wear them is on my welly clad adventures. I layer the thick socks over the top of a regular pair of cotton boot socks so they pad out my wellies and give me as much warming insulation as possible. This has worked immensely well for me particularly on our sea glass beach jaunts – oh I'm gonna have to tell you about this new hobby sometime! Since I've started to wear my Raynaud's socks, my feet haven't felt cold or numb in the slightest, despite wading through icy cold sea.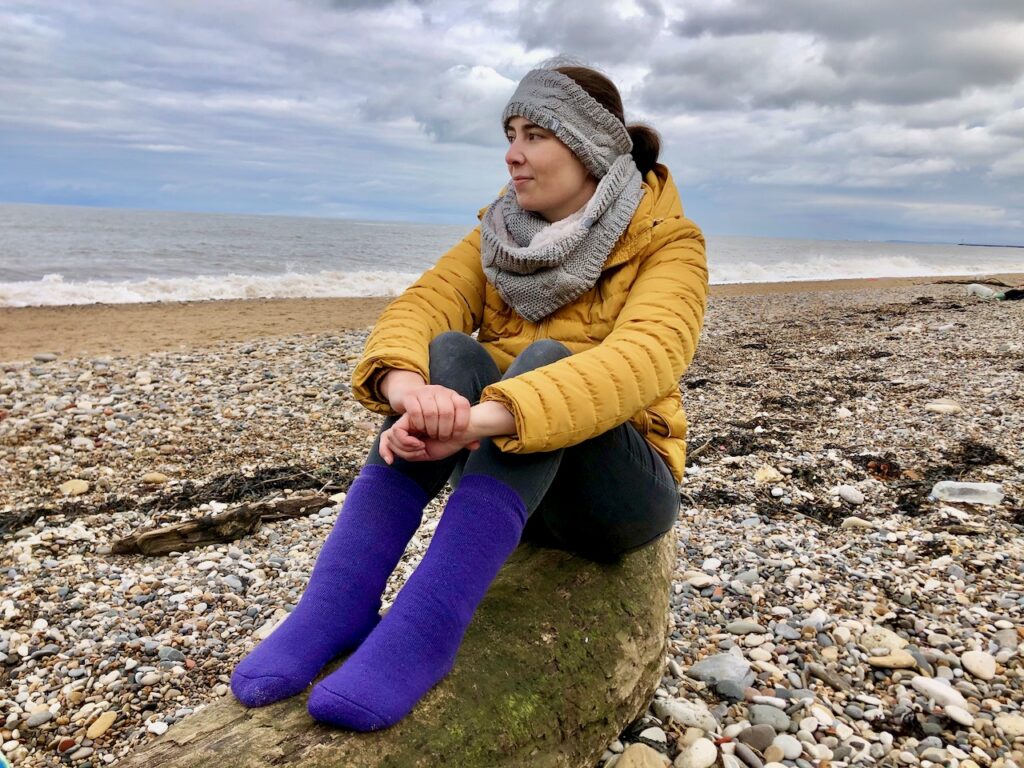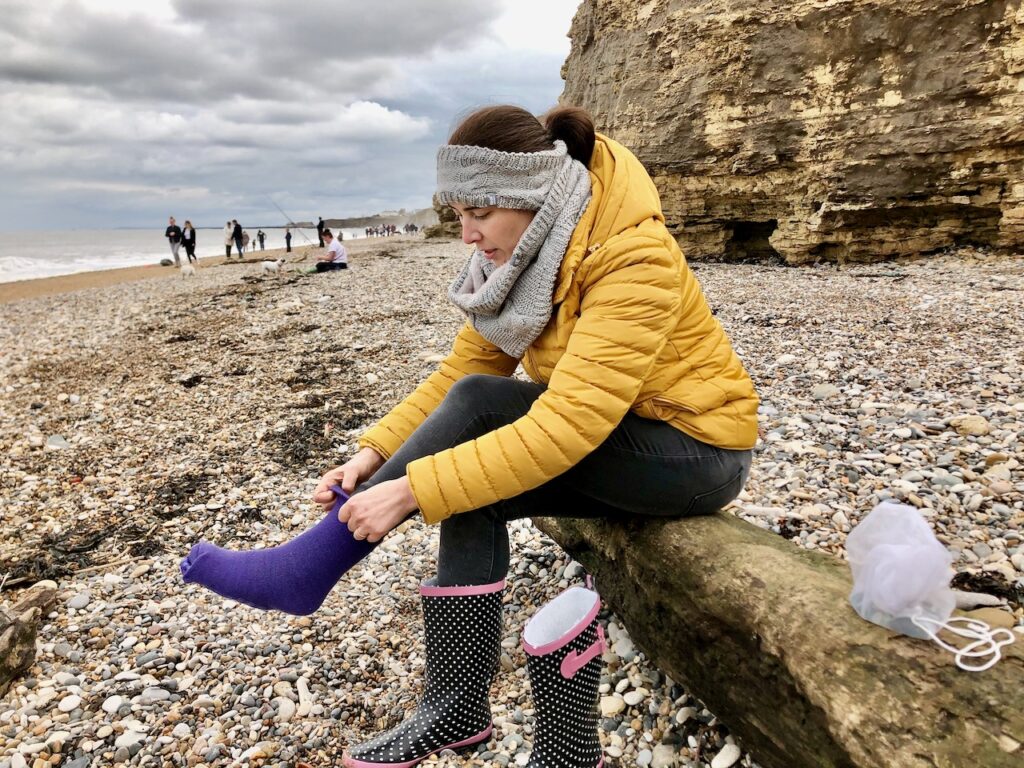 One thing bugs me though: I can't wear these socks in my regular day or walking boots. It's a frustration I meet every time I want to wear a pair of Heat Holders, including the beautiful Outdoor Merino Wool socks and heck, it grieves me.
With their natural fibre blend the 2.9 tog rated Merino Wool Heat Holders would be the perfect hardy socks to wear on my walks. They're a classic ankle hiking sock with a reinforced heel and toe, so they look the part as much as they wear well.
I'm not hugely 'girly' but I'm drawn to a good pink, and these socks are a gorgeous fuchsia marl which suits the style. The ribbed knit ensures the socks adopt a good form so while wool isn't the shapeliest of fabrics, the socks are well fitting and feel sturdy.
While the merino wool socks are fab in wellies, I'm unable to wear them – again like the Raynaud's socks – with my walking boots. I wish there was a way around it, but the sad fact remains that big socks, whichever brand, will never work with tight fitting boots. I wouldn't want to size up in my boots, so sadly they can only be my welly socks. Just as well I can wear them at home then.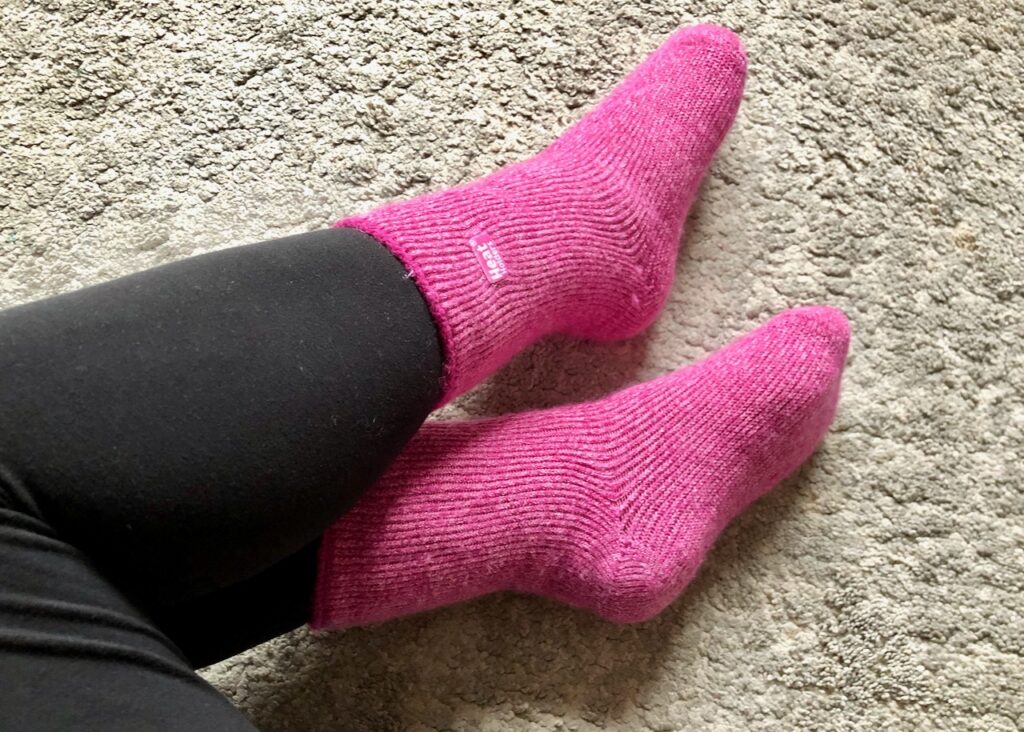 Then we have the fashionable style Lounge Socks which encompass all that's great about Heat Holders socks – grip soles, ultra warmth, thickness and fur!
Boasting brushed Heat Holders furry lining with a toasty tog rating of 2.34, these ankle length lounge socks are made for duvet days and cosy evenings in. And let's not beat around the bush – they're pretty much lockdown essential footwear aren't they?
With a stylish heart design non-slip sole, contrast heel and toe and a plush feather-like turn over trim, the purple lounge socks are really quite pretty.
You can wear them alone as chunky slipper socks or slip them into bootie slippers (like I sometimes do) for maxed out cosiness. Occasionally they can feel a bit slippy underfoot and I need to watch my step going downstairs, but overall they're the loveliest feet treat.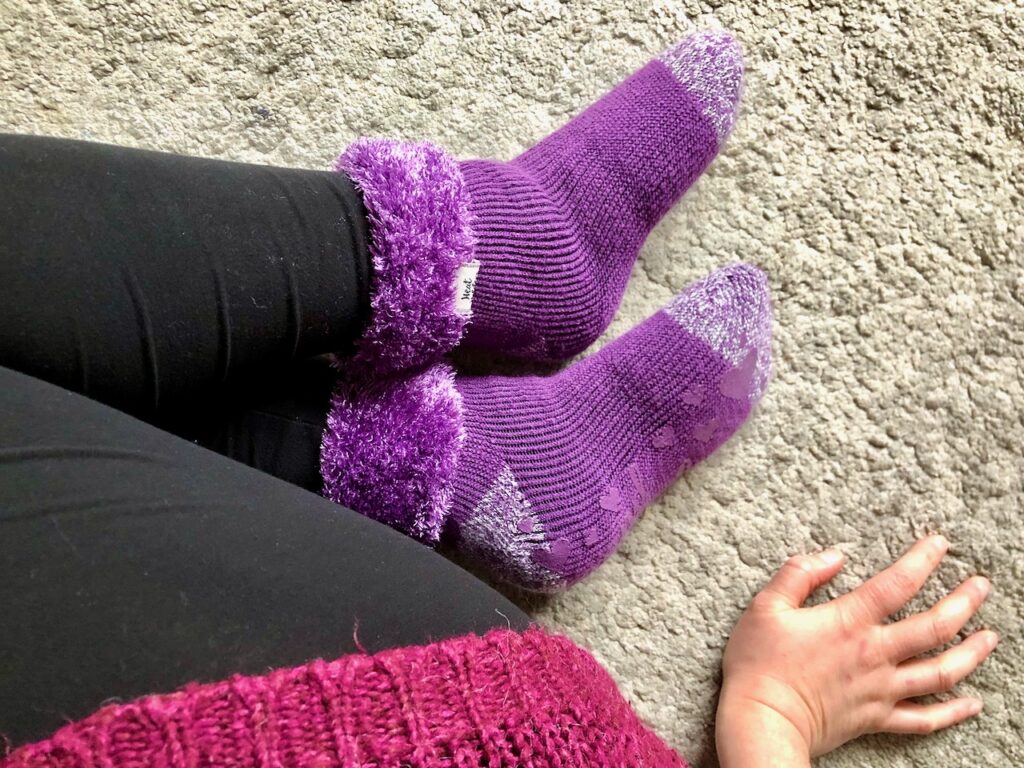 It amazes me how many styles of sock Heat Holders actually carry but it's all good news for those of us with freezing feet. Whether I'm beach combing or chilling at home, I need socks that are up to the job, and that means cutting through the cold of Raynaud's. The high tog rated Raynaud's sock are my surest bet, so I know what I'll be wearing the most of til spring.
Don't miss my review of Heat Holders winter wear coming next!
---
Do you suffer with Raynaud's or feel the cold easily? How do you stave off the cold temperatures? I'd love to hear your autumn-winter must-dos and any life hacks you have.
---
---