REVIEW: Cordless Cleaning with the Hoover HF500 Anti-Twist Stick Vacuum Cleaner
July 26, 2022
Today we're looking at a high performance vacuum cleaner from the brand who knows Hoovering best.
AD. This post contains gifted product and affiliate linking which may earn me a small commission, at no cost to you. Thanks to HOOVER DIRECT. All wording and images are my own.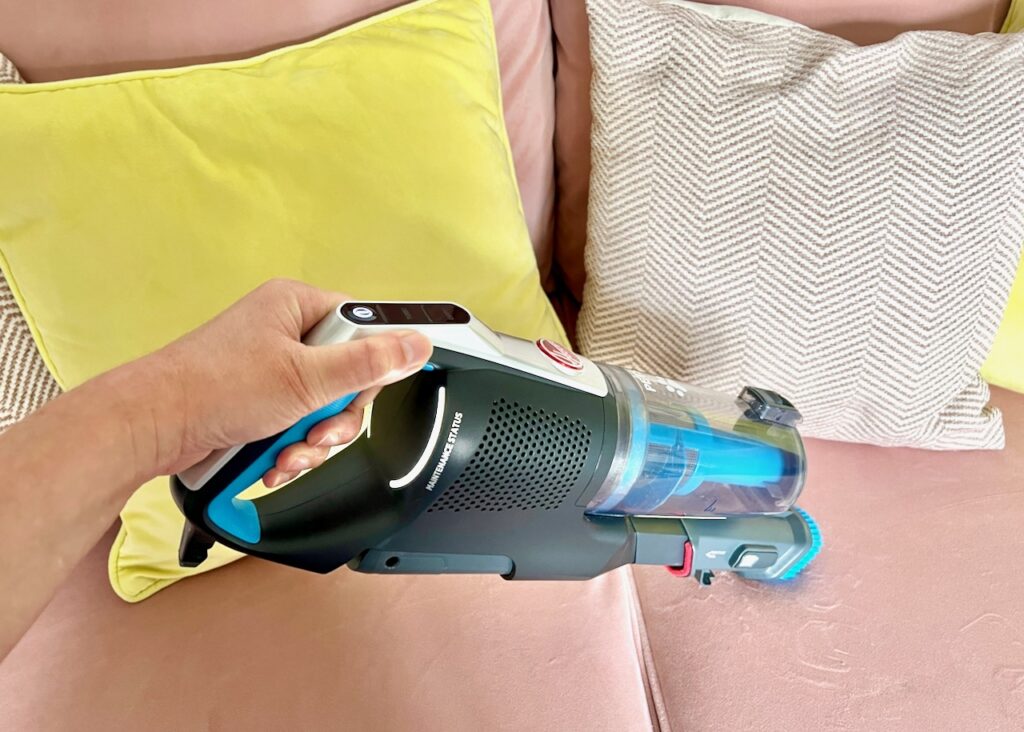 When you're a household of children and pets, things can get messy quick.
In our house kids are outnumbered by the furry members of our family but the five year old holds his game well. While the rabbits have their fur and hay, the boy his cereal, crumbs and who knows what else from the garden, it's safe to say vacuum cleaning is a daily task.
So it may (or may not) surprise you to hear we're also a triple vacuum cleaner family. Sounds extravagant, but it's more like a 'goldilocks and the three bears' story than a cleaner obsession: one's too heavy (that the husband likes), one's corded and cumbersome (that never sees daylight) and the other, well, doesn't really square up to the hype of its name.
Now, as guilty as I am for circumventing the household chores, I would be happy cleaning if only the tools made lighter work of the job at hand, rather than just pushing fluff from one part of the carpet to another, or putting my back out.
Introducing the new Hoover to the family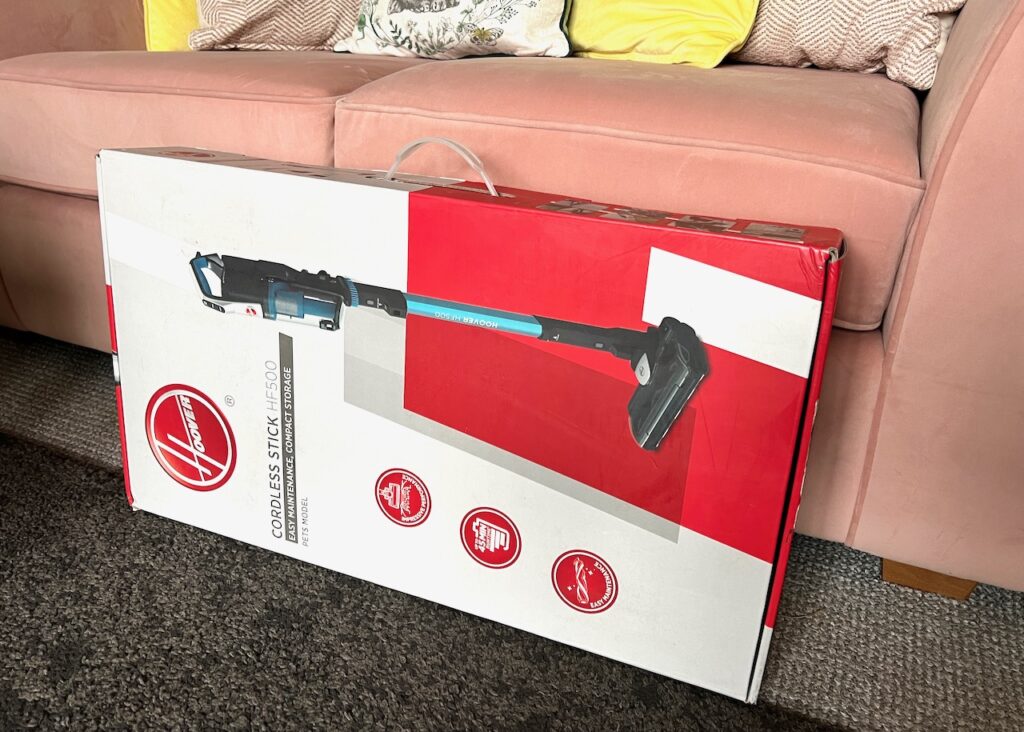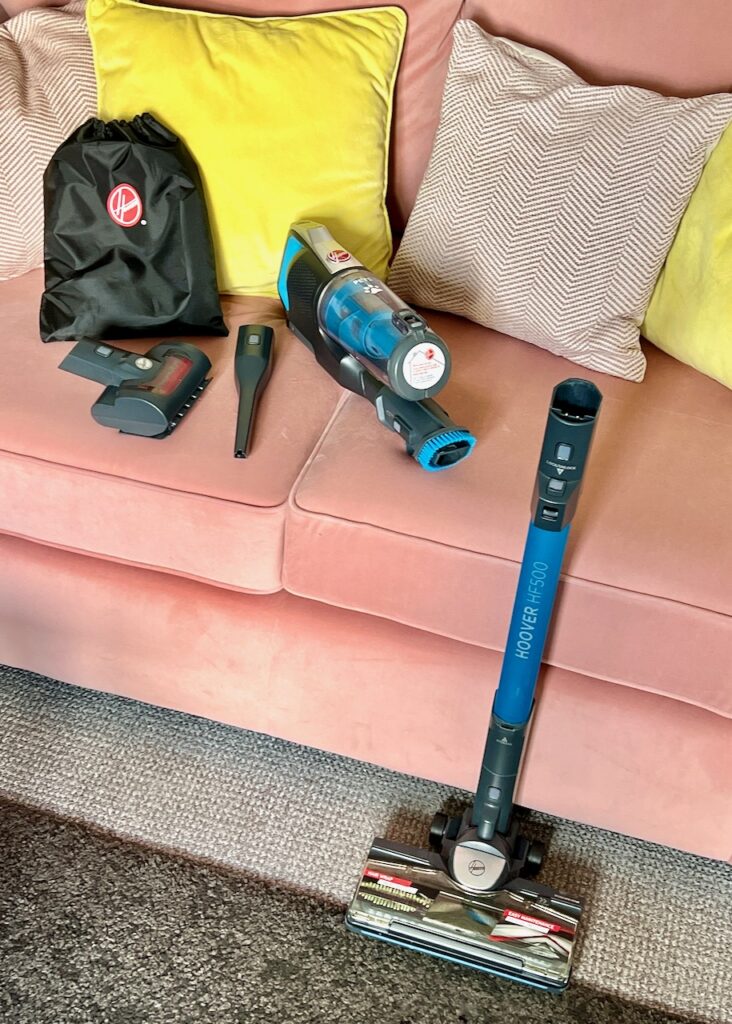 When Hoover offered me the chance to try out the newly launched HF500 Anti-Twist Pets cordless vacuum cleaner I couldn't refuse. Of course, Hoover is the iconic household brand whose name became synonymous with vacuum cleaning.
So would this be my "fourth time's the charm" moment?
Let's take a look at the Anti-Twist vacuum, successor to the award winning H-Free 500 (Real Homes Awards 2020 winner in Best Vacuum category).
The new HF500 Anti-Twist Pets is a cordless stick vacuum cleaner that powerfully cleans with minimal effort.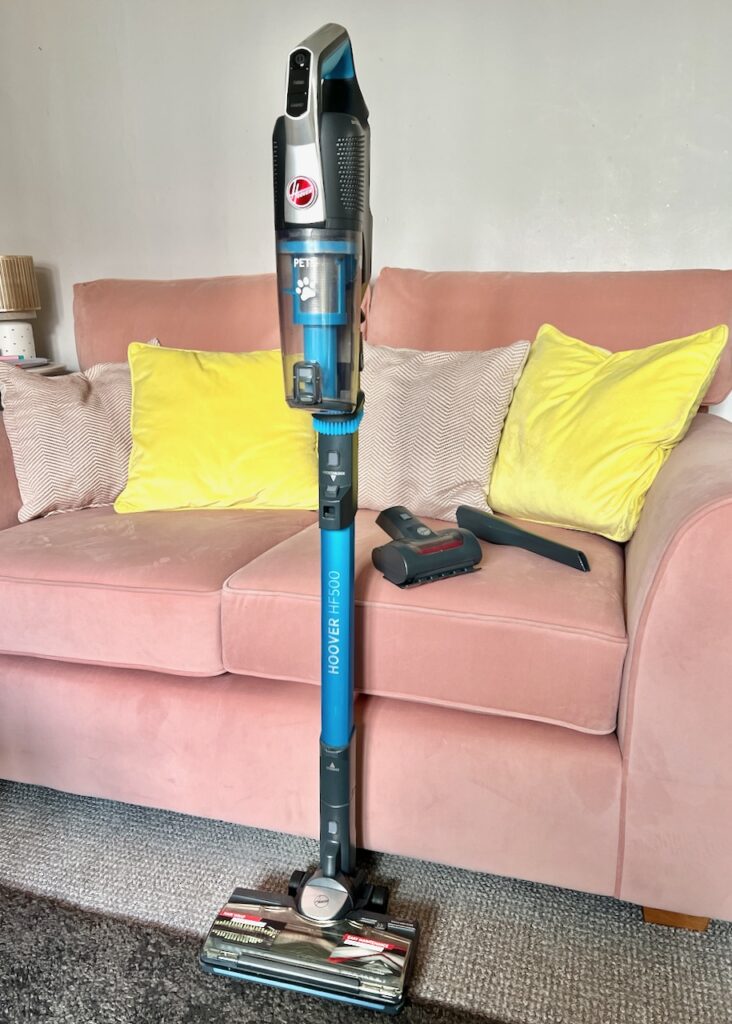 A sleekly styled vacuum cleaner offering cordless freedom and easy handling, the Anti-Twist Pets is a force to be reckoned with. Charging in just 2.5 hours with a runtime up to 45 minutes, this vacuum cleaner boasts increased performance thanks to its fast rechargeable battery and super efficient 22 volt Direct Impulse Motor.
Functionality is marked up too. There's LED floorhead lights for better visibility of where and what you're vacuuming, and a unique anti-twist brushbar that prevents the nightmare hair tangle. The Anti-Twist is one vacuum cleaner designed for fast, superior cleaning.
The Anti-Twist is also fairly small for a powerful stick vacuum, one I'd say that because of how well it's designed to be easy to use it isn't overwhelming to figure out. Weighing 2.5kg but with a bin capacity of 0.45L, it's not actually that small, it's just smartly designed. Even the way it's stored, the vacuum condenses into a more compact space on standing, and wall secured for safety and tidiness.
Getting Started
All the pieces are ready to assemble with a simple click of a button. Once the battery pack is charged up, click it into place on the vacuum body. The vacuum body clicks into the stick; the stick slots into the floorhead attachment and you're good to go.
There are three buttons positioned just above the handle: power on/off, turbo, and carpet. Turbo provides an increase in power, while the carpet function ensures the brushbar is down.
Hoovering with the HF500 Anti-Twist Pets Vacuum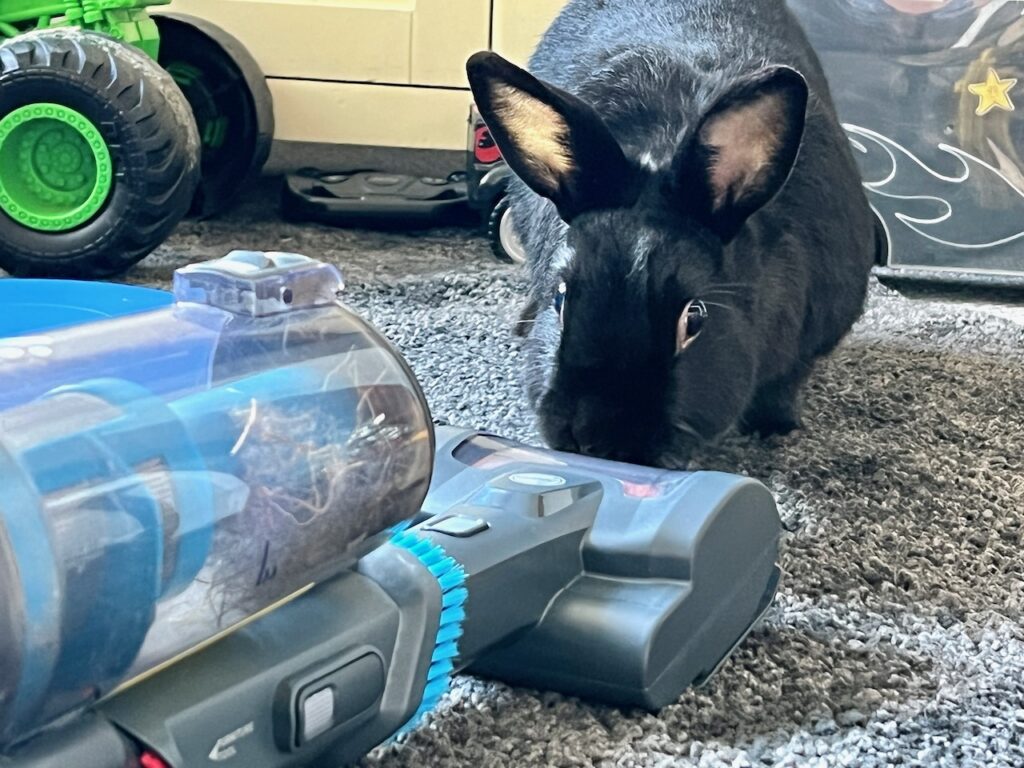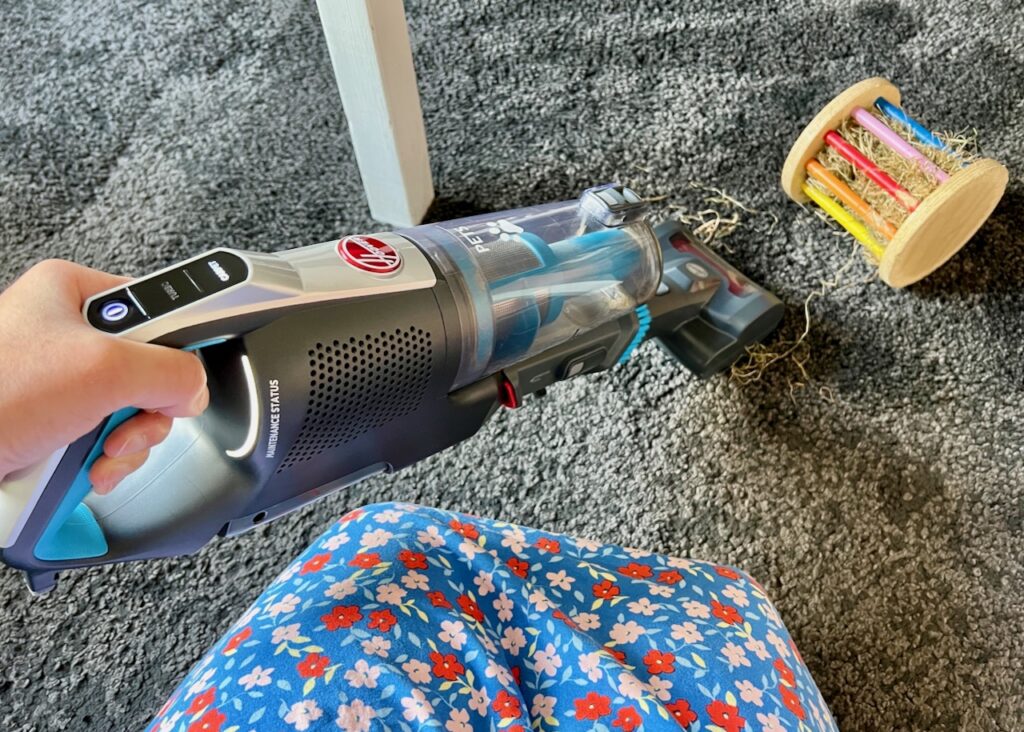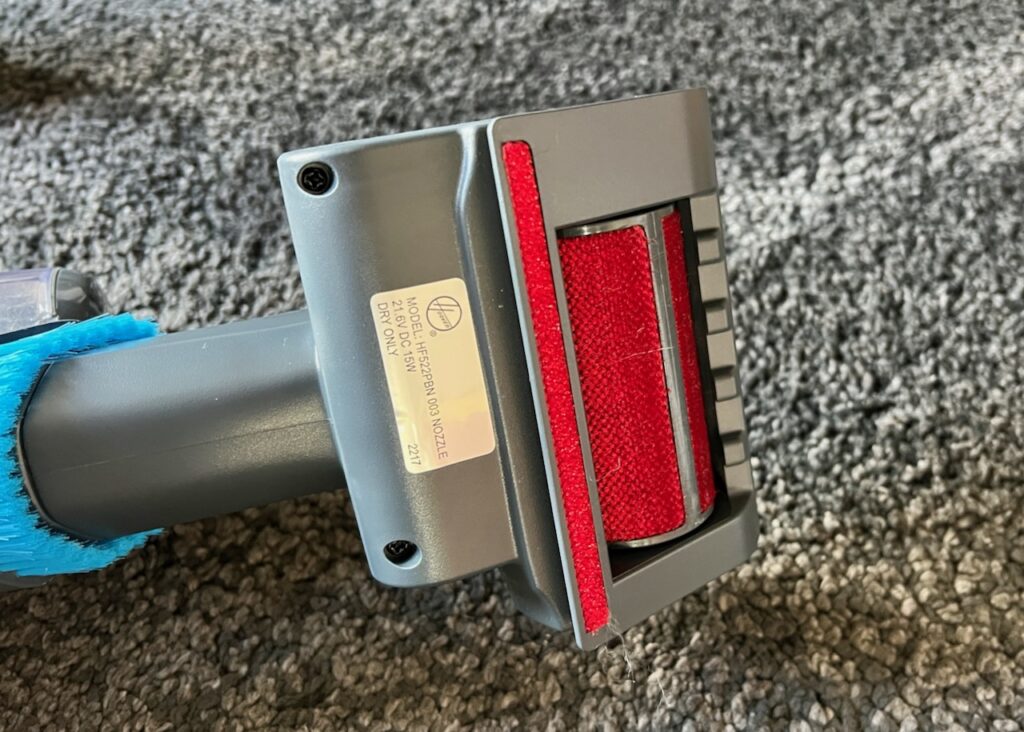 Having free-roaming house rabbits underfoot in the same house as a child, keeping a clean and happy home is a priority. Housetrained rabbits are super clean animals, and thankfully our two are good for using their litter boxes. That's not to say hay isn't a problem! The rabbits do seem to relish turfing bedding out of their boxes and strewing the carpet with their hay toys. So don't get me started on moulting season, when all you seem to vacuum up is fur upon fur.
Impressively, the Anti-Twist Pets model makes light work of the animals. Using the stick vacuum with the large brushhead is keeping all our carpets and hard floors clean of daily dirt.
When there's a lot of hay to pick up it can choke up the brushhead, so this is when the Pets turbo brush comes in to tackle the heavy mess. Attached to the vacuum in handheld mode, the powered brush is great on the stairs too because I'm able to get deep into the carpet pile and close to the edge.
Cleaning the HF500 Anti-Twist Pets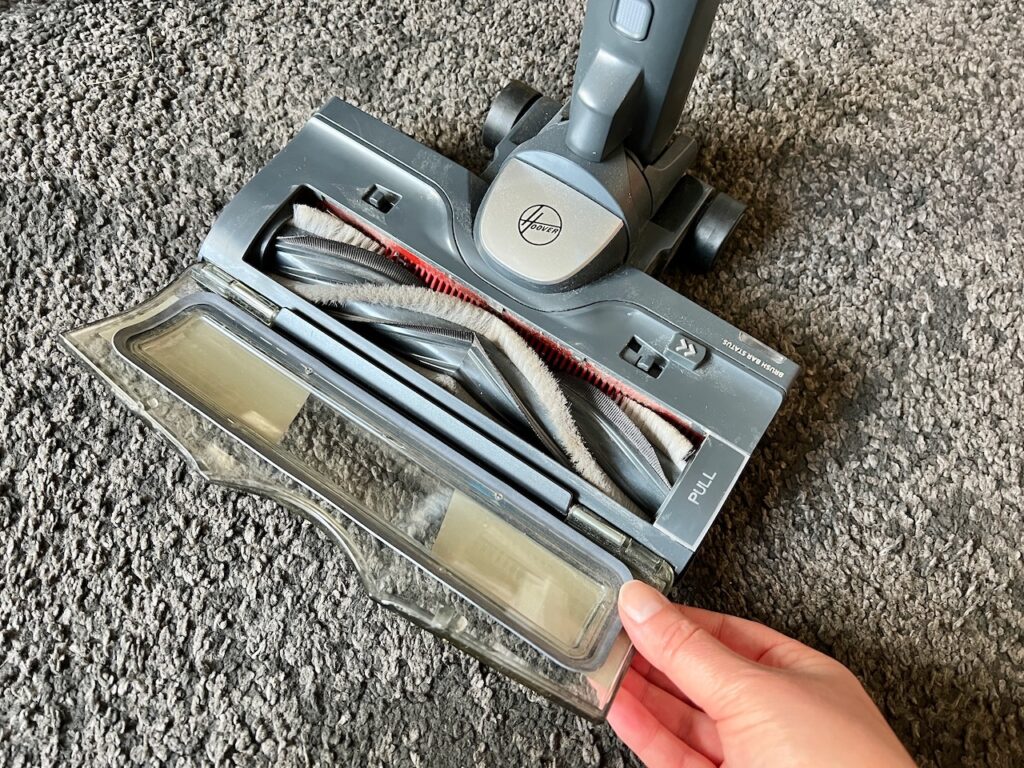 Maintenance of the Anti-Twist Pets vacuum is a pretty stress-free process, which isn't a pro I'd often attribute to a vacuum cleaner.
To empty the bin, just unlock/lock with a twist and then a press of a button releases the bin flap. Once you've taken the bin off from the body, you see the filter on the opposite end. This easily removes which also gains access to the back of the bin so it's simple to get in and brush out.
Unlike my other two stick vacuums (that should know better but shall not be named) the HF500 Anti-Twist Pets has an easily accessible brushbar so you can get it cleaned in an instant and without the need for tools. You just slide sideways a little arrowed button on the front and the transparent door pops open. If the brush needs cleaning, it just pulls out.
So what do I think of the HF500 Anti-Twist Pets Stick Vacuum?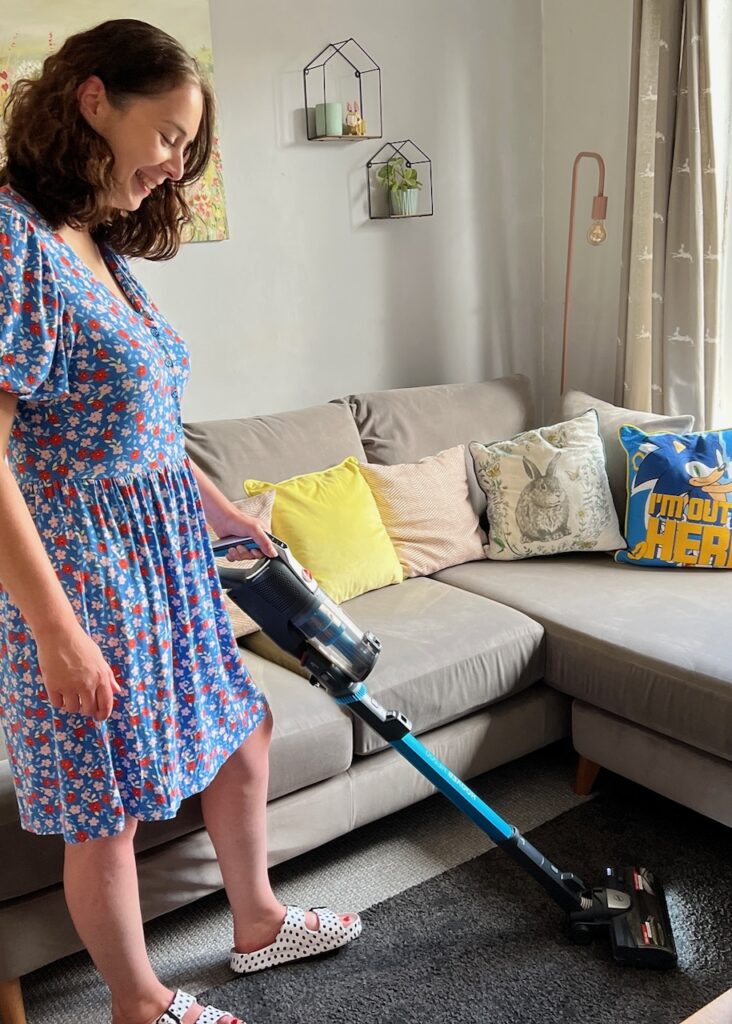 As someone challenged by chronic pain, I find vacuuming with the HF500 Anti-Twist comfortable super easy. And I'll say right now: yes, 'fourth time is the charm'! Out of the four vacuum cleaners this house now owns, this Hoover vacuum is by far my favourite.
Even in its largest format, the stick vacuum is ultra light-weight, manoeuvring swiftly around corners and beneath chairs making 'a quick hoover about' a simple task.
Handheld, the device is nice and light to hold up for running along curtains or a quick cobweb blast. And whether the sofas are getting a deep clean or they're just having a quick once-over, the choice of attachable tools means I can swiftly clear up dust and crumbs.
In terms of what it can vacuum up, I love how size isn't a problem. It sucks up talcum powder, crumbs, big cereal hoops and the pet mess, no problem. The turbo function provides extra oomph when I need it, and it doesn't matter if I'm going under the sofa or into a dark crevice because the clever little LEDS on the brushhead light my way. (Just note, the lights don't operate for flat surfaces when the carpet button isn't on.)
To end, yes, this is a super vacuum cleaner if you're looking for something light and easy to use on a daily basis that doesn't compromise the performance you need to tackle the toughest dirt, swiftly clearing away in-bedded particles and that pesky loose fur.
Fancy the Hoover Anti-Twist yourself?
Redeem discount code: HONESTLY20 to get 20% off the price of the HF500 Anti-Twist Home or Pets models from HooverDirect.uk. (It's free delivery too!)
---
---