Pretend Play To Creative Cooking: Making Mr Men Biscuits [with Dantoy]
February 3, 2021
Today we're playing with a toy baking set and putting it to work in the kitchen as we make 'Mr Messy' biscuits. Grab your aprons!
AD. This post contains gifted product from DANTOY. All wording, images & opinion are my own.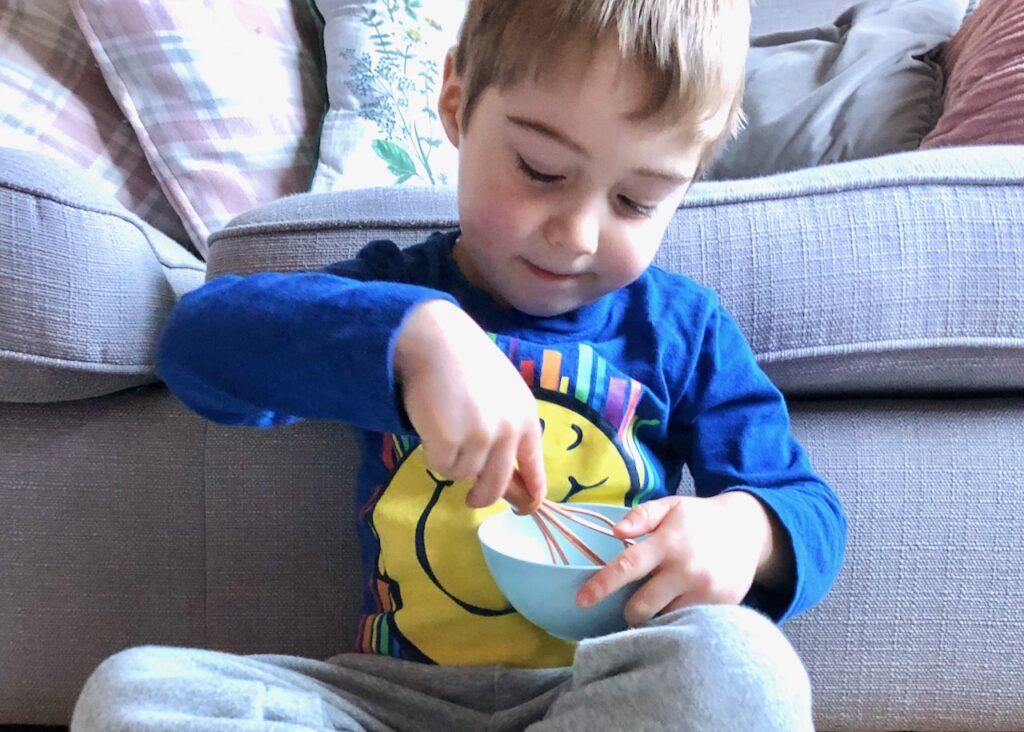 If you haven't baked banana bread during lockdown are you even a lockdown baker?
In the last year we've munched our way through all manner of bread and biscuits because the husband embraced a new found passion for baking. With crusty loaves, baguettes and shortbread now regularly whipped up, it isn't just Sean who's bitten with the baking bug – our little man of the house loves nothing better than baking with his dad.
Don't get me wrong, I too have baked with Reuben. We were making gingerbread Miffy biscuits before he was two! I'm just not the best most patient person to try baking anything with little 'helping' hands. What can I say, disorderly baking chaos makes me twitch.
However, now Reuben's almost four, I admit he's much more adept these days. He loves measuring ingredients and mixing together, and the more mess the merrier. So I don't want to spoil his enthusiasm, or dampen what could be a proper hobby. I need to let him have 'his thing'. And if baking biscuits – or cookies as he says – is what he loves to do, then baking cookies we'll do.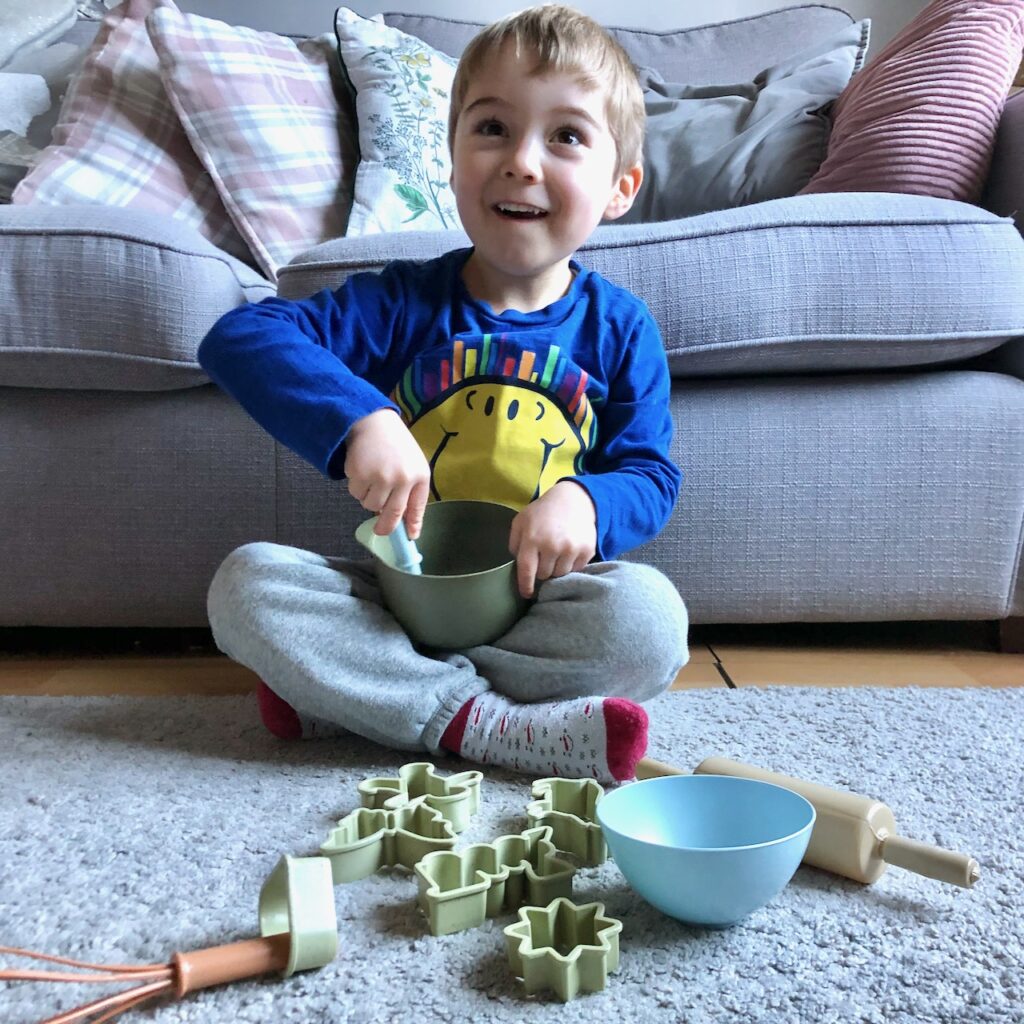 Reuben received this fab little set from Danish toymakers, Dantoy: the 11 Piece Baking Set from the brand's Bioplastic line. Whilst these are essentially toys for pretend role play, they're functional pieces that a child can safely use in the kitchen.
Dantoy's ethically aware business practice means this play set is a brilliant option for buying plastic without the guilt. Derived from sugarcane, the eco-friendly bioplastic is completely recyclable – as is its 'green' packaging – and free from toxins, and much can be said for that kind of peace of mind.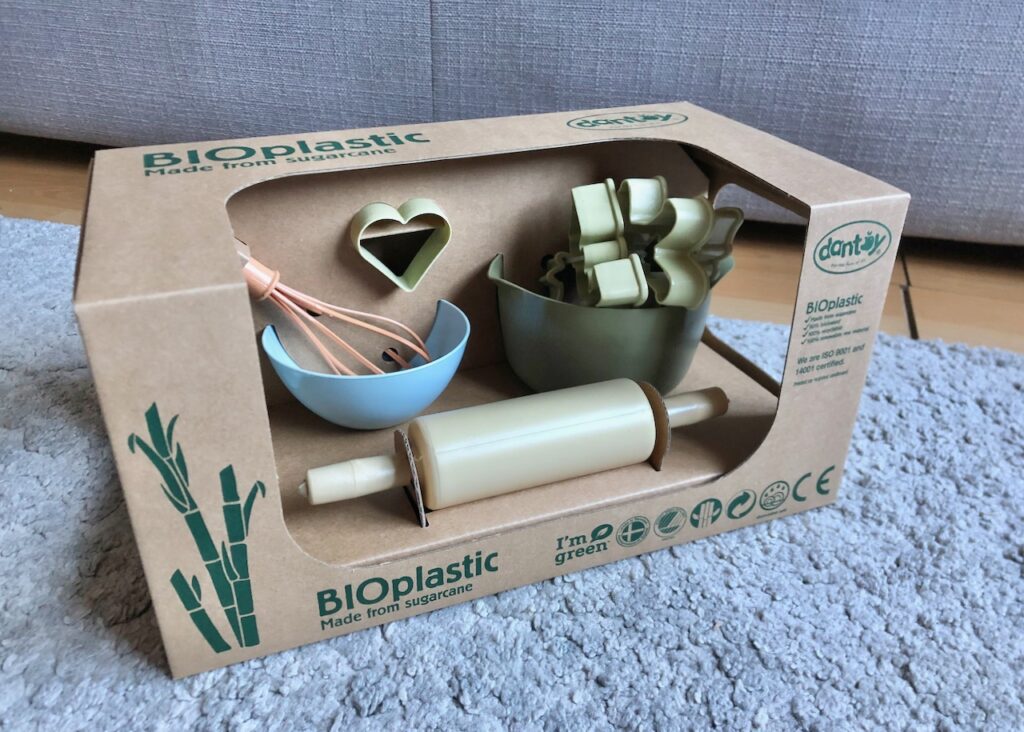 So what's in the box?
This sturdy little baking set comprises: a medium mixing bowl with hand grip and pouring lip, a small mixing dish, rolling pin, whisk, pastry cutter and six cutters in various shapes including a heart, butterfly and pig.
Keen to use his new baking equipment, Reuben first had a play with the set, imagining whisking up egg and rolling out pastry. It was fun! But it wasn't long before he wanted the real deal, so we chose a recipe that would encourage Reuben to use most of the pieces. As he's all over Mr Men at the moment, Mr Messy biscuits were the order of the day.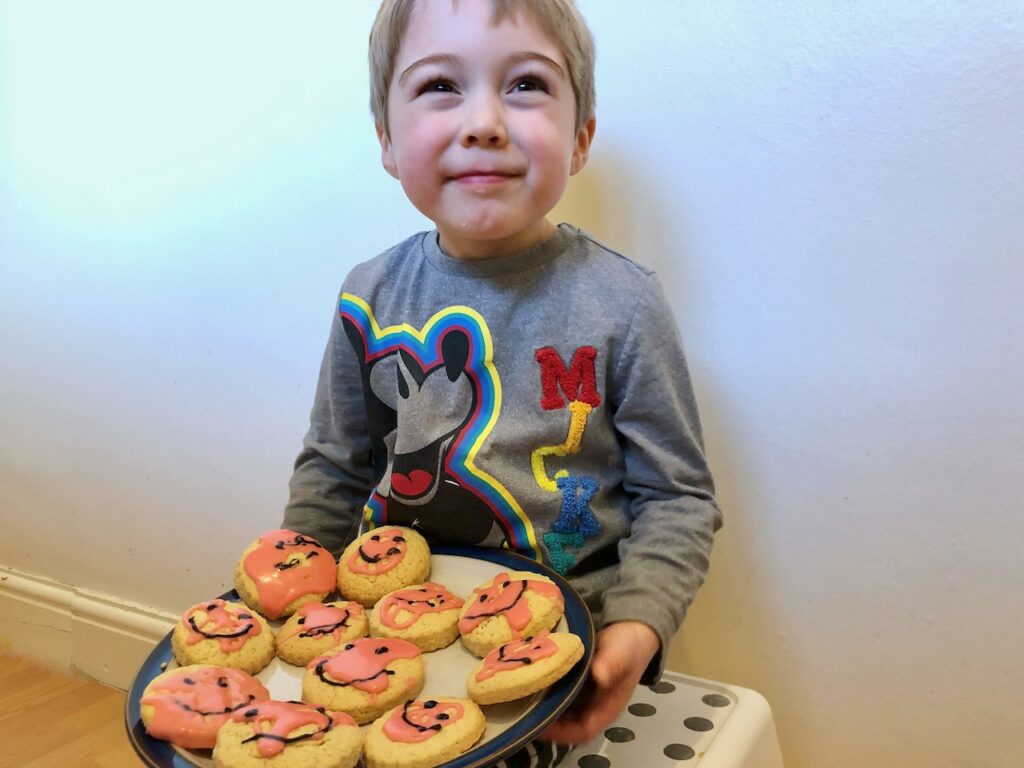 How do you make Mr Messy biscuits?
I used a basic biscuit recipe from an old issue of the Be-Ro recipe book (here you can find the same 'animal biscuits' recipe) but any plain cookie dough will work. Mr Messy biscuits are just simple iced biscuits at the end of the day! I first spotted the idea on Pinterest where shop bought biscuits were used, so if you can't/won't/don't have time to bake biscuits, there's always the good old rich tea biscuit option.
Reuben loved having a central role in the kitchen as we worked together mixing our dough. His Dantoy utensils came in useful too; when we needed an egg, Reuben had it sorted. And when it was time to roll and cut those shapes out, out came the little tools for the job.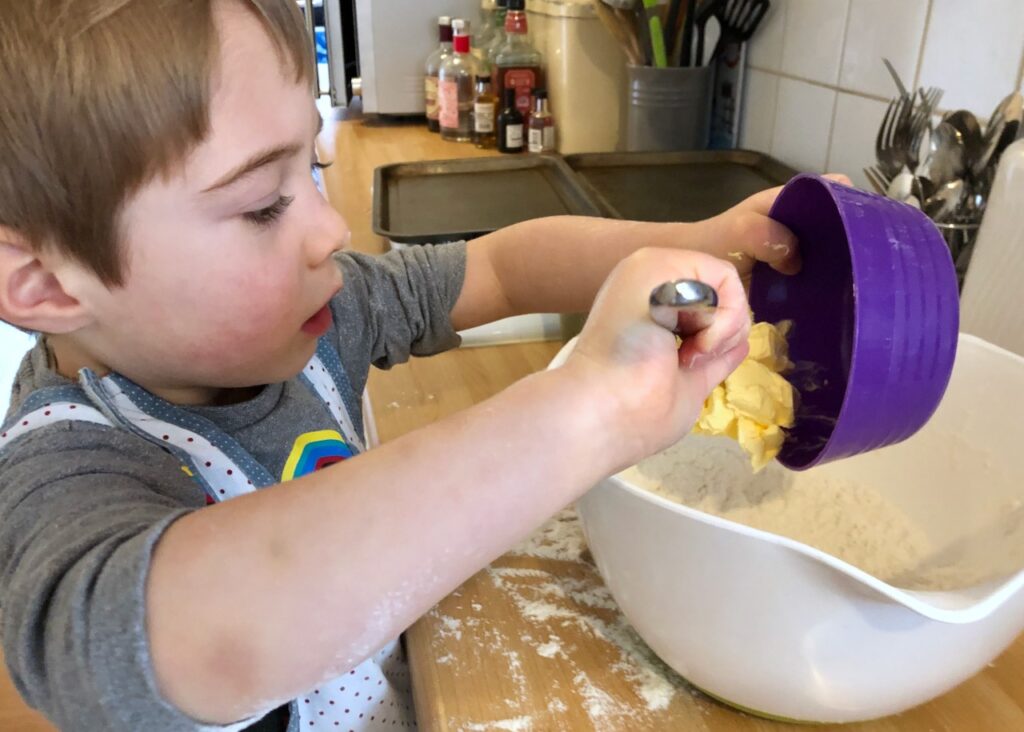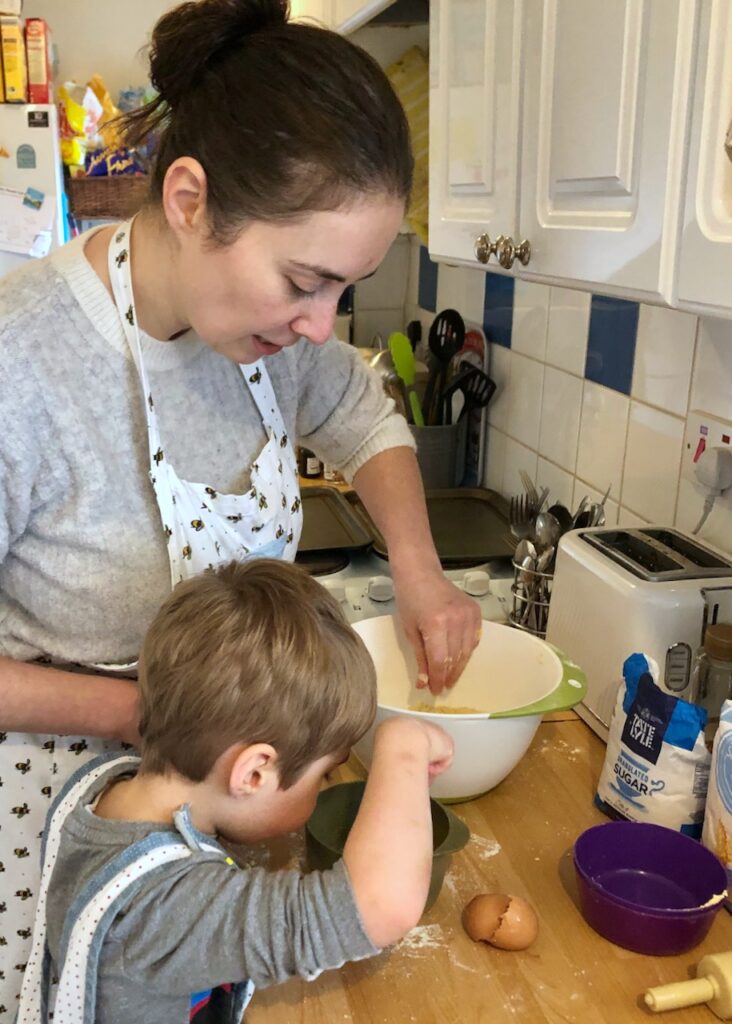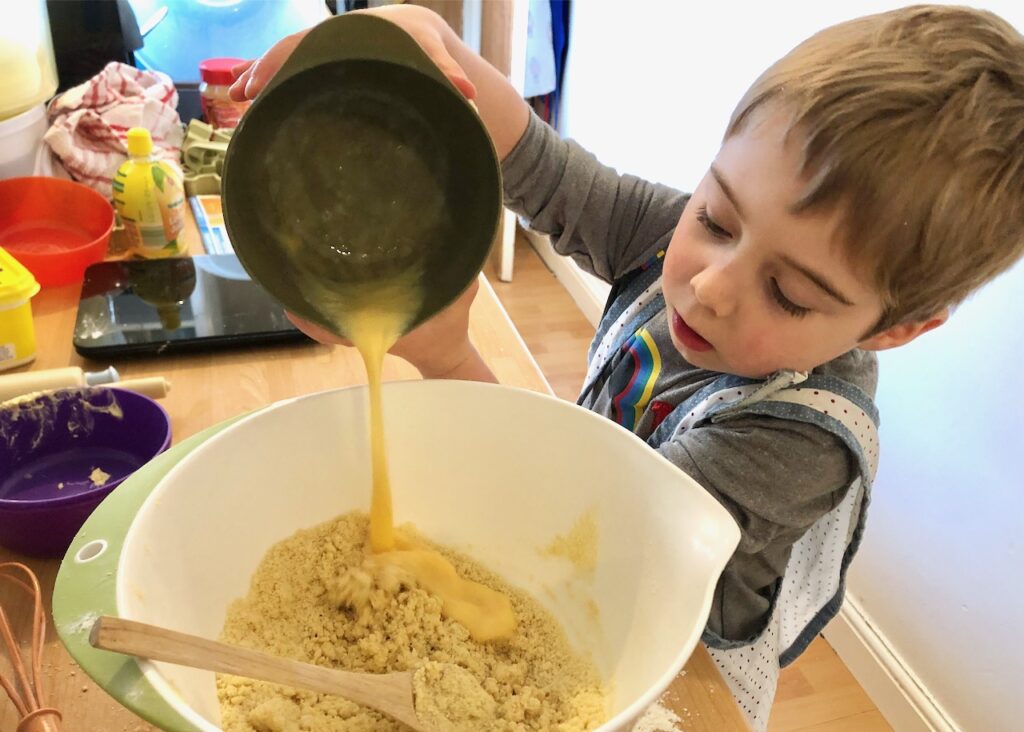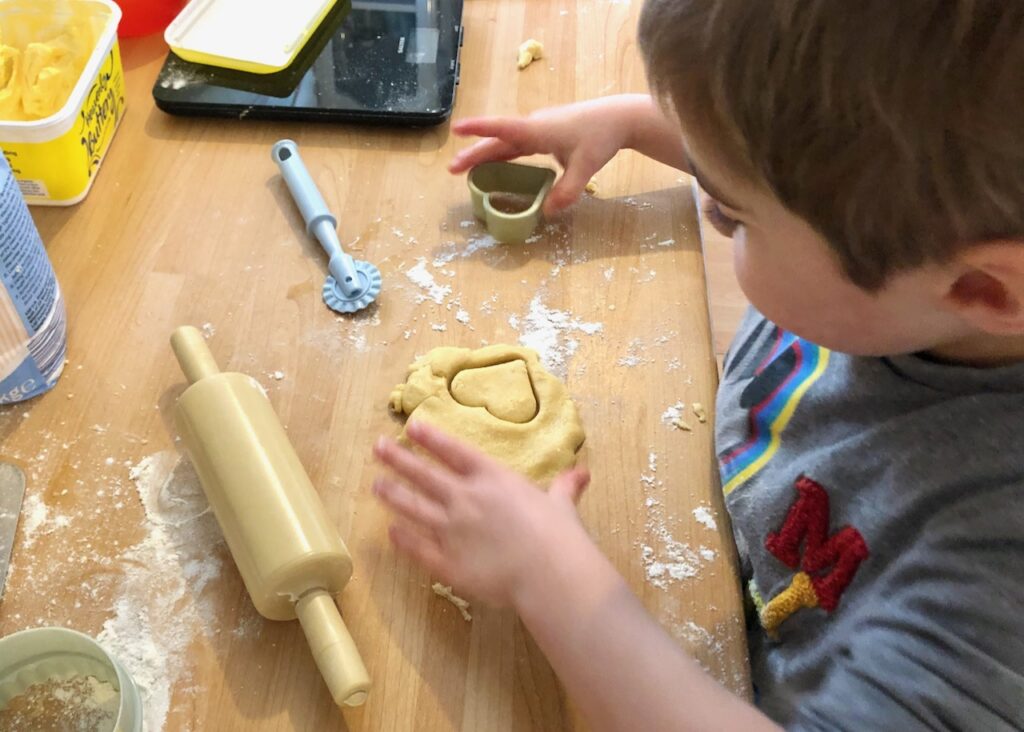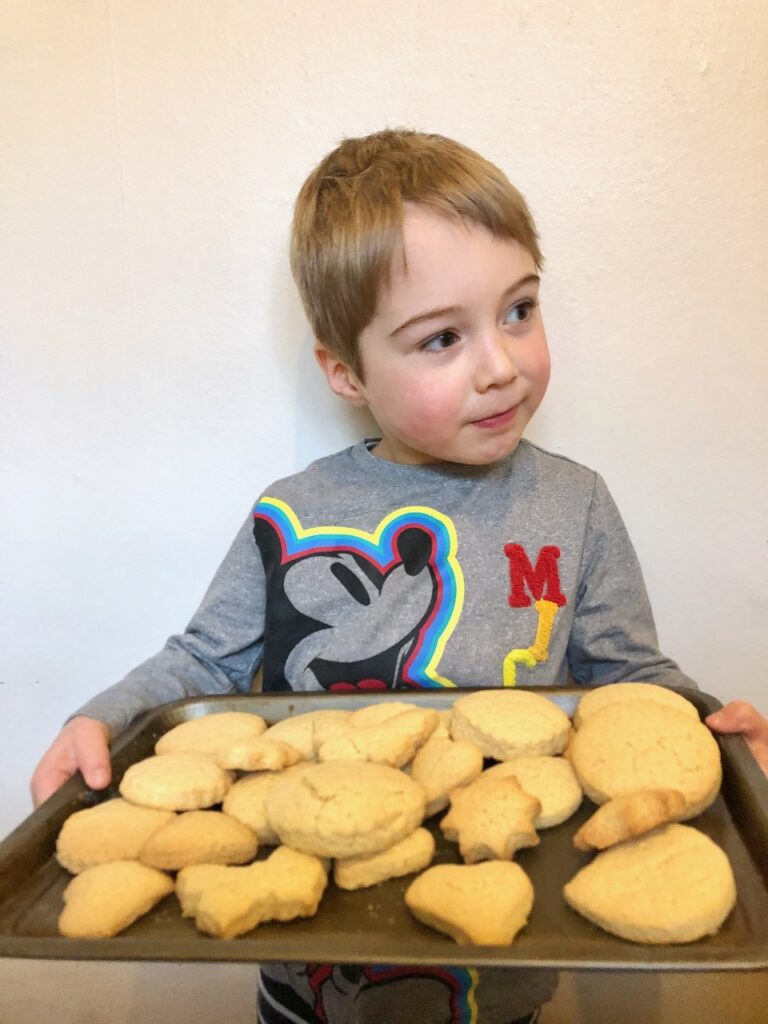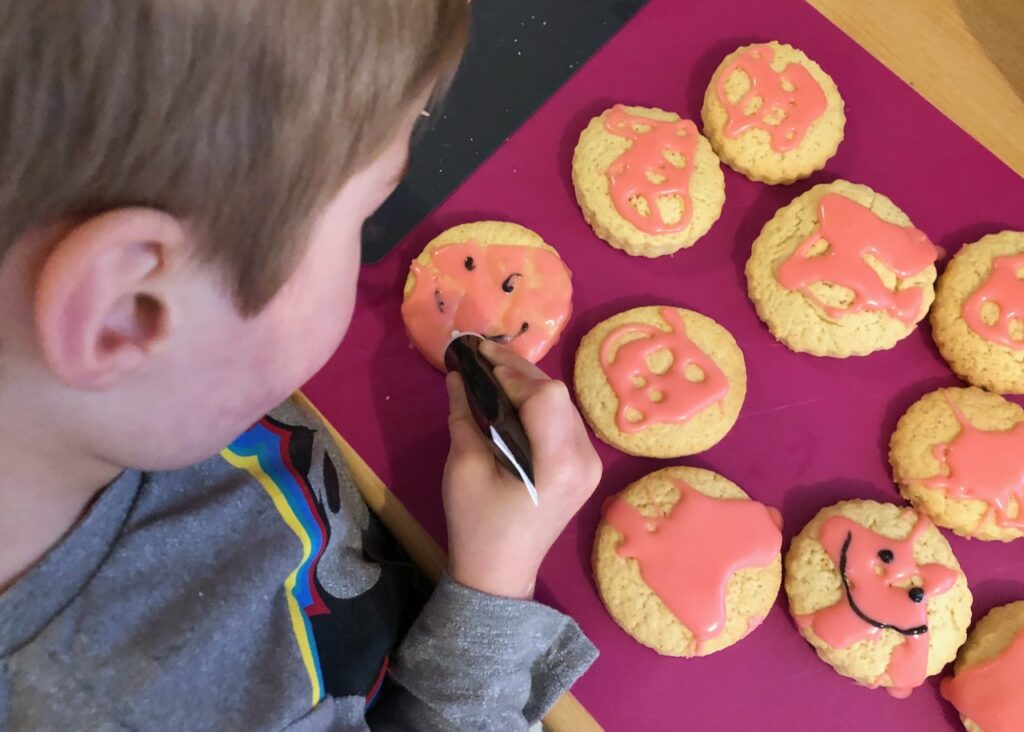 Icing the biscuits was by far the best bit. To make Mr Messy's pink 'mess', I added a tiny drop of red food colouring gel to glacé icing (icing sugar and warm water), which we mixed up in Reuben's Dantoy lipped bowl. We didn't have a piping bag so I improvised with a sandwich bag (which hilariously burst on us) with the tiniest snip, and it created Mr Messy's squiggly lines very well.
For his eyes and mouth, we used a tube of ready to use black icing, and I was amazed by Reuben's careful attention to detail. In no time the biscuits were done, and after setting for an hour or so, the plate of Mr Messy biscuits were already being devoured. Way too much sugar before bed, but hey, it was in the name of education.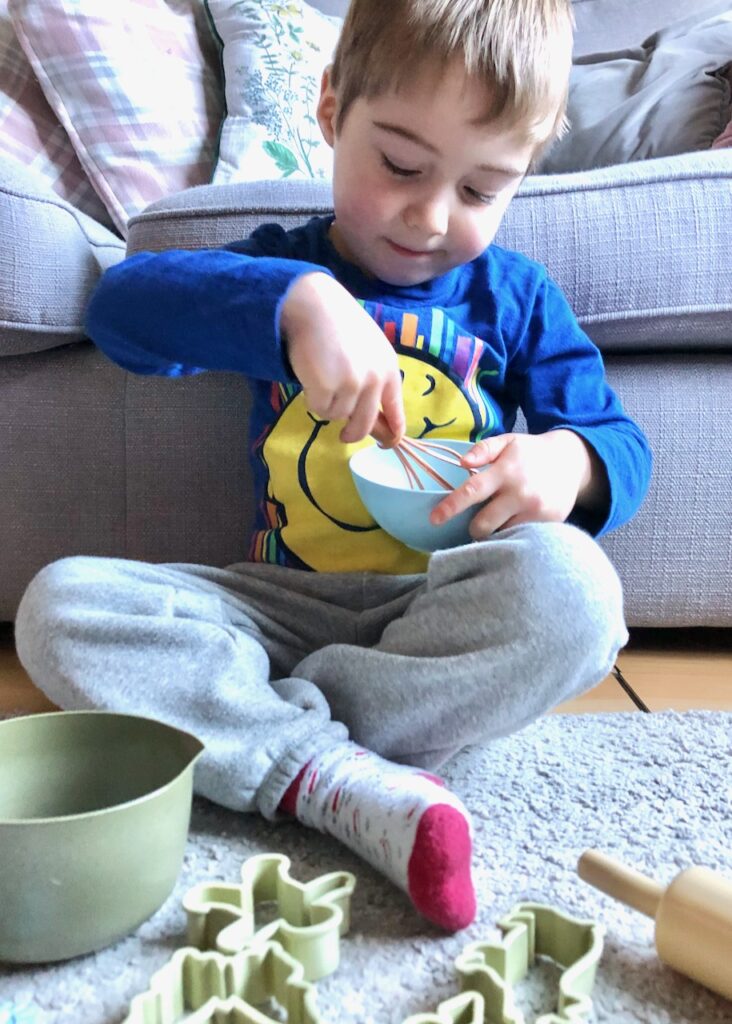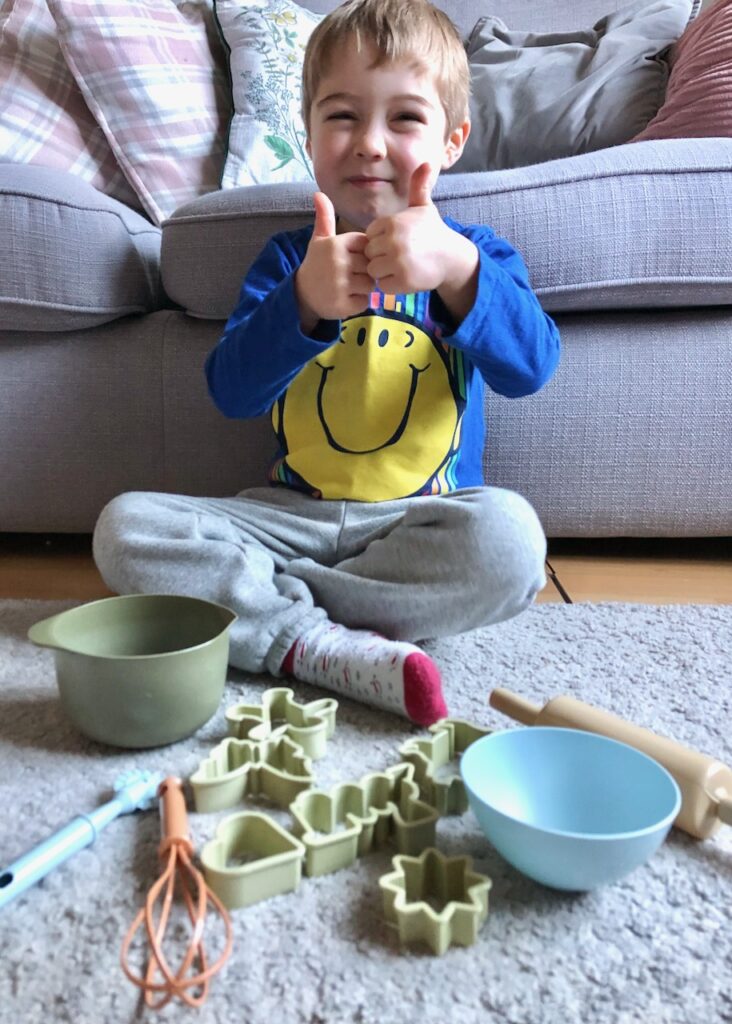 To be fair, it's pretty usual for Reuben to use the normal equipment when we're baking. A bowl is a bowl, and a cutter is a cutter. But what's nice about the Dantoy set is that they're more user friendly for smaller hands. The rolling pin, while it isn't solid, is light enough to use freely. And where some kids' cookie cutters can be clunky, these ones can cut precisely safely.
Dantoy's bioplastic baking set is a lovely toy range for role playing little ones, but they're a bit more special than your typical toy baking set. Coloured in gorgeous earthy tones as opposed to brash brights, this is an attractive set that bridges the gap between toy and the real deal.
Pretend playing is great, but toys that broaden activities' accessibility are even better.
---
Have you been getting busy in the kitchen through lockdown? I'd love to hear about your baking successes (and flops!)
---
---