MAGICUBE: Creative Cubes with Magnetic Magic [Review]
September 20, 2020
Building blocks are great – magnetic construction cubes are something else! Here we take a look at Geomag's Magicubes.
DISCLOSURE: AD / This post contains gifted product from GEOMAG and affiliate linking which may earn me a fee, at no cost to you. All wording, images and opinion are my own.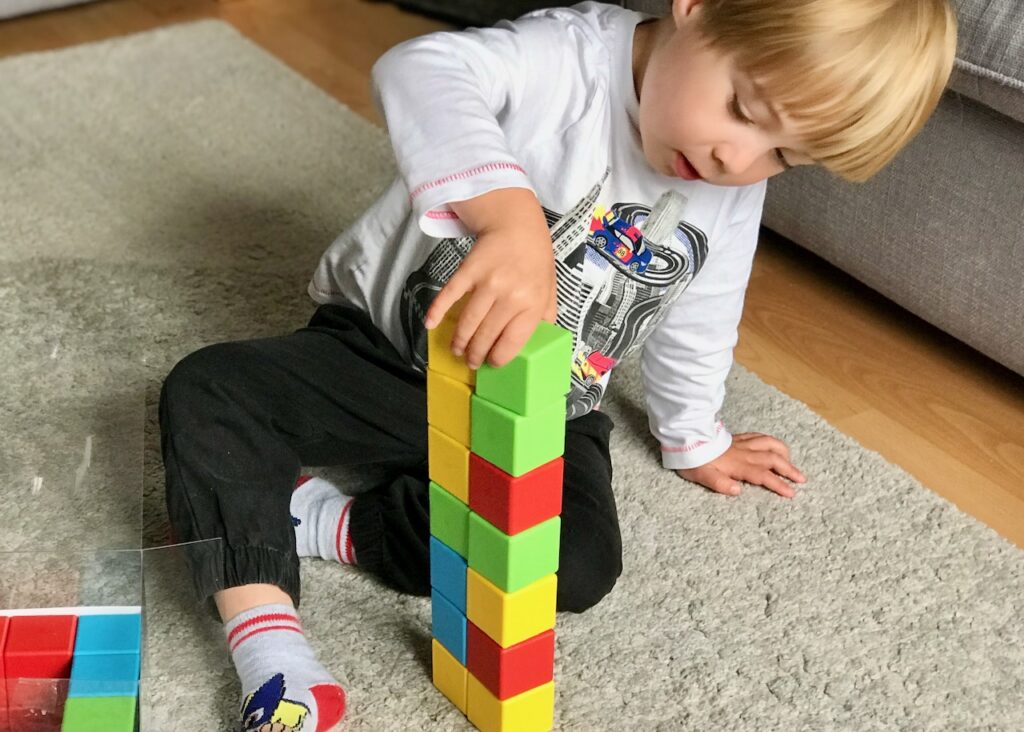 If your child has moved on from the play things of toddlerhood, you'll know how the wider world of TV characters, play figures, and yes, gaming apps, now take precedence. But much can be said for the basics that many infants start out with, especially where building blocks are concerned.
Since my little guy was a baby he's always loved constructing with blocks. Whether they're traditional wooden pieces or Duplo bricks, the challenge is the same: how high can you stack them and what epic structure can you create today?
Yet while imagination may not be limited, what you create may be subject to your type of block. Wooden blocks can only be stacked and where hands have limited fine motor ability, stacking and taking apart connecting blocks can be difficult.
Geomag Magicubes are colourful cubes that magnetically stick together, making them the perfect construction choice for inquisitive hands of all capabilities.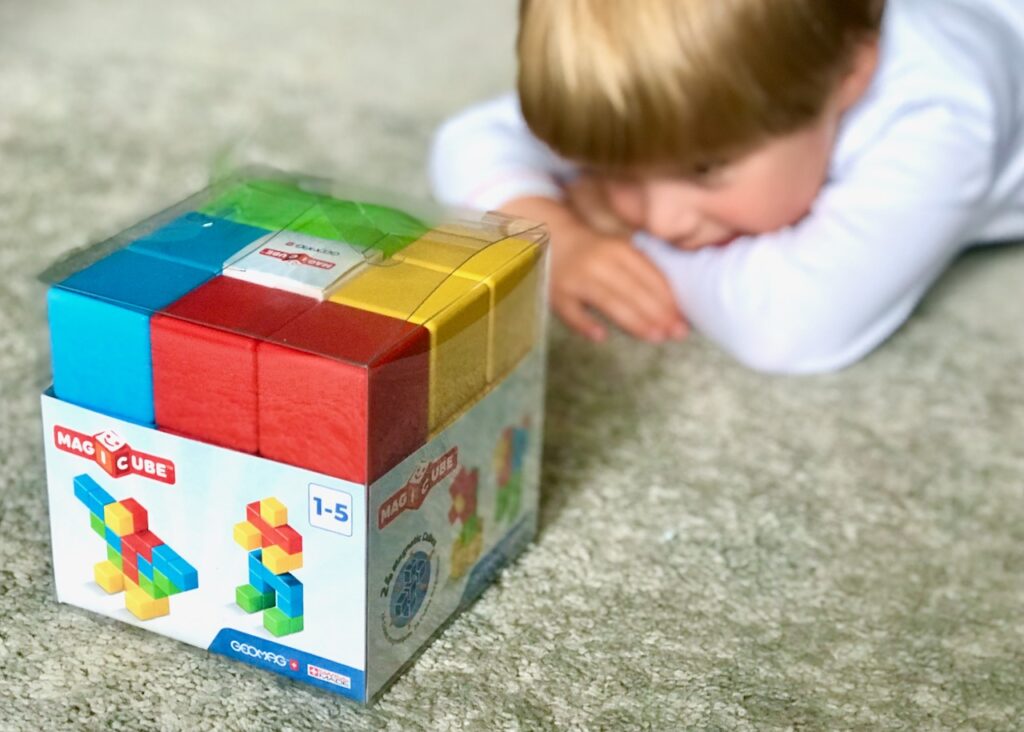 Magicubes are brightly coloured, easy to handle plastic cubes, gently magnetised so you can stack and create fun shapes with ease.
With a mix of vibrant primary colours, and a variety of set sizes of 9, 24, 36 and 64, Magicubes provide a nice option for baby's first blocks or the more adventurous preschooler.
Magicubes are fab quality, not a squashy or soft plastic but hard, non-flexing plastic made from 100% recycled plastics, so they're completely safe, durable and kind to the planet.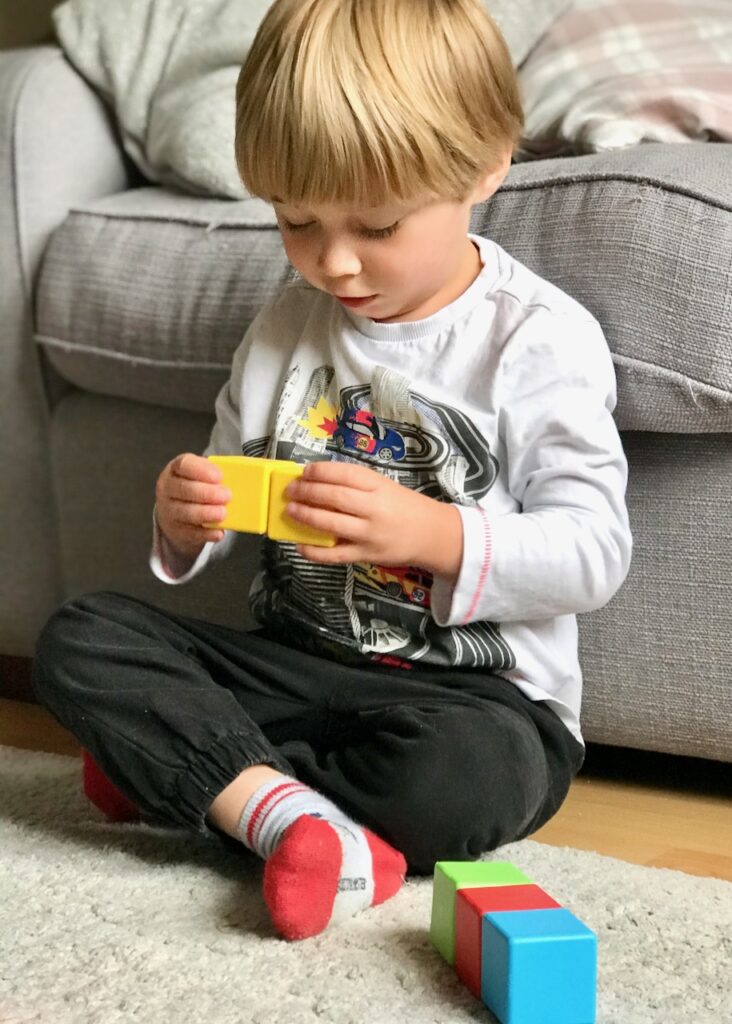 Reuben was tasked with the important job of testing the Magicubes that we were sent. Helping me open up the parcel to reveal the substantial 24 cube carton, he very much obliged.
Because the cubes are decently sized at just over 3cm in diameter (about an inch and a half), builds are pretty quick and easy to achieve. To get you started, the packaging shows you a few designs you can try building. So first we made the chair. Then the flower, and when Dad got all interested, the robot was created. All were a delight to the eyes of a three year old, and to speak for myself, the click of the cubes snapping together is satisfying to say the least.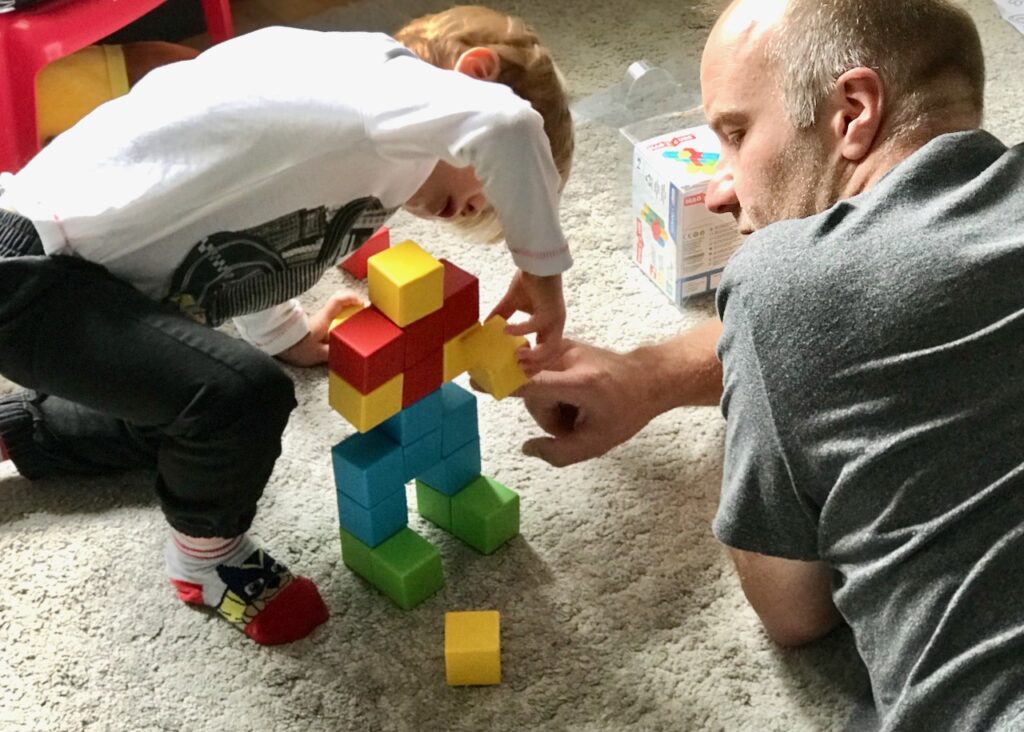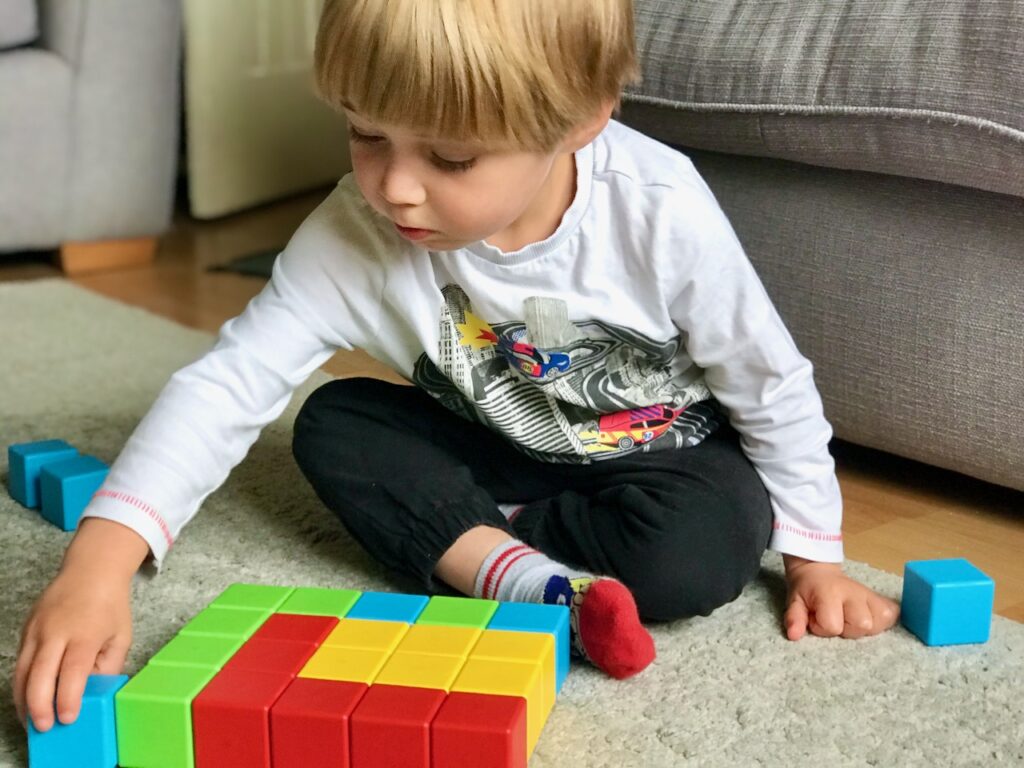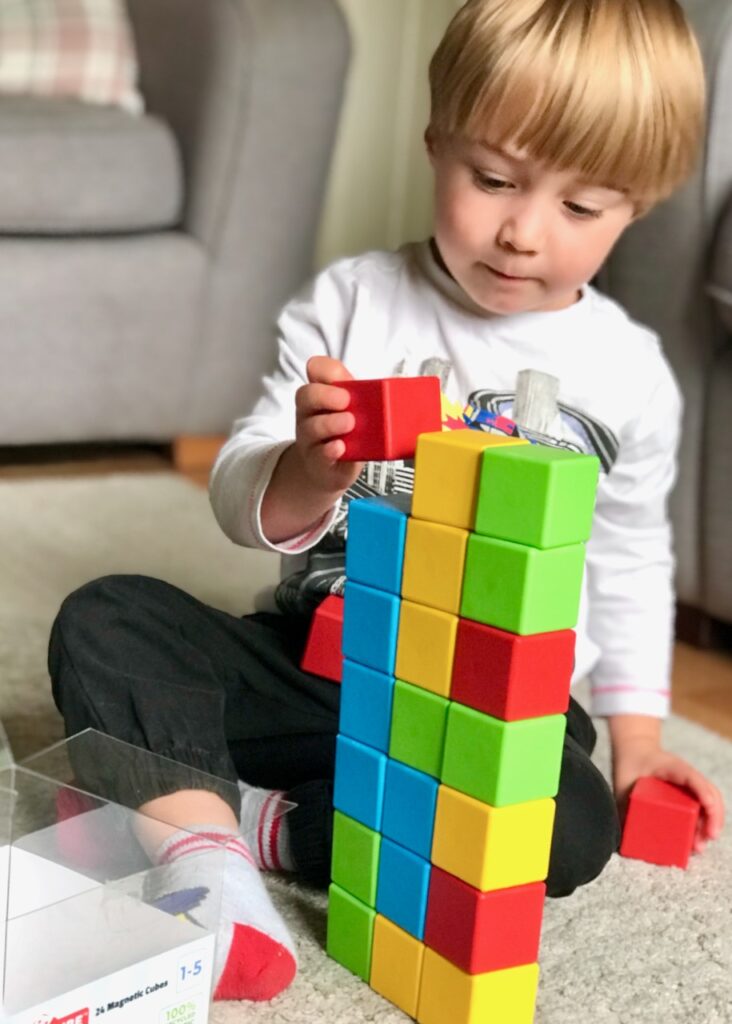 The magnetisation however, isn't infallible, and this can equate to a fair bit of frustration.
The cubes have small magnets at the centre, so the pull is only light. This in itself is good for babies and toddlers who wouldn't be able to manage anything stronger, but for the more adept (or heavy handed) child it is too light. Creative makes can easily knock apart and if you're trying to do anything too wacky – like try to stick a cube anywhere other than the flat side – the cubes don't stick. So on that note, you're best not trying to move your creation unless you fancy a meltdown ensuing.
Like any young child, no bath time is worth having without toys, and while Magicubes don't profess it, you can actually play with these in water. The cubes have a solid, sealed design with no seams or injection mould holes, so there's no worry about water getting inside and that nasty mildew building up. If you have a metal bath they'll stick too!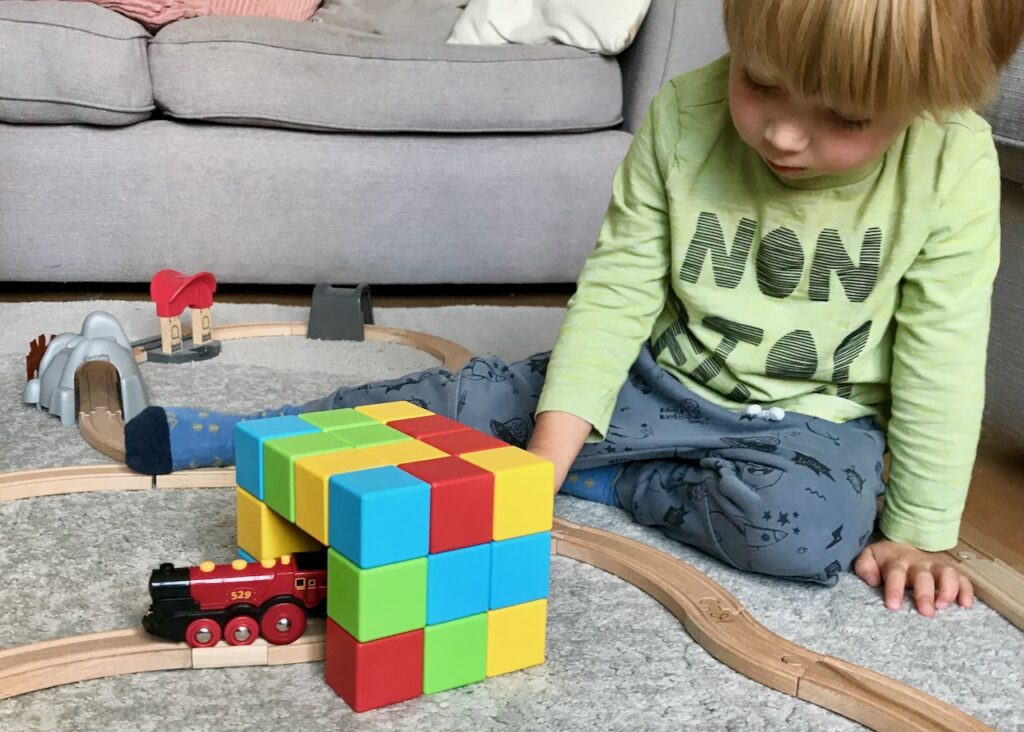 Now we've had the Magicubes a little while, I've noticed how the cubes make an appearance at least once a day certifying this as a toy with staying power.
Sparking ingenuity, Reuben's found some clever ways to play with the Magicubes; devising railway tunnels, towering walls to smash trucks into, ramps and obstacle courses for his little cars, and even counting them like Numberblocks. He's pretty obsessed with Numberblocks and counting so the quantity and mix of colours are perfect for number skills.
So while it's fun to create a cube chair (that's doubly fun to sit on and have collapse on you), Magicubes are versatile enough to provide endless hours of fun and education making whatever you will.
---
---
Buy your Magicubes today from Amazon
---
What does your child like to construct with blocks, bricks or cubes?
---
---