Together Again: Fire up a Family Barbecue with Jack's
July 17, 2021
With the heatwave returning and lockdown ending, it's time to fire up the BBQ and get everyone together again.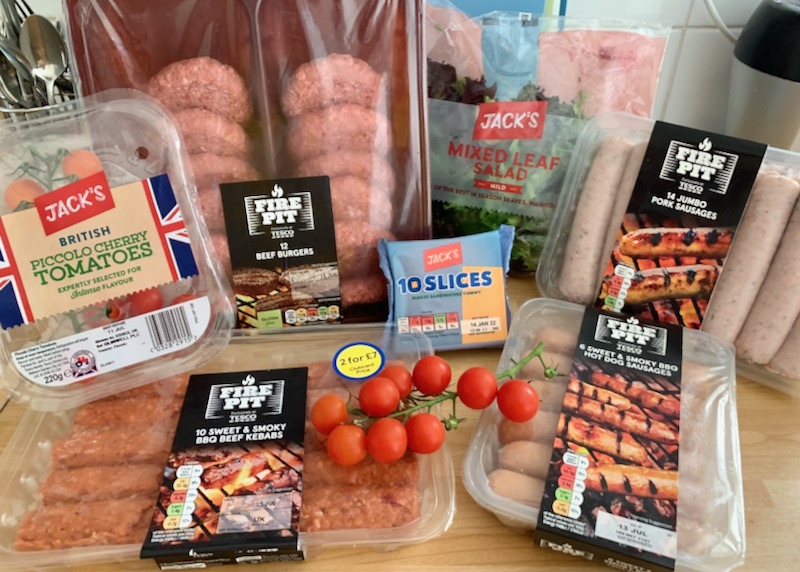 SPONSORED AD FEATURE. This campaign is in conjunction with JACK'S SUPERMARKET. Words & images are my own.
It feels a lifetime ago since we were last able to properly connect with the family. For some of us, it really is. Reuben's baby cousin was born the same month the world first locked down last year, so a proper get-together is long overdue. Now restrictions are easing and the long summer beckons, we finally get to do it!
And what better way to get everyone together again than a back garden BBQ?
With help from Jack's Supermarket, we made the most of the last week's lovely weather and football spirit by having a family barbecue. Reuniting at my sister's, not only did we get to enjoy fantastic food, but we had a brilliant catch up in person(!) and Reuben got to spend some quality time with his baby cousin.
The last time I told you about Jack's was Christmas-time, which was a really good opportunity to explore Jack's amazing value. And I was impressed. With Jack's being Tesco's back-to-basics discount supermarket chain, it means you get low priced, top quality products. That's not to say choice is limited; there's plenty choice of Jack's own-label products alongside favourite brands alike so it's the best of both worlds.
Knowing we had our family get-together to prepare for, we headed down to our usual Jack's to stock up on some barbecue essentials. Reuben was super looking forward to the barbecue weekend so naturally he was keen to come shopping with us.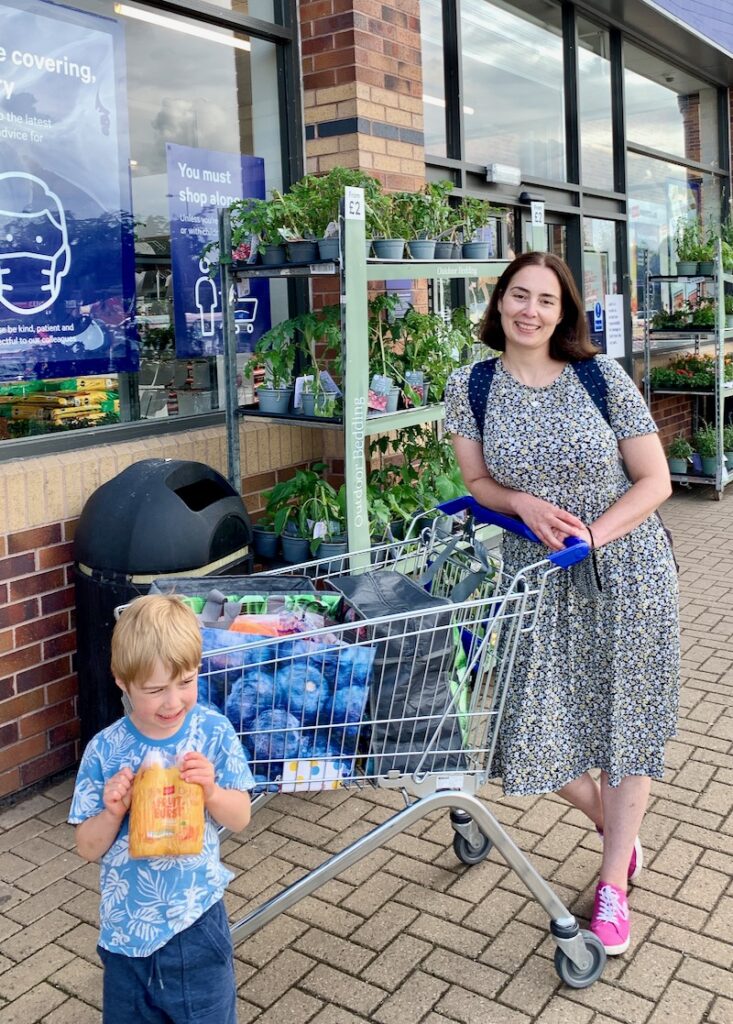 The Food Shop
Now, veggies may not sit highly on the priority list of a meaty BBQ but I like a bit of salad, so I popped a bag of washed mixed leaves and some of our favourite tomatoes in the trolley. Piccolo tomatoes are full flavoured with an intense sweetness, so they're a yummy healthy treat. At less than £1.20 a pack, they're the cheapest I've ever seen this premium variety sell for so a fab buy.
The chiller cabinet was a delight — a good portion of the aisle dedicated to all the fresh meat you could want to throw on a grill. With a good range of British sourced chicken, beef, pork and lamb, we found a wide variety of classic barbecue staples such as burgers and sausages, as well as marinated meats for a finer, taste-savouring sensation.
I was amazed to see Tesco's exclusive Fire Pit range being sold; generous family sized packs priced at only £2.99 each, which is less than Tesco's own price-point!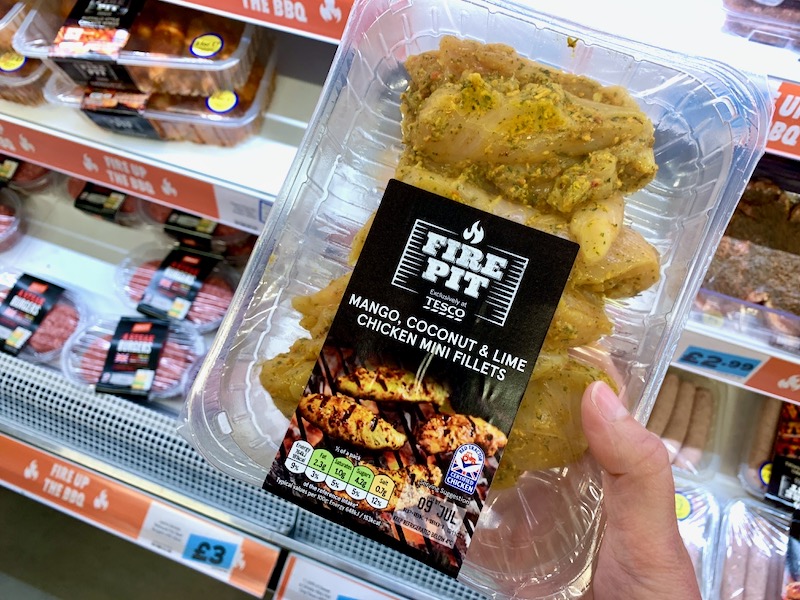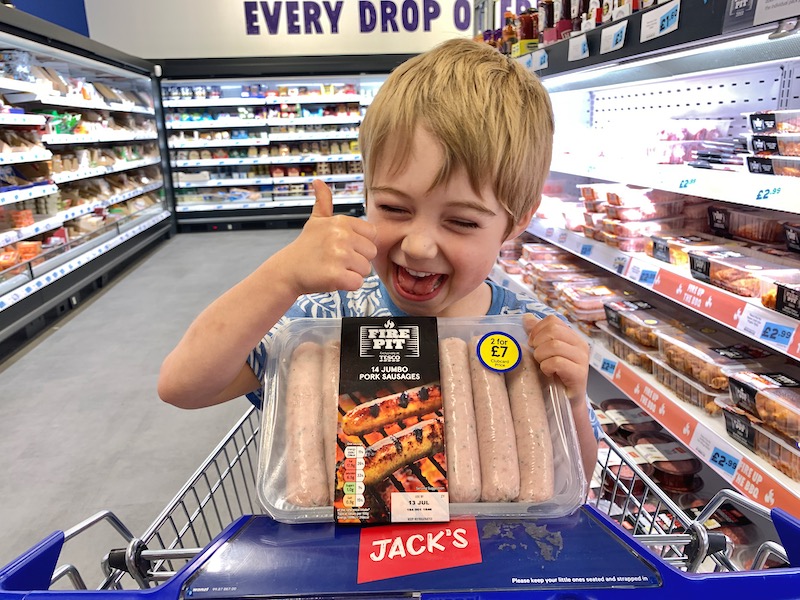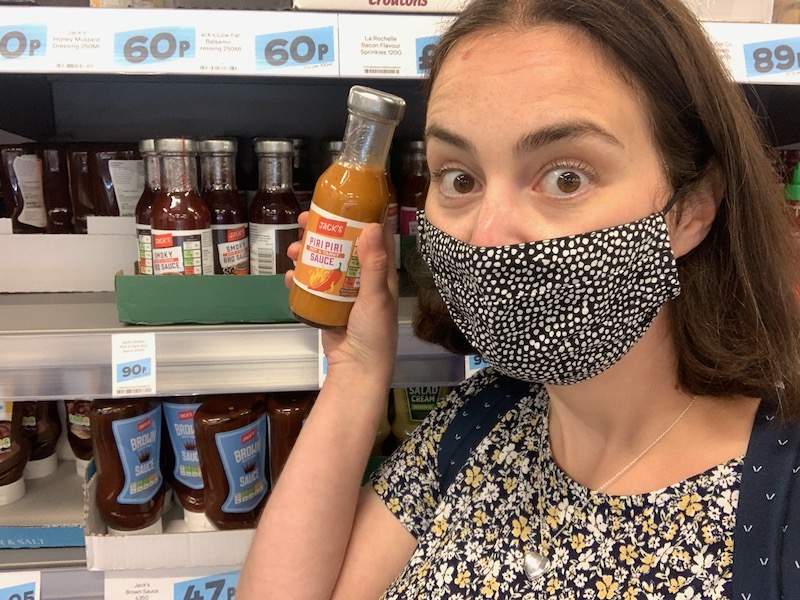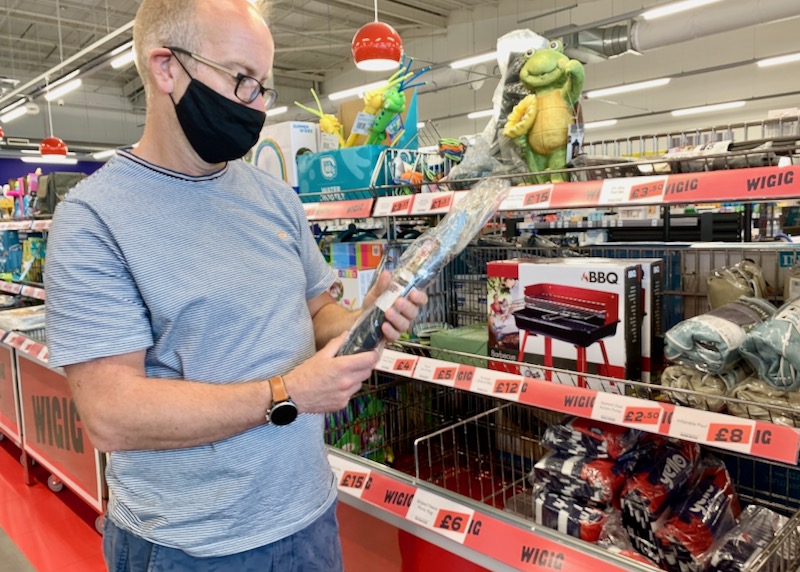 The Mango, Coconut and Lime Mini Chicken Fillets caught my eye and went straight into the trolley. (I've had them before, they're really tasty with a simple side of rice.)
The husband aka Dad said "whack that big pack of burgers in" or something to that effect. Of course the massive pack of 12 Beef Burgers for a fiver were trolley bound, we had many mouths to feed so it made complete sense.
And Reuben decided that the 14 Jumbo Pork Sausages were all for him. Fair enough, mate!
Deciding we had plenty enough meat to feed a small army, I wanted to pick up a few 'normal' bits; a two litre bottle of milk, some pure orange juice (that Reuben's recently got hooked on drinking) and some tomato ketchup. Of course that led me to all the tantalising condiments that could go well with our meats. The Jack's piri piri sauce looked like a saucy little number.
Before we headed to the till I wanted to check out the middle WIGIG aisle ('When It's Gone It's Gone' between you and me), and I found some super deals on BBQs. Sean took special interest in a set of barbecue tools that were only £3.50, and had I not firmly reminded him we already owned a barbecue, I'm pretty sure he'd have gone home with a certain kettle grill too.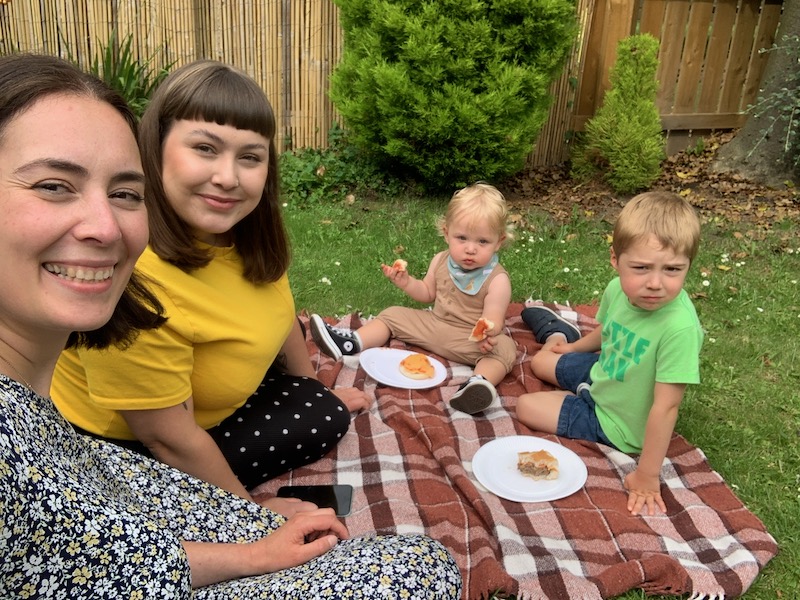 BBQ Time!
If anyone can remember last weekend's weather, the forecast predicted a washout. Amazingly the sun was shining as we drove over to my sister's, so the garden beckoned on our arrival.
The brother-in-law had the task of head cook, which he did magnificently. The Fire Pit beef burgers were cooked over the coals first and they were so juicy in a soft white bun with a cheese single on top.
But I was probably most surprised by how good the jumbo sausages were. Considering the price, £2.99 for fourteen massive sausages I wasn't expecting much but they were good! They had a satisfying firm bite of a premium sausage, and the light herby seasoning gave them a delicious mouth-watering taste.
Reuben and his little cousin looked adorable sat so content with their burgers on the picnic rug. Reuben actually inhaled ate his entire burger without leaving a crumb and was back sniffing out the meaty goods in no time, discovering he quite liked beef kebab sticks. They were a tangy nibble, to be fair!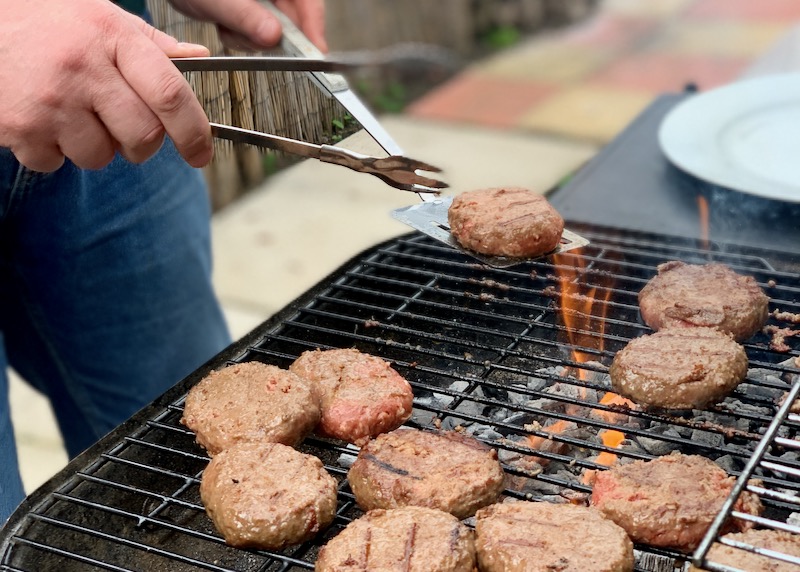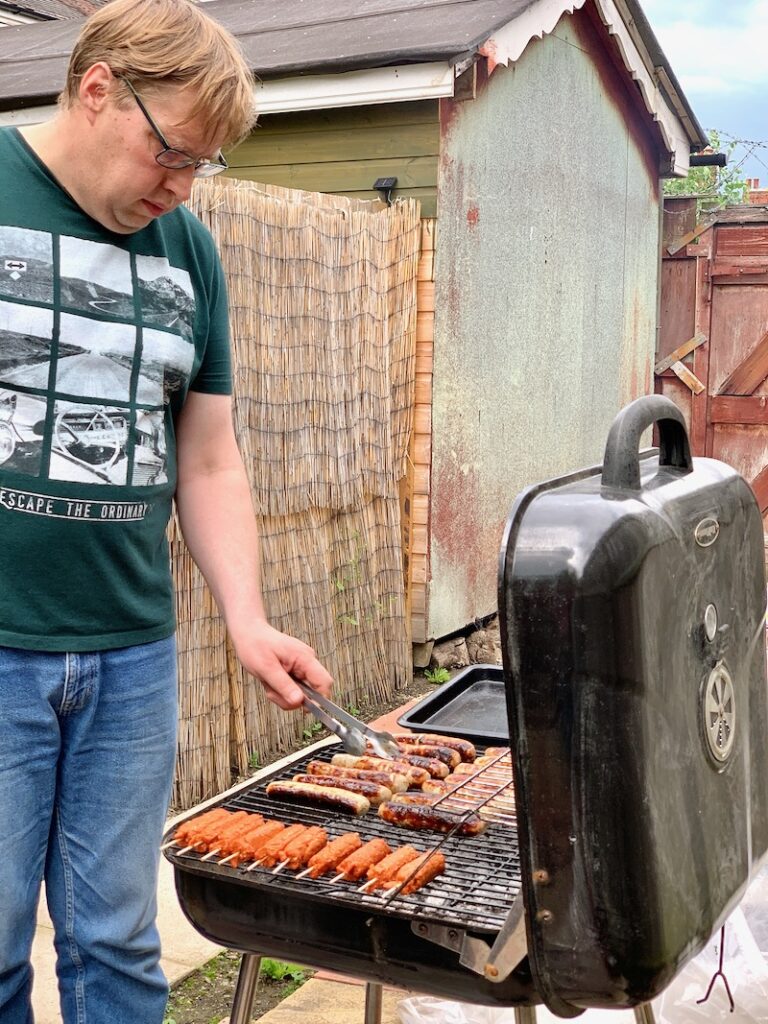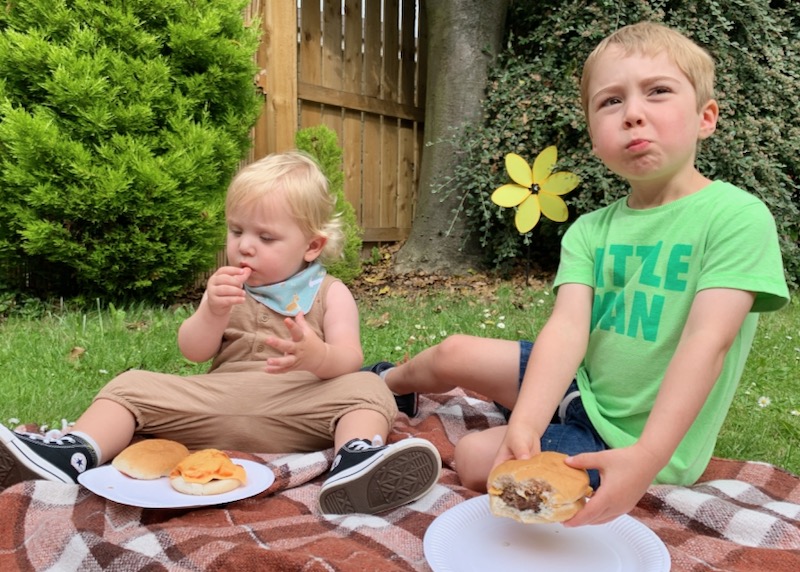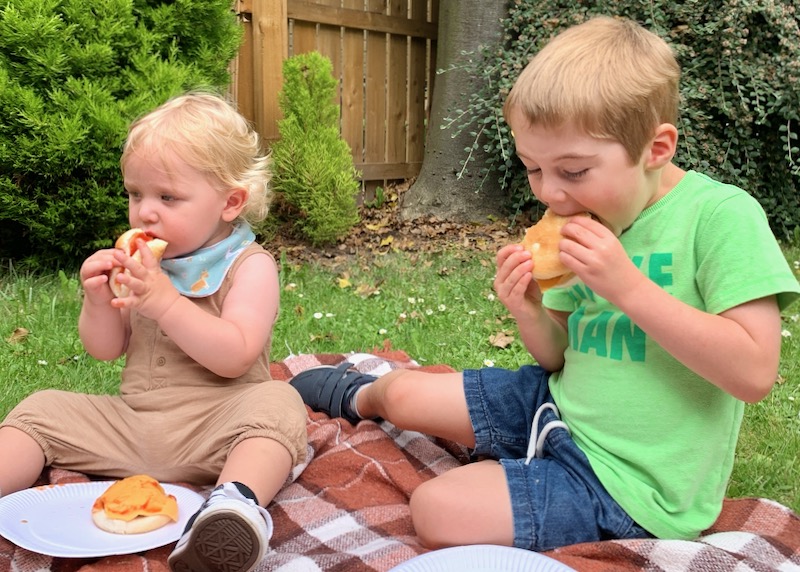 So our get-together went well, our barbecue a success! While covid may have rained on our parade in some respects, it didn't dampen our spirits. It was great hanging out again. Plus, I don't think I've laughed a hard belly laugh this side of the pandemic as I did that day.
Socialising beyond lockdown is a positively good thing — and so is a good BBQ. Should you now quite fancy hosting a barbecue of your own, invite the whole family around again and get more banger (sorry, I had to) for your buck by shopping at Jack's this summer.
---
What's your essential BBQ item? Share in the comments below!
---
---