Festive Food Shopping at Britain's Best Kept Secret Supermarket
December 8, 2020
In today's post I switch my regular supermarket destination for a totally new one: Jack's Supermarket – giving rival discounters a real run for their money! Read on to see what I thought and what I bought.
SPONSORED AD FEATURE. This campaign is in conjunction with JACK'S SUPERMARKET. Words & images are my own.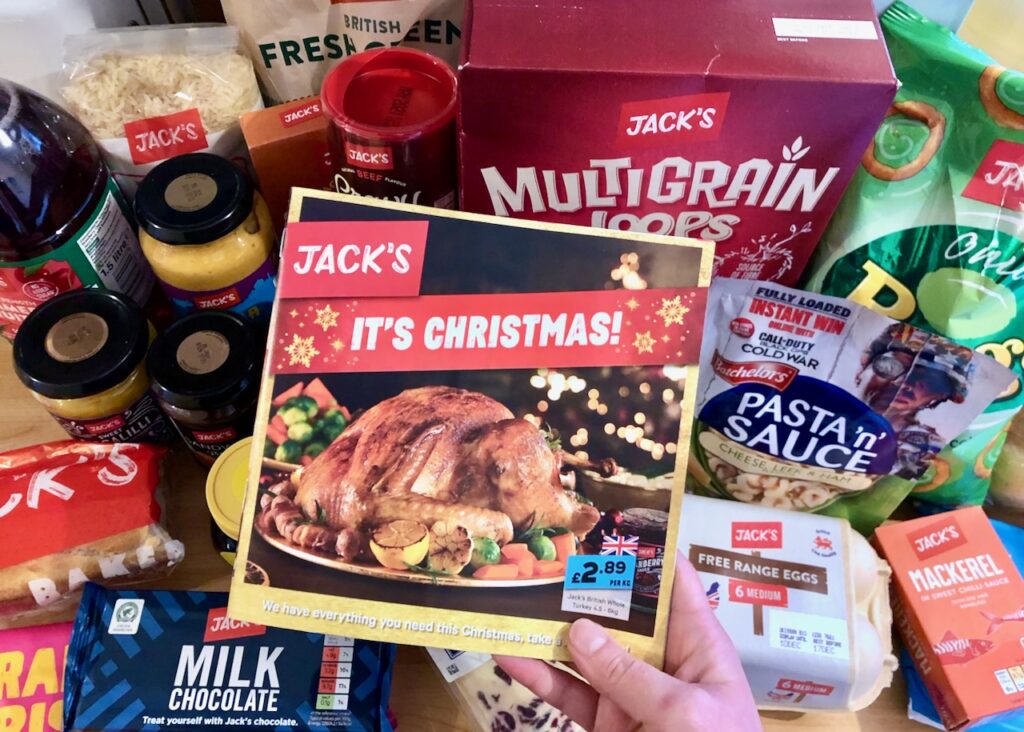 Now that Christmas Day isn't too far off, it's time to think about the all important festive food. With Christmas dinner to cater for, the holiday week running up to New Years when nobody knows what day it is, and all the snacking in between, means a lot of feeding. Don't get me wrong, I enjoy getting in the festive food and treating the family at the end of a rough year, but I can't help but think it's an expensive time too.
So let's rejoice for supermarket wars because there's a new shop on the block that'll slash your shopping bill further than the discounter supermarkets we all know: hello Jack's Supermarket.
Now I'd never heard about Jack's as we don't have a local store, but I was interested to learn that Tesco is Jack's bigger brother. More importantly, this new supermarket chain represents a man named Jack (Tesco's founder no less) whose famed standards of honest value have become the cornerstone of today's Jack's supermarket.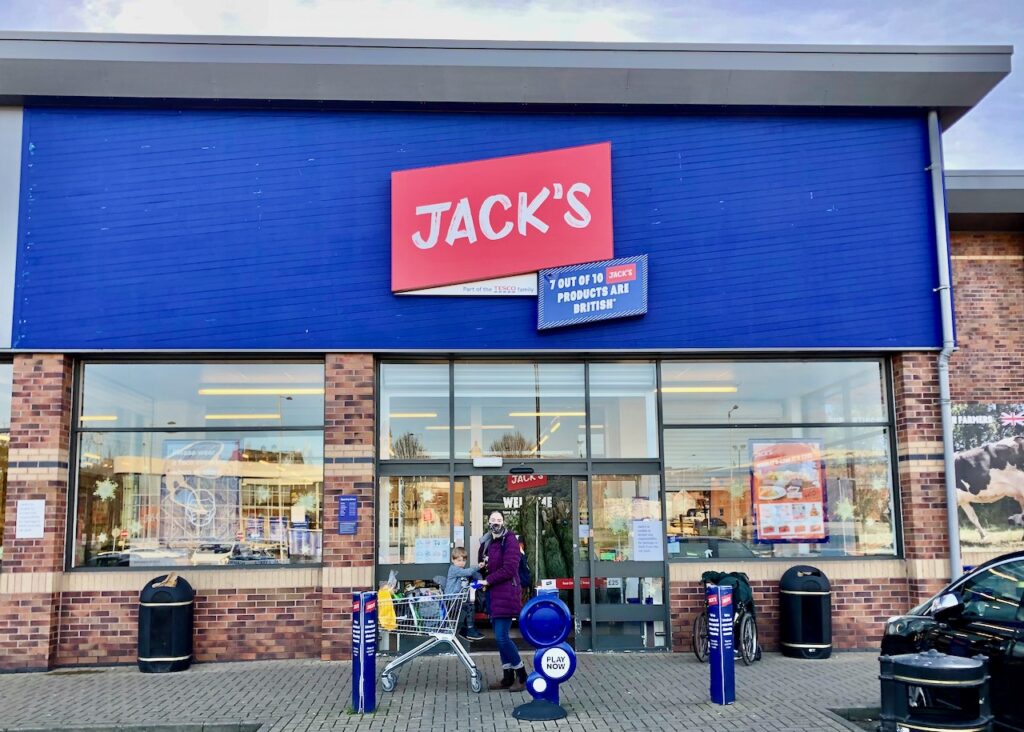 I was given the opportunity to go check out one of their stores, to see what's on offer at the moment this Christmastime. As someone who likes to shop around for the best price, I was thrilled to go find out what goodies we could get with our (provided for) £40 budget.
Armed with my list of Christmas food yet to buy, we headed to Jack's in Wakefield, which is conveniently based on a retail park with plenty free parking.
I was glad to find out about Jack's Shop Smart app. Instead of just cluelessly throwing products into the trolley and worrying about the total, this fab app meant we could scan every item, keeping track of what we were spending without the worry of going over budget. So I downloaded the app to my phone right there in the store (no wifi or reception problems here) and it didn't take long to log in with my Tesco account so we could get going right away.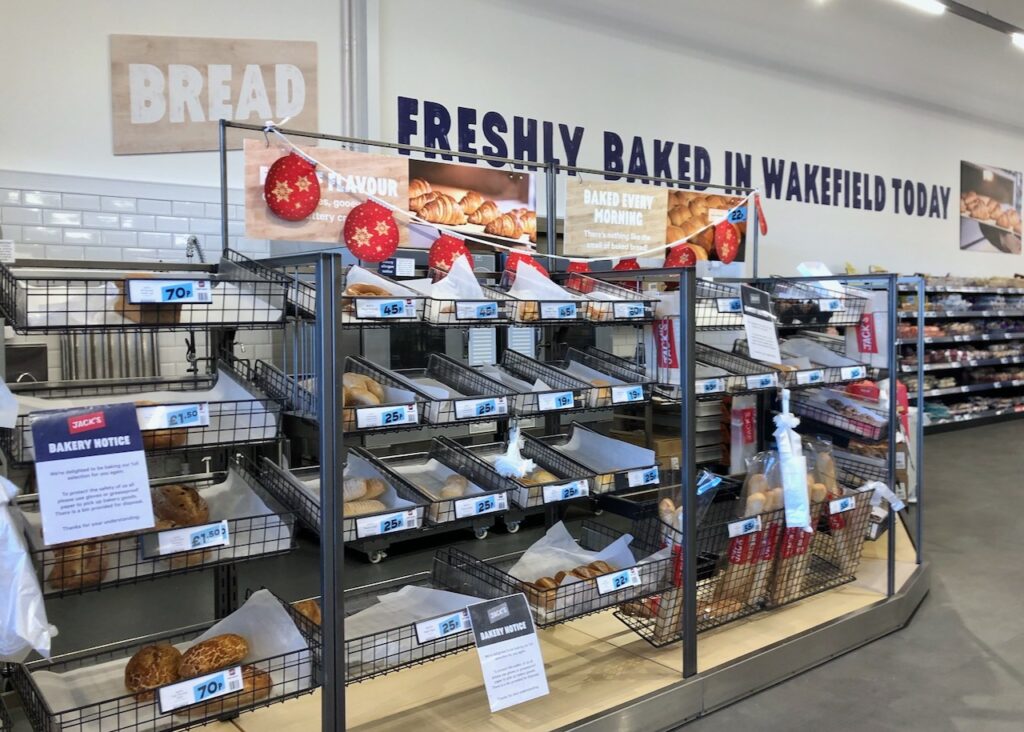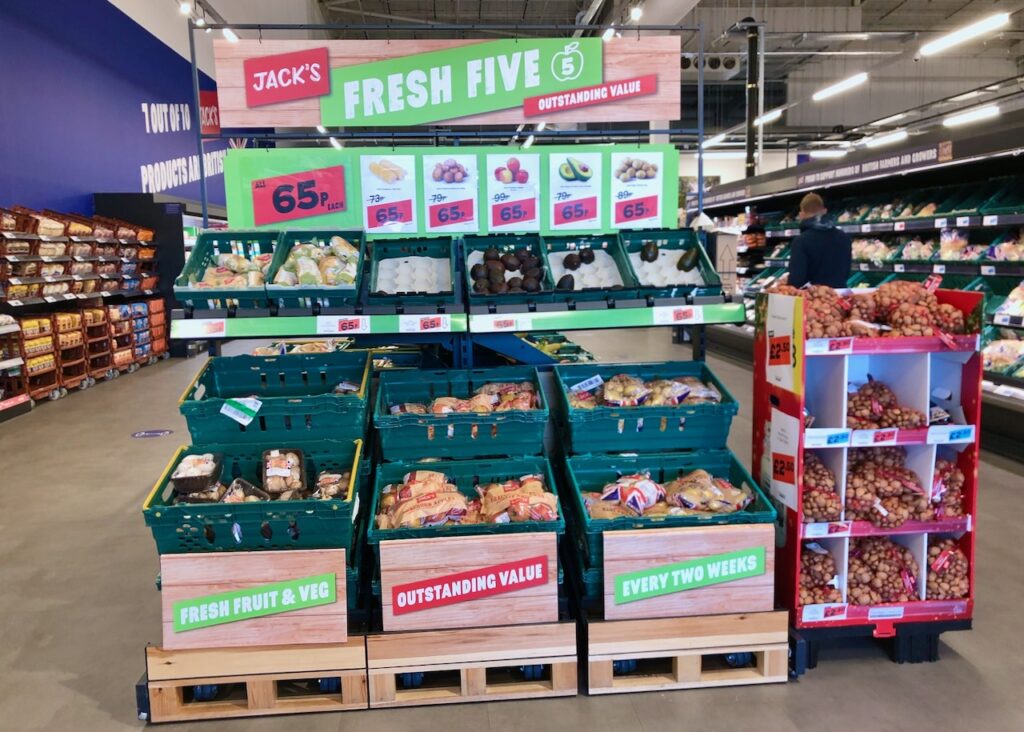 With the little man eager to help load up our trolley, it wasn't long at all before we bagged our first bargain. Reuben wrestled a huge tub of sweet shop favourite sweets from the entrance display into the trolley. That was it, he was happy. And at £3.50, it was the cheapest price I'd seen it for. Then we wheeled a little further to the first department: the bakery; the place we always succumb to. Smart move, Jack's. With me seizing a French baguette like it was being rationed (priced at a grand 14p lower than our favourite discount shop), and Reuben begging for a 49p triple chocolate cookie, one factor was clear: Jack's supermarket is cheap.
From the bakery we moved onto fruit and veg, where the front end aisle advertised the current fortnight's 'Fresh Five' offer. I picked up a bag of super cheap spring greens for the rabbit and guinea pig, and a bag of spuds. And then it was chiller food which was brimming with home produced British meats, packs of ready to cook party nibbles and cheeses. I spotted my favourite Christmas staple – Wensleydale with cranberries, and impressed with the price I popped it in the trolley.
As we cruised around the aisles, I noticed how spacious the store was. Together with the high well-circulated ceilings and the wide aisles providing ample room for shoppers, the store had a relaxed sense about it, and it was actually a joy to food shop at our leisurely pace.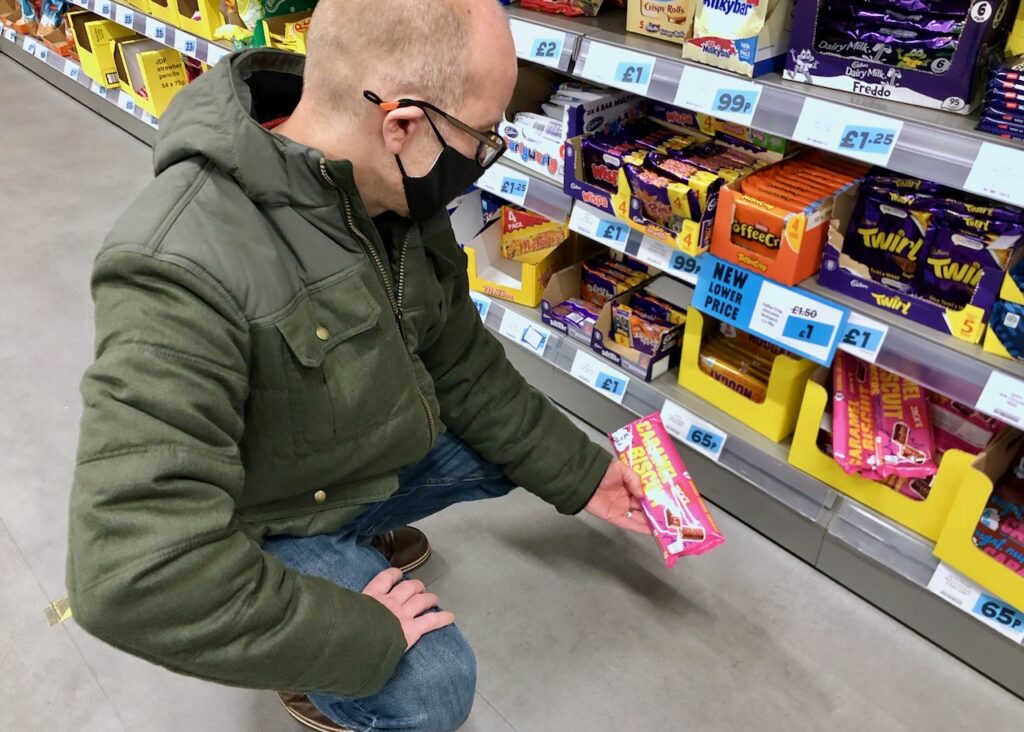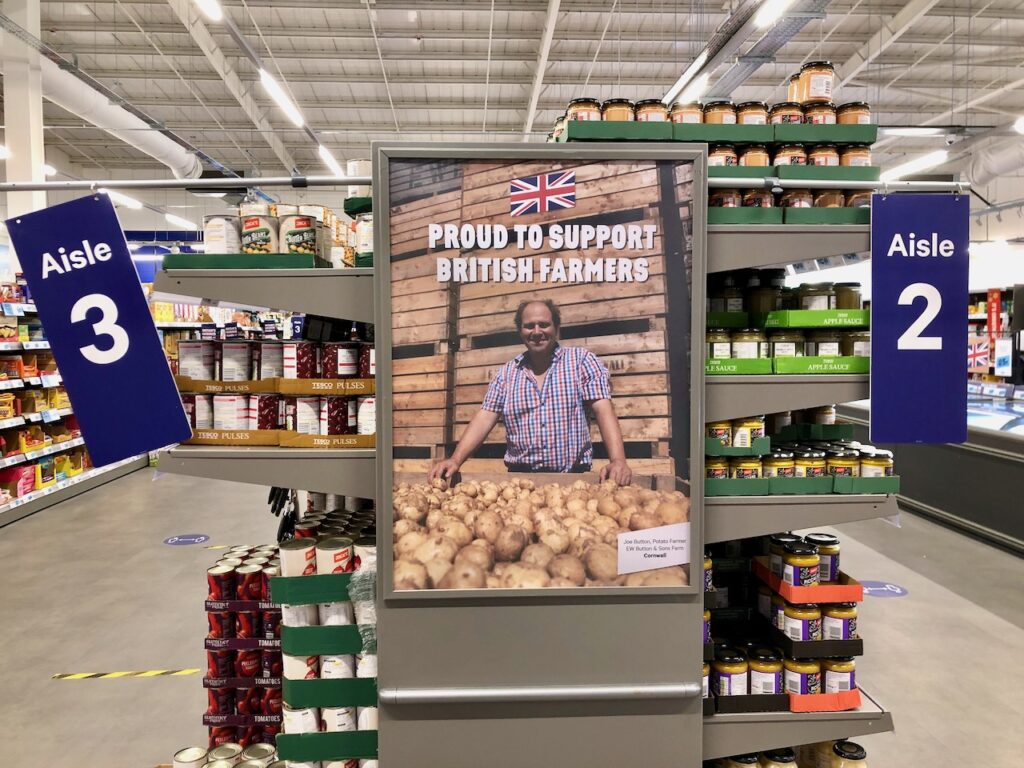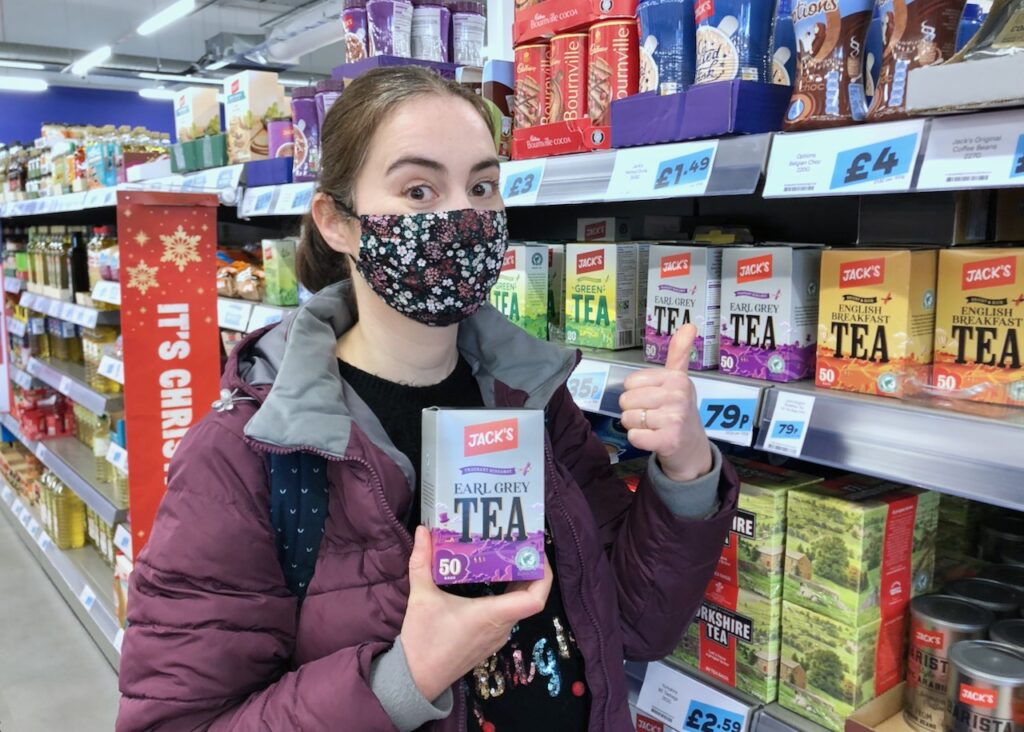 There were some things I had on my list that I was unable to pick up elsewhere recently. Covid restrictions have made some shoppers go a bit mad in the aisles, and I'd been trying to get my usual low priced earl grey tea bags for two weeks. Winner! The tea and coffee section came up with the goods and I at last had my favourite tea again – for cheaper too!
Then we hit the "When It's Gone, It's Gone!" – or WIGIG – middle aisle; an eclectic range of offers and low prices on festive favourites, toys and even household goods like kettles and toasters. I love a good bargain rummage so this was right up my street. I treated myself to a gorgeous big brand candle jar to burn through Christmas and spotted my husband's favourite whiskey in a gift set that looked the perfect stocking filler.
I was rapidly getting through the shopping list. Already the Christmas food I'd wanted was in the trolley: the cheese and condiments; chutney, piccalilli and pickle. And the big bag of onion ring snacks that Reuben wanted, on top of the sweets. All Jack's own brand too, so the bonus was getting my festive must-haves at super low prices. Happy days!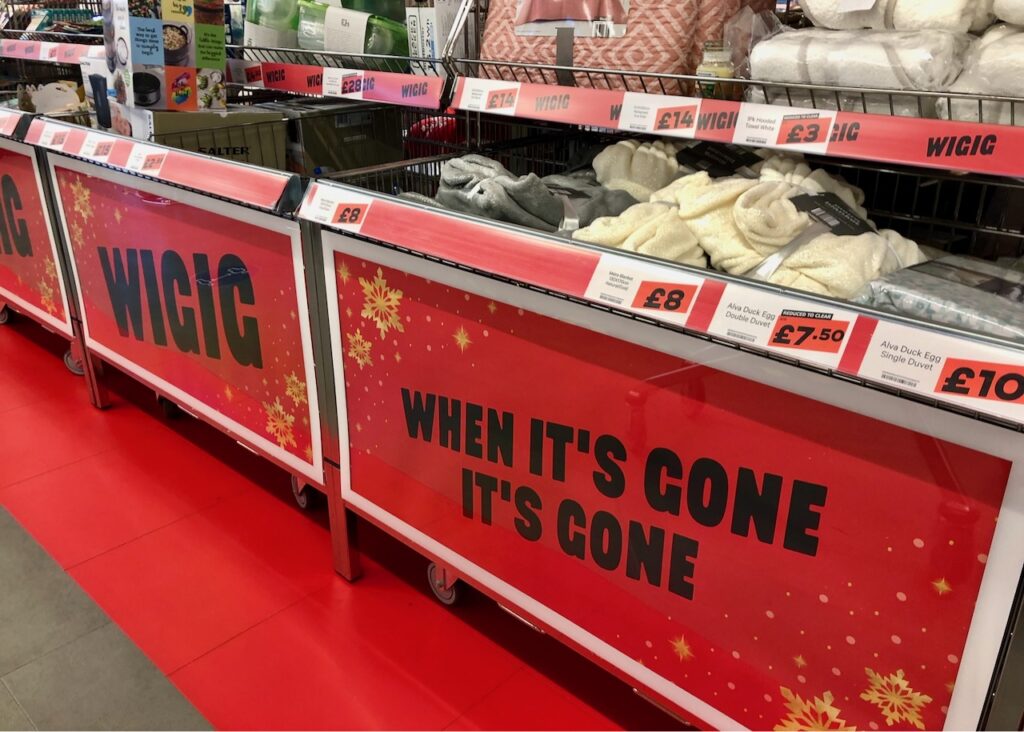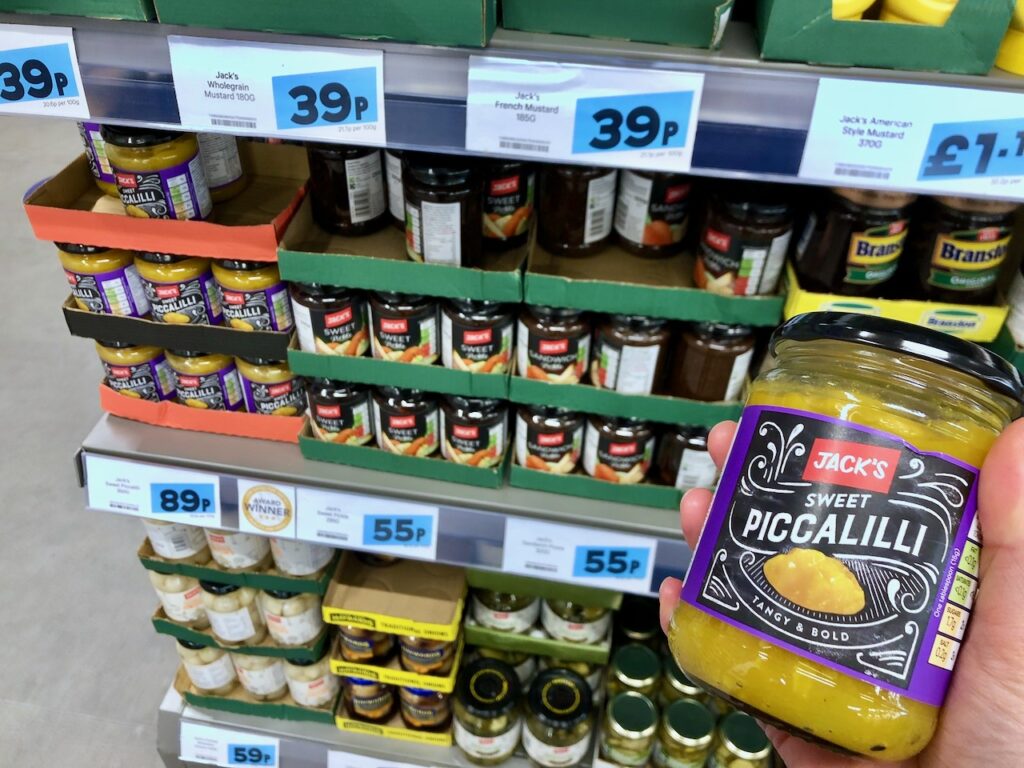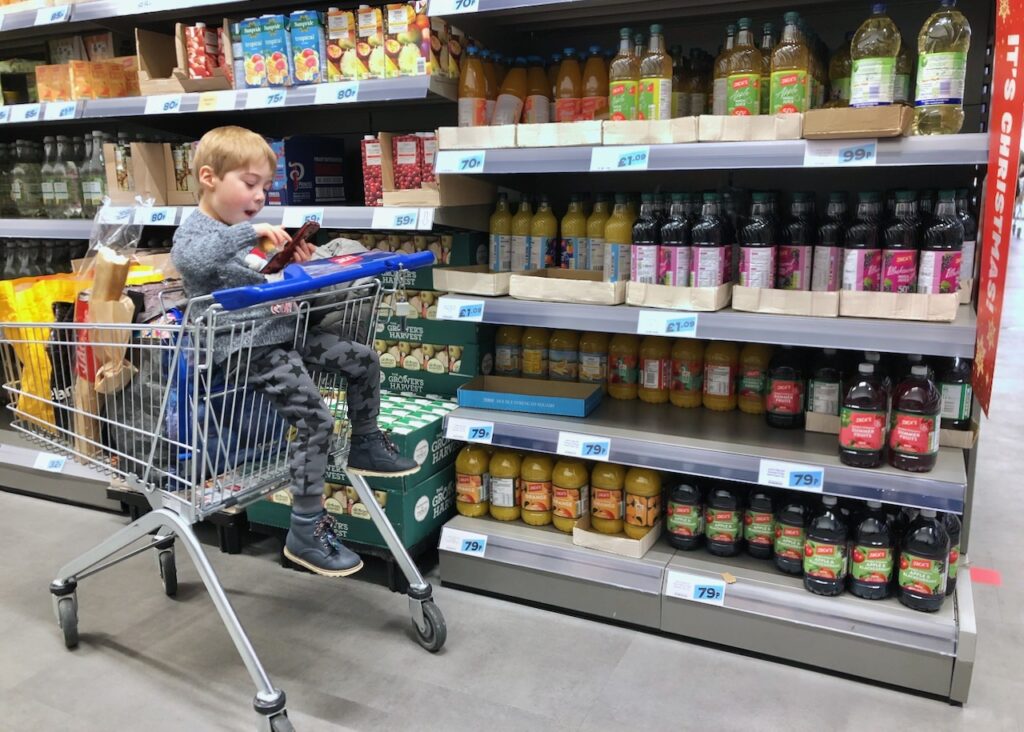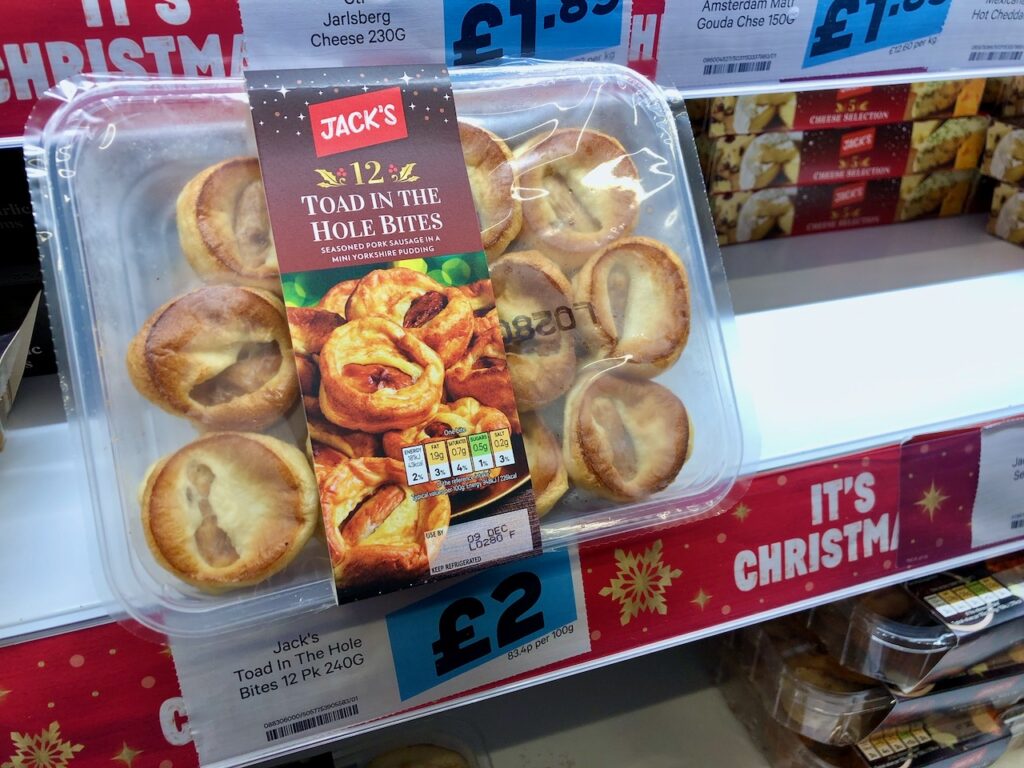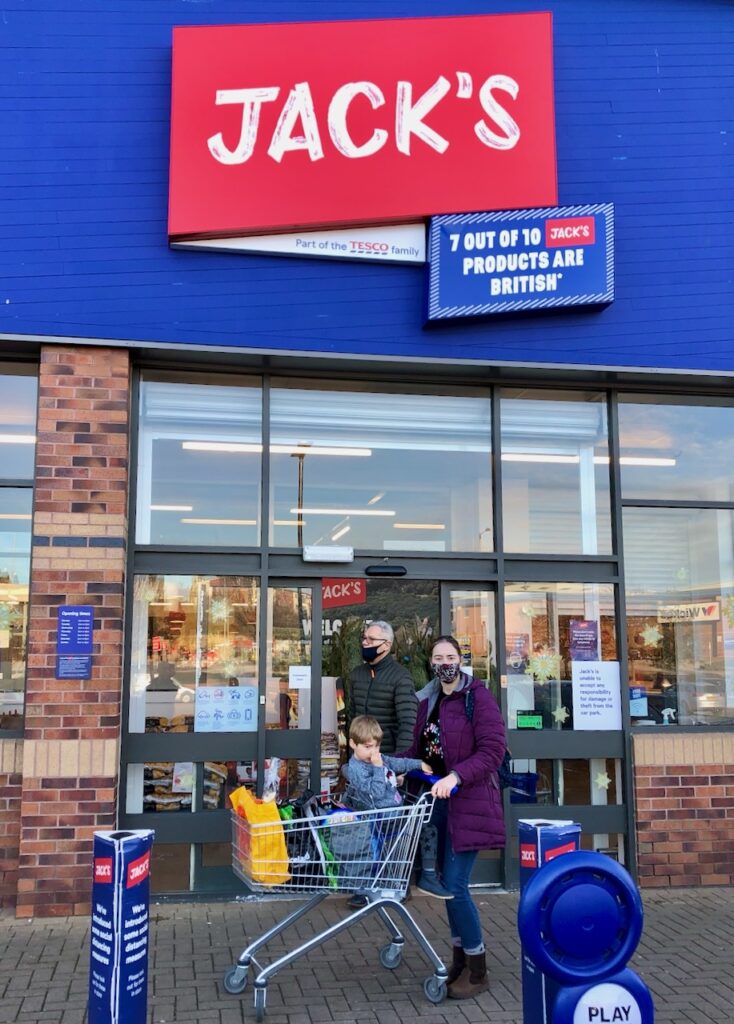 Shopping all done and dusted, we headed toward the checkouts. Thanks to the Shop Smart app I was using to tot up our purchases, we were able to self checkout. Nice and quick, no fuss or problems.
I enjoyed our visit to Jack's. I hear you say "you mustn't get out much then!" Well, if we're talking supermarkets, I do! They're generally stressful places, more so at the discount stores where queues are into tomorrow and you're squeezing between trollies down cramped aisles. Well, Jack's isn't like that. We bought our festive food and the store cupboard staples, and some treats for less than it would've cost elsewhere, and at our leisurely pace.
So if you're still planning the big Christmas food shop, why don't you try Jack's supermarket? You'll find all the quality essentials as well as Britain's favourite brands, so Christmas 2020 can end on a high note.
---
What festive food and presents do you still have on your supermarket shopping list?
---
---