Review: Taking a Dip with the Curvy Kate Poolside Bikini
September 10, 2021
It's never too late to don that bikini, so here's a review of the gorgeous fuller bust two-piece, Poolside, by Curvy Kate.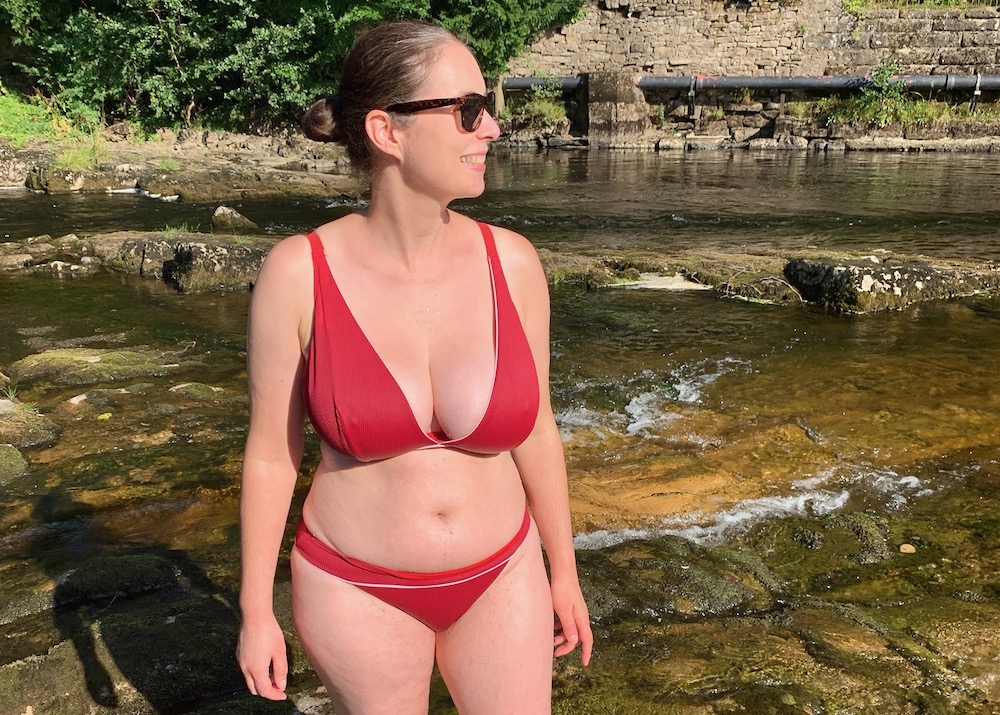 This post contains gifted product from BRASTOP. All words and images are my own.
Summer was a blast. I mean, it wasn't the season we expected but we certainly made the most of it with days out to castles, the beach and — I cannot lie — some seriously satisfying sun-dried washing days.
That's not to say I'm done with sun-shiny shenanigans.
It may not be summer anymore but September usually comes up with the goods (hello mini-heatwave!) treating us to lovely weather that August didn't get the memo on.
The week before back-to-school we made a point of packing in as much fun and freedom as we could to extend the holiday feeling. That included my burning bucket-list desire to swim in the river, which was yet to be done. So when the weather turned up the heat, we headed straight for the Swale; each of us armed with the tools of our endeavours: Reuben, a bucket; Sean, a go-pro, and me, a fabulous bikini I was intent to rock.
Brastop — my trusty go-to shop for discounted big cup bras and swimwear — sent me Curvy Kate's Poolside bikini (bra top in 32H/HH and brief in size L) to try out, which incidentally was just what I needed to be myself and live a little.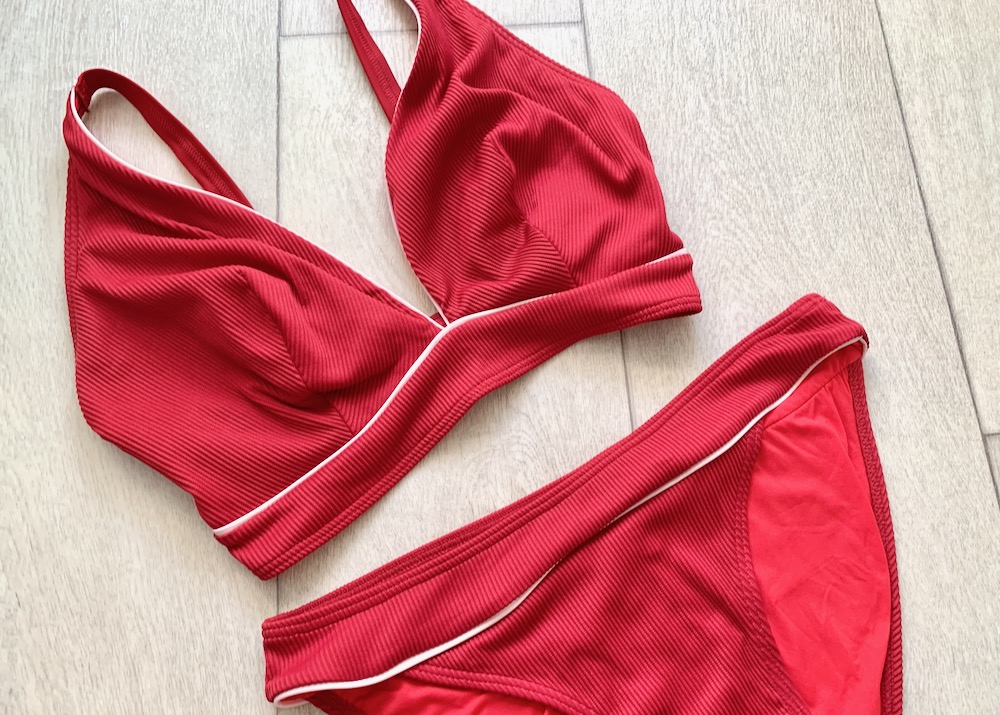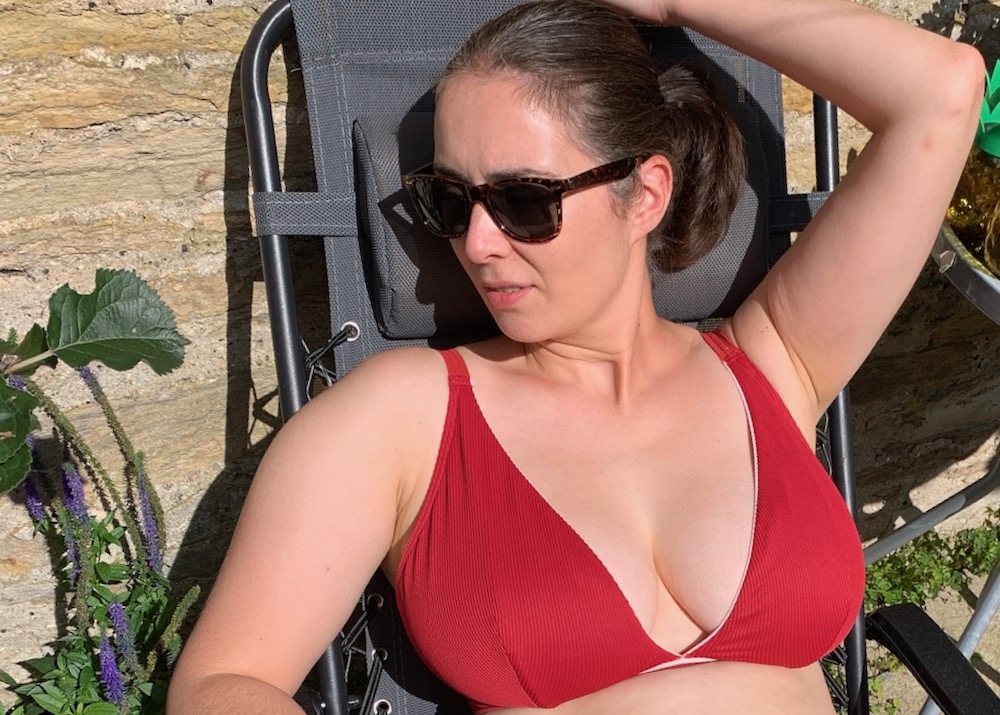 The Bikini
Poolside is a stunning wire-free bikini that defies the typical offering for the fuller bust market. Previously introduced in a blue colour-way, the newest vibrant red shade is my personal favourite look in this style.
A sleek triangle design made with a premium-feel ribbed fabric, Poolside delivers a flattering deep plunging neckline without the need for wiring, padding or fussy inserts, all while maintaining a superior level of comfort and support.
That's right — unlike many typical larger sized bikini tops, the Poolside bikini top is completely wire-free. Its super clever design and reinforced fabric, together with a substantial deep band reminiscent of the Curvy Kate In My Dreams bralette , means the top holds and naturally shapes without the need for underwires, creating a far from frumpy and totally eye-catching look. Talk about a game changing option for those of us with bigger boobs!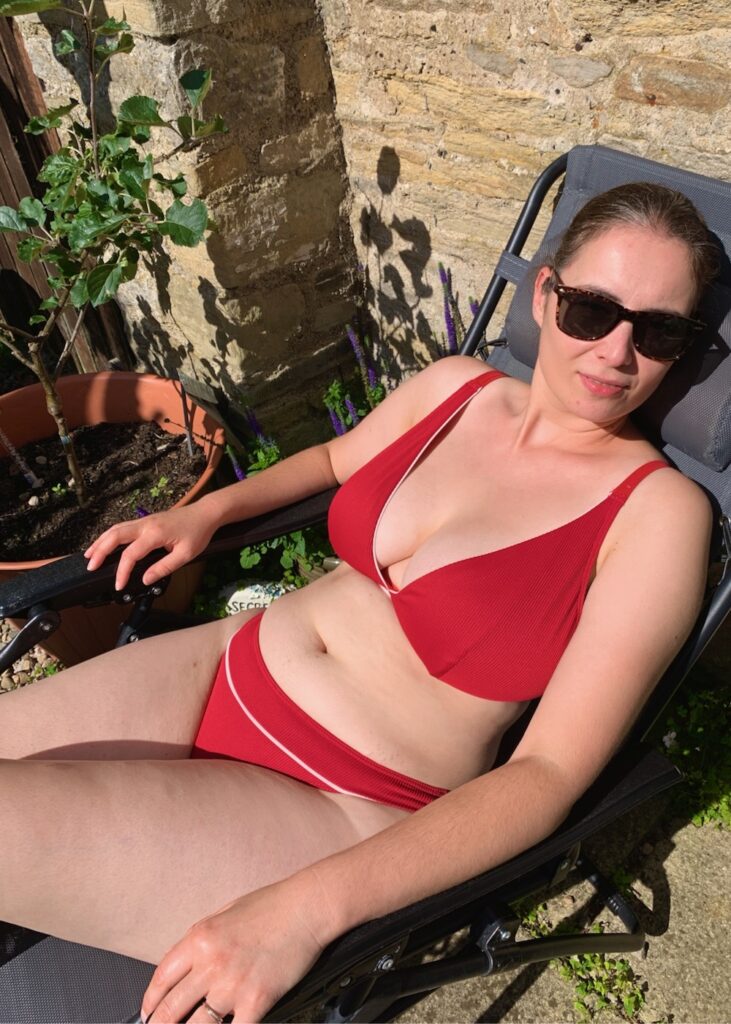 The Fit
Wearing the bikini around the garden and down the river, I found it very easy to wear. The bra top is ultra comfy. The 32H/HH is a spot on size for me; the fastener clips closed snugly without being tight at all, and the cups have a nice level of coverage and modesty.
The only issue I found was occasionally my chest wanted to go all quad-boob on me, which can give a funny look if anything. It's not terribly bad for it though, you just need to ensure you've tucked and swooped your boobs in right.
The bikini bottom is a low cut classic brief style. I don't find they have a huge amount of butt cheek coverage but incredibly they've not been riding up like some bottoms can do, so that's a welcome feature! In all fairness though, I probably should have gone for the size 16 to ensure a fit that isn't too snug (which is it, because my backside isn't as small as I sometimes think.)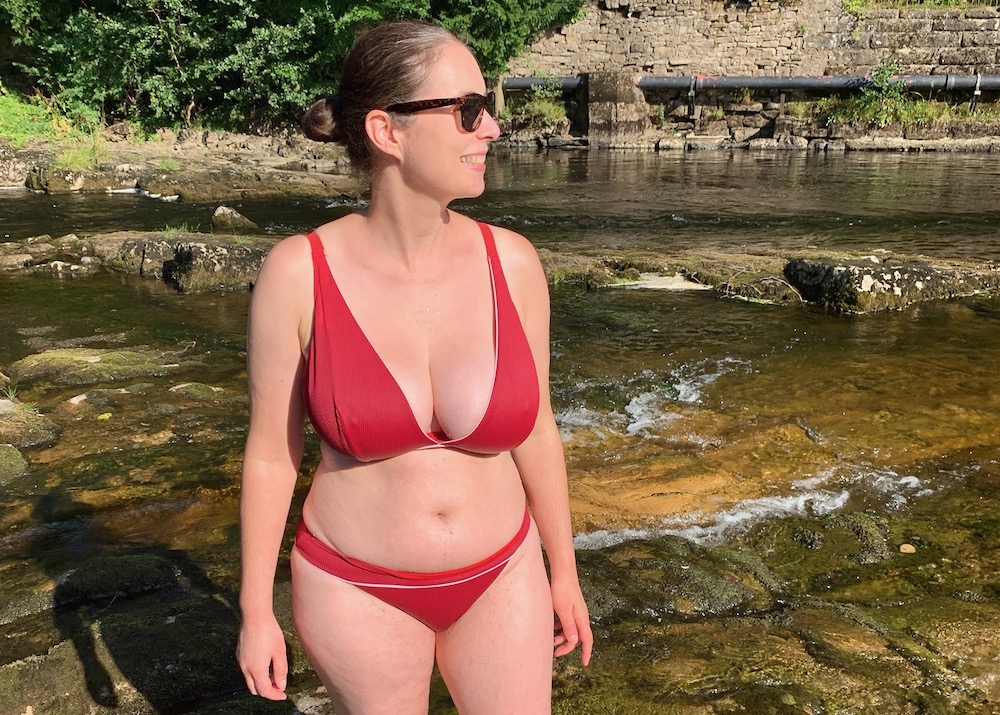 Fun in the Sun
So cutting to the fundamentals, I didn't exactly swim in the river. In my defence, I'm not a great swimmer. I can't breast stroke (I'm a front crawler), and I can't even tread water, so I totally baled out of swimming. I did however brave wading into the deep water, and it was freaking cold!
In one part of the river — where the kids tend to head to with their nets and buckets — there were these huge flat rocks that made walking through the water much easier and reasonably stable. Compared to the slippery boulders anyway, which I'd earlier slipped on, slam dunking my still shorts-clad backside into the river. That's what happens when you pussy-foot around, afraid to shed the summer layers to reveal your bikini body that nobody will second glance at anyway.
So the shorts came off and the bikini was out. There weren't many people about and heck, I was still so self conscious with nervous put downs racing through my head. I've put on weight again. My cellulite. My dough belly. You know the drill. But I wanted to do this, that was why we came down to the river, so no way was I going to acknowledge the mind trolls.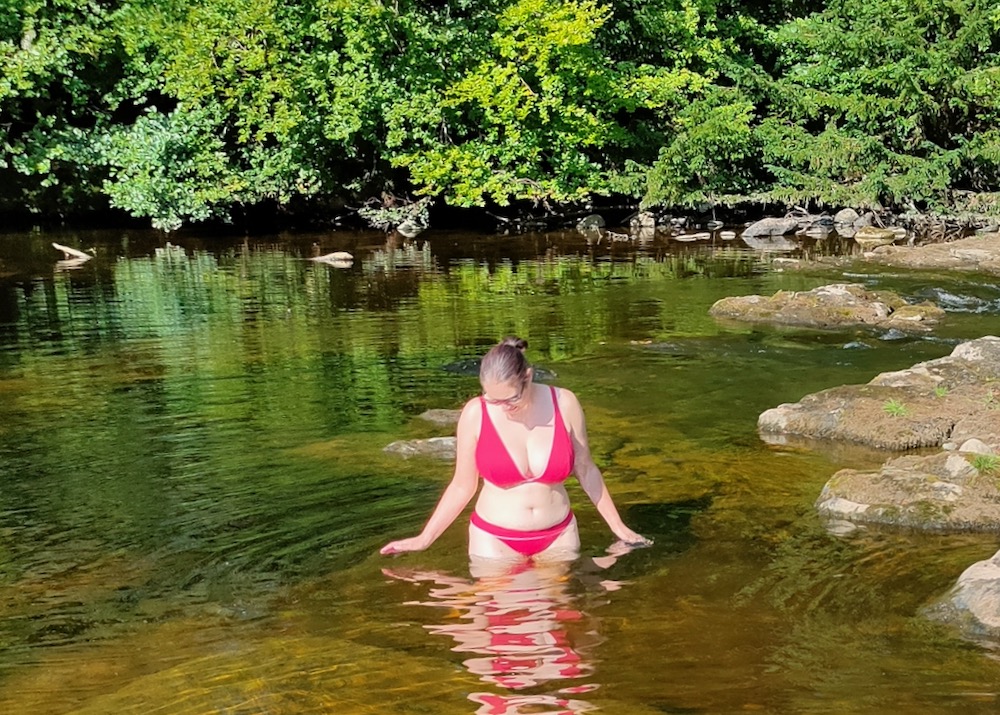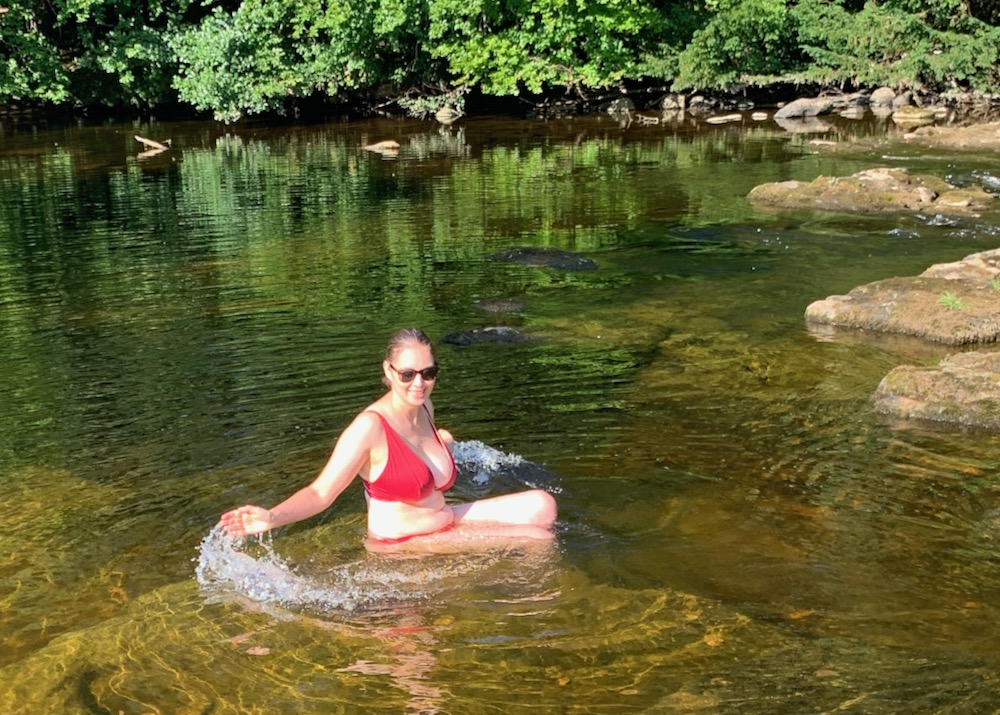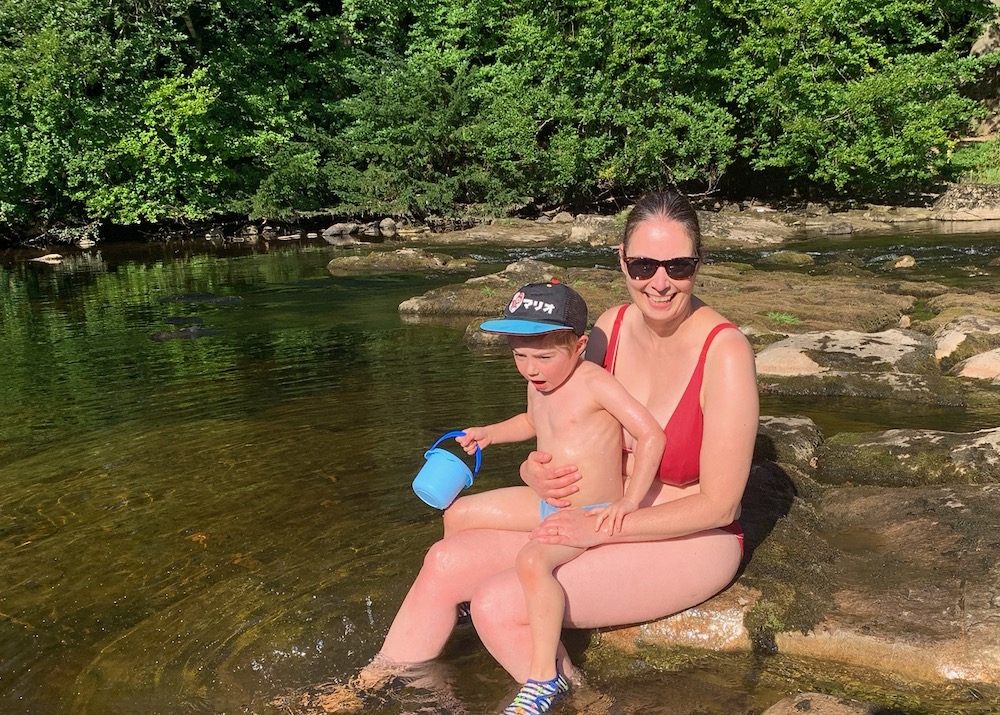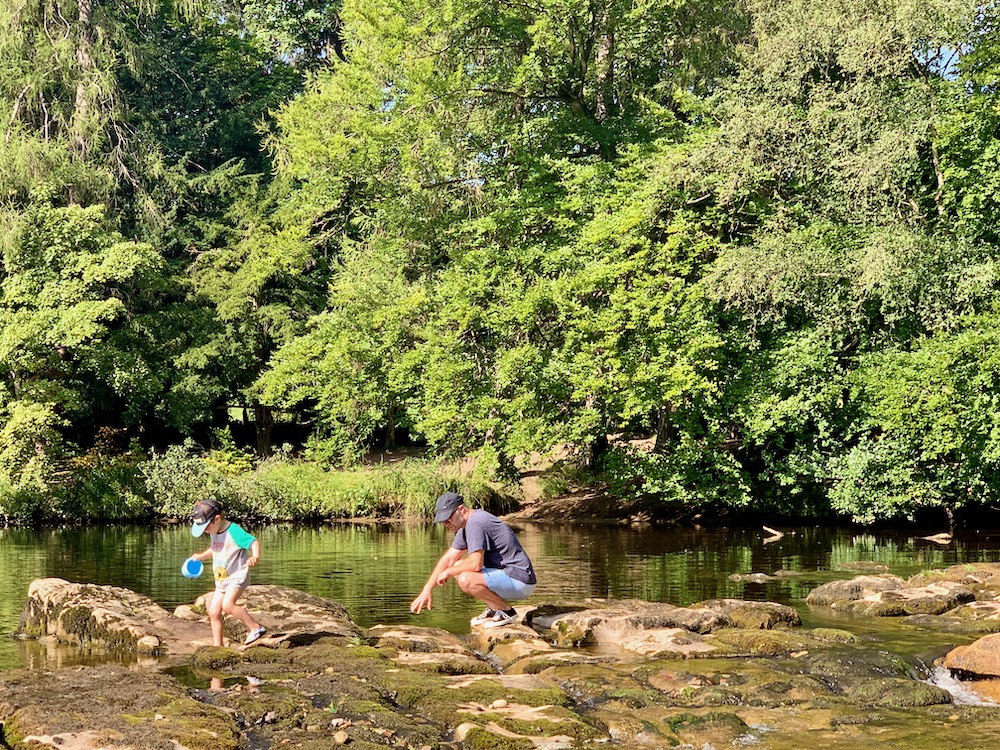 The water felt glacial as I dipped my toes in. The cool water now knee high, I paddled until I reached the relative safety of the flat rocks. The water may have been super cold but it was crystal clear; I could see dainty shoals of minnows swishing around my feet as I gently stirred the water. There I edged myself down til I was thigh high before immersing myself down into the water til it came to my neck. It was breathtaking. Liberating!
Jumping back up to the heat of the sun streaming through the trees felt so good, on my skin and deeper. It was such a gorgeous moment and here we were, just the three of us; laughing, splashing, carefree in a moment I'm pretty sure time decided to pause on.
Poolside is a fabulous bikini, and had I not been wearing such a freedom feeling wire-free bikini, I wouldn't have felt as relaxed as I did. Don't get me wrong, wires have their place and they're my favourite way to wear a bra, but sometimes you need a little give in life, and it's quite lovely to be free of something for a while!
You can treat yourself to this gorgeous bikini today for a bargain price from Brastop.
---
How do you feel about wire-free large cup bikinis? Do you like the softer style or do you prefer the structure underwiring provides? I'd love to hear your thoughts in the comments below.
---
---