A Christmas Gift Guide for Mums | 2020 Edition
November 27, 2020
This is my gift guide for mums – for the loveliest, most heartfelt of Christmas presents.
AD. This post contains PR gifted products. All wording, images & opinion are my own.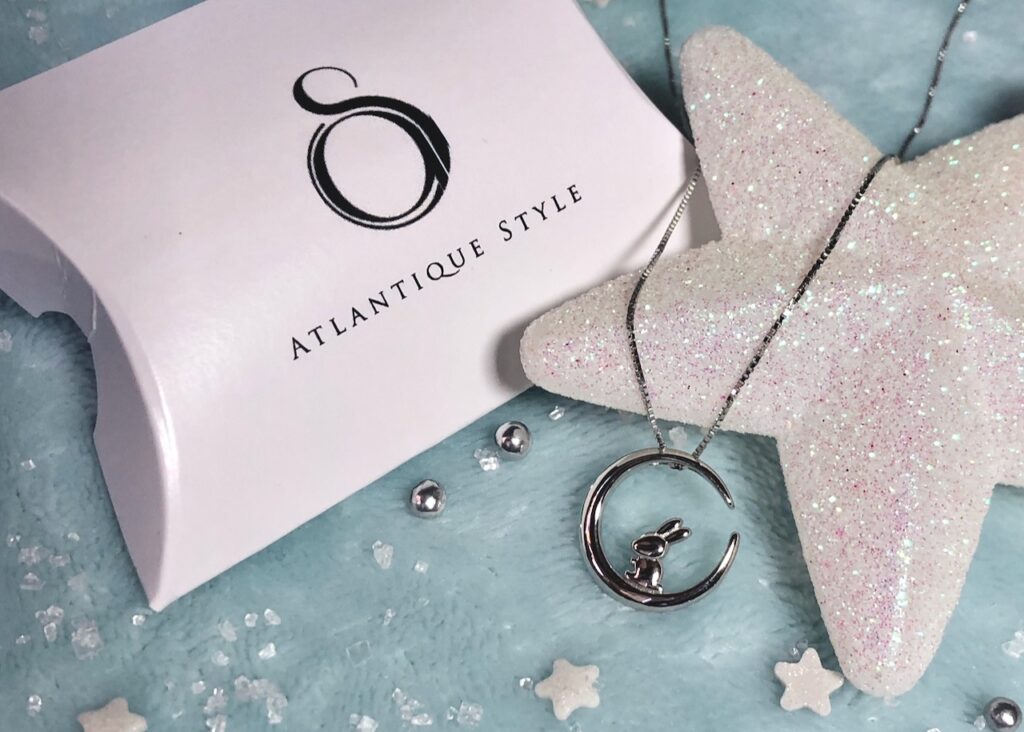 Christmas is now upon us – the season of hope, goodwill and getting ourselves into a festive spin about presents, turkey and how the family's going to fit around the table. Well we probably won't have to worry about half of what we usually stress about because we all know this year's celebrations are going to be toned down.
Nevertheless, nothing can take your Christmas spirit, we can still cherish those we're lucky to have around us (albeit at a safe distance) and besides, you can't cancel the nativity scene that already happened 2000 years ago.
Christmas, in whichever shape it takes, is still coming. And if you have an important lady in your life, you'll have more problems to worry about if you forget the gift!
To help get your Christmas shopping started, here's a selection of some fab gift ideas for the mums.
---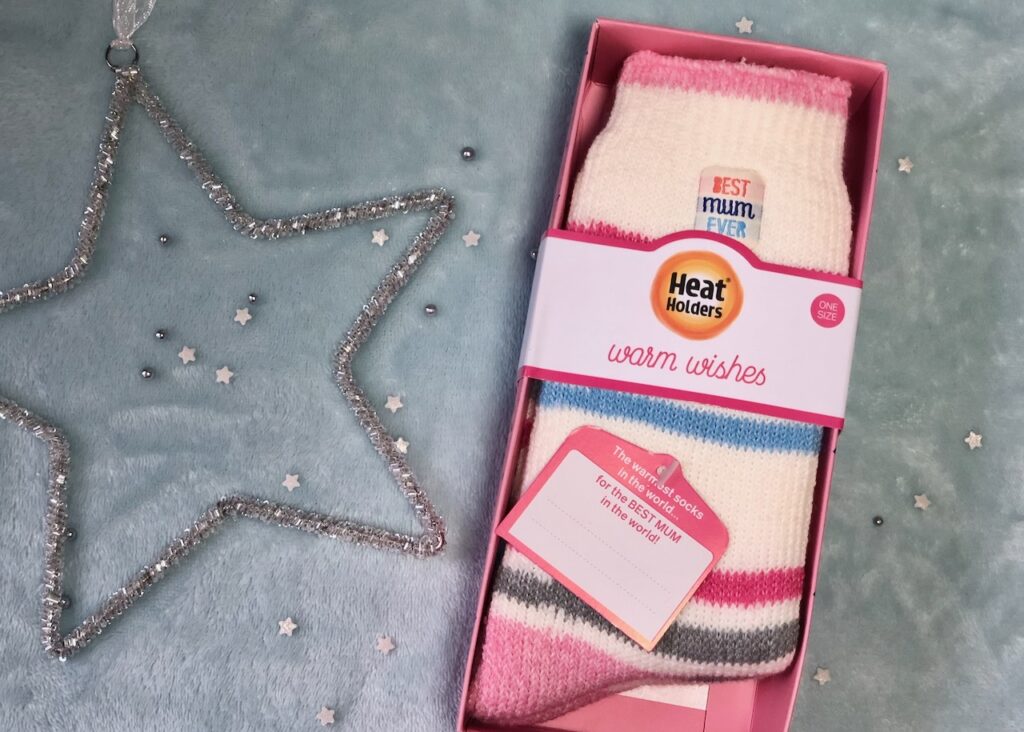 The Cosiest Socks
Whether you like relaxing at home in cosy socks or you prefer to keep your thick socks for your boots, one fact remains: big socks are life. So who wouldn't wish to be gifted the most fabulous, fluffy soft socks this Christmas?
These Gift Boxed Socks by Heat Holders are perfect because they're completely gorgeous 2.34 TOG rated thermal socks that keep your feet warm and toasty. A generous calf length, these pretty pastel coloured socks are the dreamiest feeling thanks to the brushed lining. They're cute, labeled with 'best mum ever' and come nicely presented.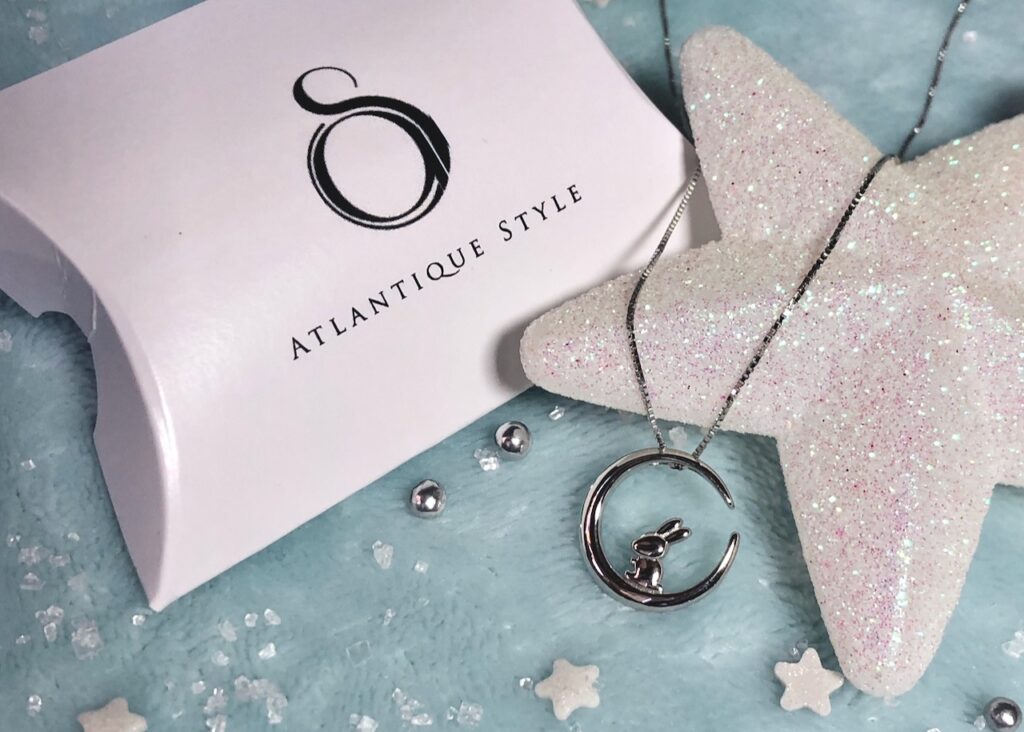 An Intricate Necklace
You can never go wrong with a gorgeous piece of jewellery, but you can make it so right if it's a gift that pays it forward. In the truest Christmas spirit you'll find charity at the heart.
The beautiful Playful Rabbit Moon Necklace from Atlantique Style is a piece to cherish. Crafted from 925 sterling silver and platinum plating, an adorable bunny sits upon a crescent moon pendant, floating on a 16 inch chain. But this isn't just a delicately stylish necklace, it's the gift that gives. For every Playful Rabbit Moon necklace purchased, £5 is donated to the Royal College of Nursing hardship fund. (And if you're an NHS or emergency worker, you can get a £5 discount off the necklace directly.)
A Stunning Lingerie Set
Lingerie can be tricky to gift if you're not fully confident you know your recipient's vital stats. That means their taste in style as well as the all important numbers. So if you're thinking of treating your lady to some nice new underwear I'd recommend you take notes on what they're wearing now. Whatever you do, don't guess that size!
For something modern, sophisticated and super supportive, let me point you in the direction of the gorgeous Freya Wild Black Rose plunge bra and brief from Knicker Locker. This set feels super silky to the touch, features sheer lace paneling and deep elastic bands for a smoother line. (The knickers provide super bottom coverage too – bonus points!) You'll find this new Freya Wild style in their Christmas at Home selection.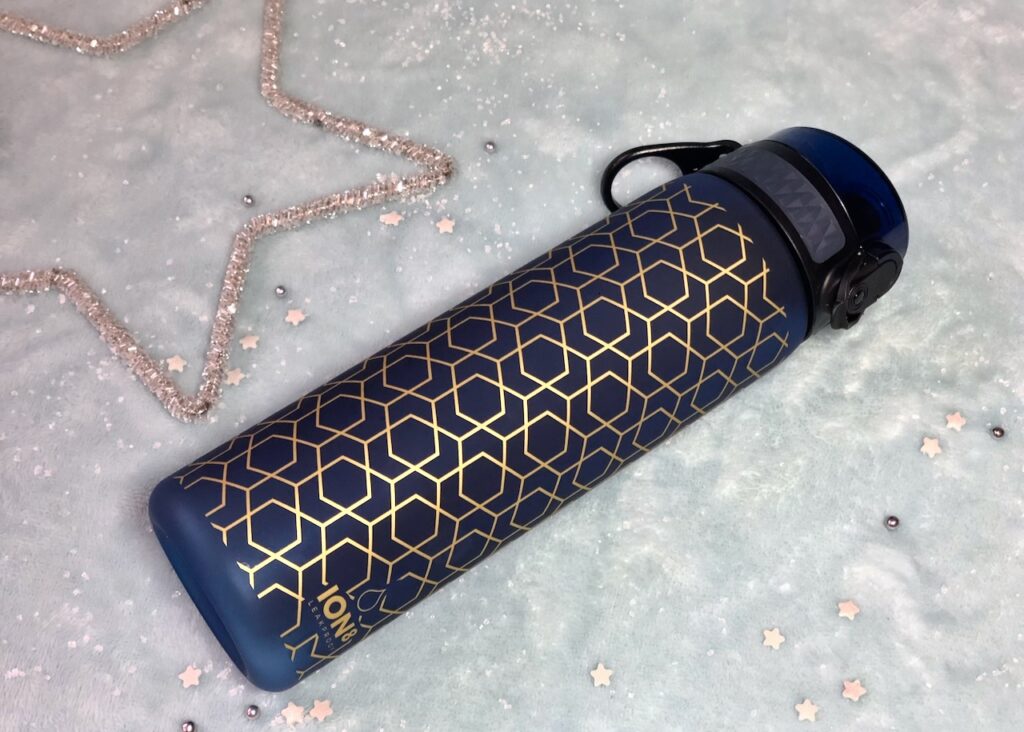 A Funky Drinks Bottle
If you're stuck for ideas, consider a useful gift. We know we should drink more water than we do, so what better way for us mums to stay hydrated than a reliable, easy to use water bottle.
The Ion8 water bottle is my current favourite bottle to carry for a number of reasons. Firstly, it looks really cool. The gold geometric print over frosted navy blue is modern and edgy. It's also a decent capacity holding a 600ml drink, so it's plenty for me on the go. And what this bottle really nails is the no-spillage and lock system, which means the spout is easy to drink from yet won't leak in my bag.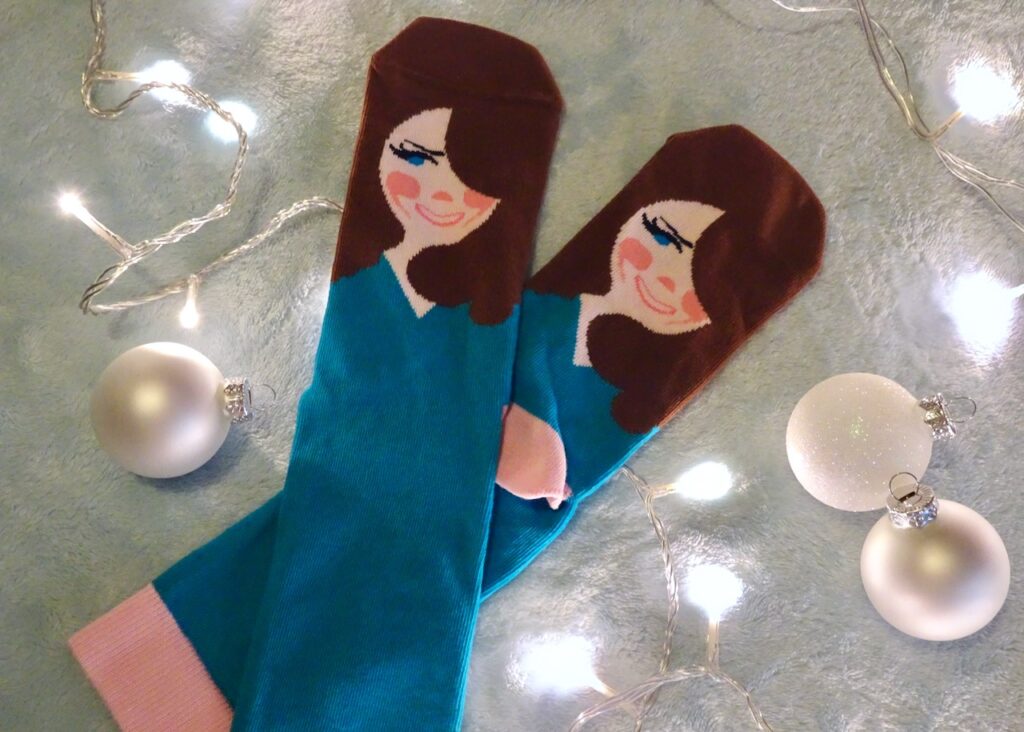 A Pair of Funny Socks
Life is serious enough for boring regular socks, so give your lady friend a giggle when they next look down at their feet.
With dozens of famous faces from classic artists to silver screen stars, you're spoilt for choice at ChattyFeet. These wonderfully made socks, each created by independent designers, make a fantastic talking point, providing some much needed lighthearted fun. For that aristocratic feeling, treat royally worthy feet to the Funny Royal Sock Collection; I think the Kate Middle-Toe socks are pretty brilliant!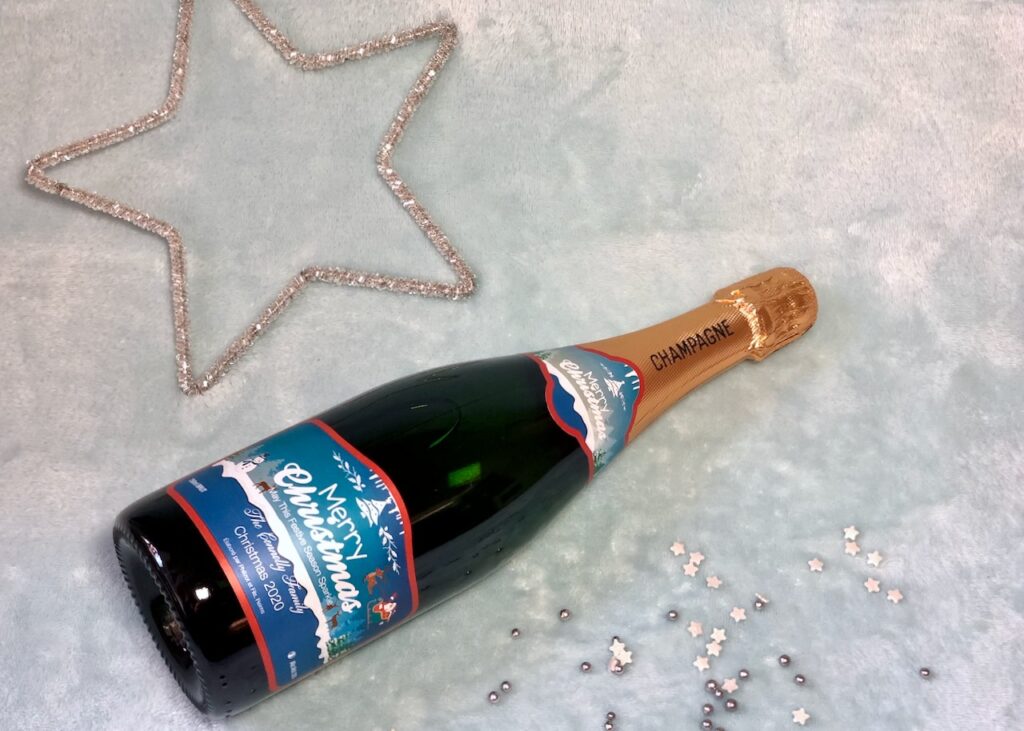 A Bottle of Bubbly
We love a glass or three of bubbly at Christmas and I think after the year we're having we deserve something a bit extra special.
If you're looking to gift something exceptional, Personalised Christmas Champagne is a wonderful idea. The ideal gift to drop off on a doorstep or post across across the miles, this fabulous bottle from Say It With Champers allows you to convey your festive wishes with a custom bottle label. With a choice of four types of champagne (classic, rosé and premium), two designs: one classic, one fun (such as this), there's ample space for names, dates and a message.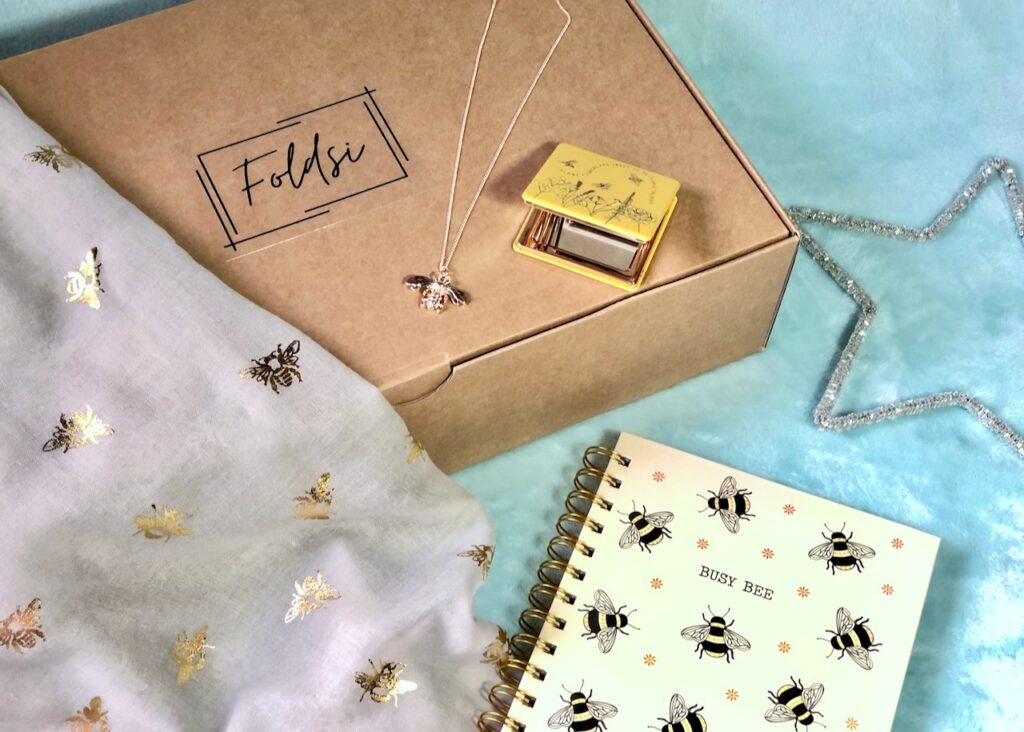 A Gift Box of Goodies
As much as I enjoy Christmas gifting, shopping for someone isn't always the easiest task. Sometimes you just don't know what to get them, even if you have a vague idea of taste. This is perhaps where the brilliant concept of the filled gift box comes in.
Foldsi gift boxes are beautifully composed packages for that special someone who deserves to know it. To help you deliver a warm hug when you personally can't. Or when you don't know what to gift, you just know distinction is a must. The Busy Bee gift box is totally my style, containing tactile gorgeous pieces: an ethereal scarf with foiled bee detailing, Sass and Belle chunky notebook, Fable rose gold bee necklace and a Lisa Angel clamshell compact mirror, all swaddled in a soft paper bed.
---
Happy Christmas Shopping!
Don't miss my gift guide for the dads right here, and the kids guide coming soon.
---
---