LOCKDOWN LINGERIE | 5 Wire-free Bras for Chilling & Living at Home
February 18, 2021
Spending lockdown at home? Now's the time to ditch the underwire in favour of the latest tech soft bras, because living your comfiest life is what matters most.
AD. This post contains gifted product from various brands and outlets denoted by an asterisk. All words, opinion and imagery are my own.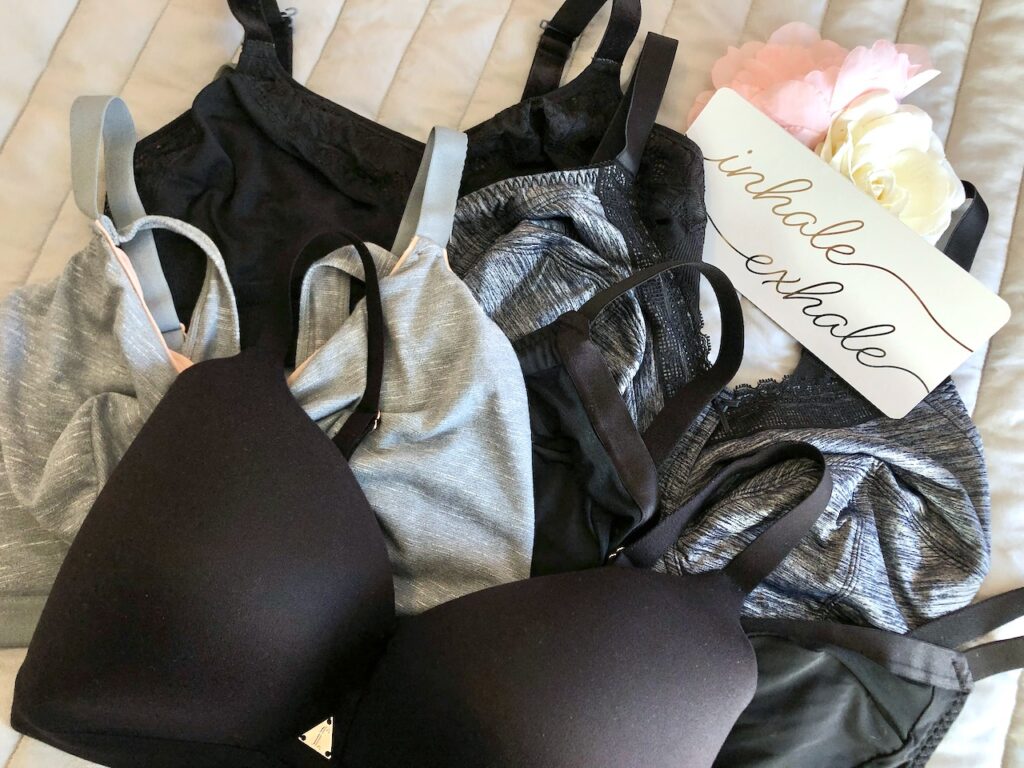 It's no exaggeration to say lockdowns have changed the way we do life. We're shopping online more, church-going online and if you're not key to the Covid fight, you're working at home or staying home to save lives. With dress codes relaxed, our daily outfit of choice has reduced to the comfiest joggers in the draw, and often, PJs are the only answer.
Who am I kidding. As a chronically ill person who struggles to sleep when I should and sleeps when I shouldn't, I already nail the 'lockdown look'. With the reality of staying home already a familiar lifestyle, PJ mornings and comfy casual days are how you'll often find me dressed.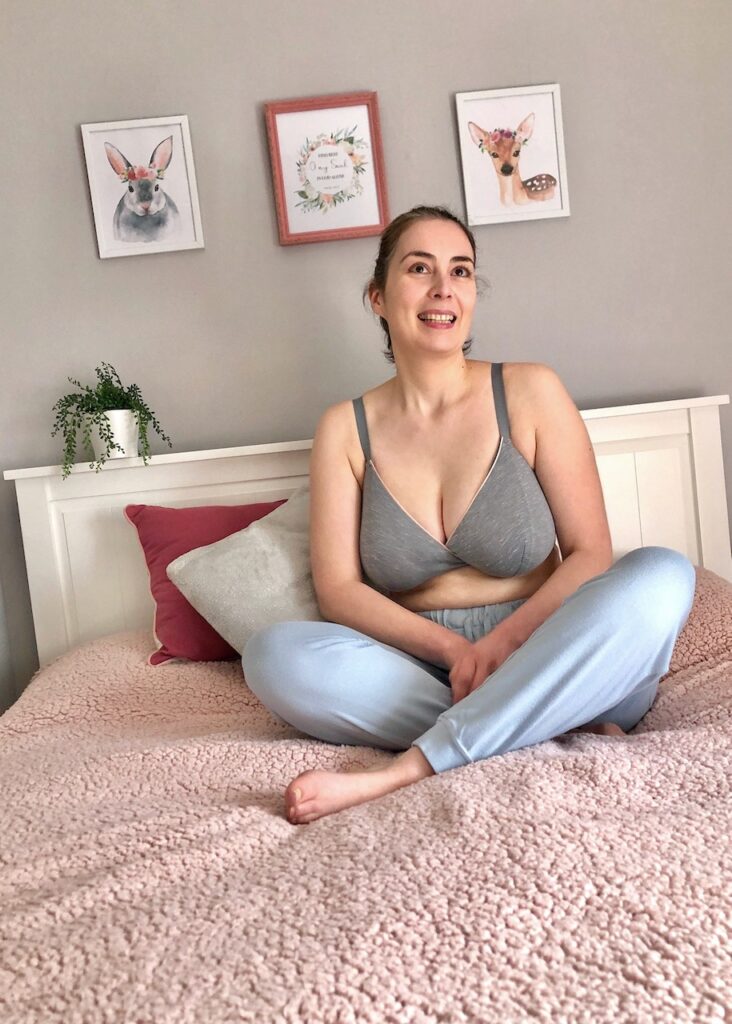 If you're spending your days much the same as me, and a supportive bra is still a must, you may be interested in hearing about some comfortable options that offer style as well as substance. I'm talking about wire-free, soft cup bras for unadulterated comfort that co-ordinates with your casual home/work style whatever your outfit (or PJs – hey, who am I to judge).
Here's my top five bras that'll have you banishing the underwires faster than you can jump on the sofa: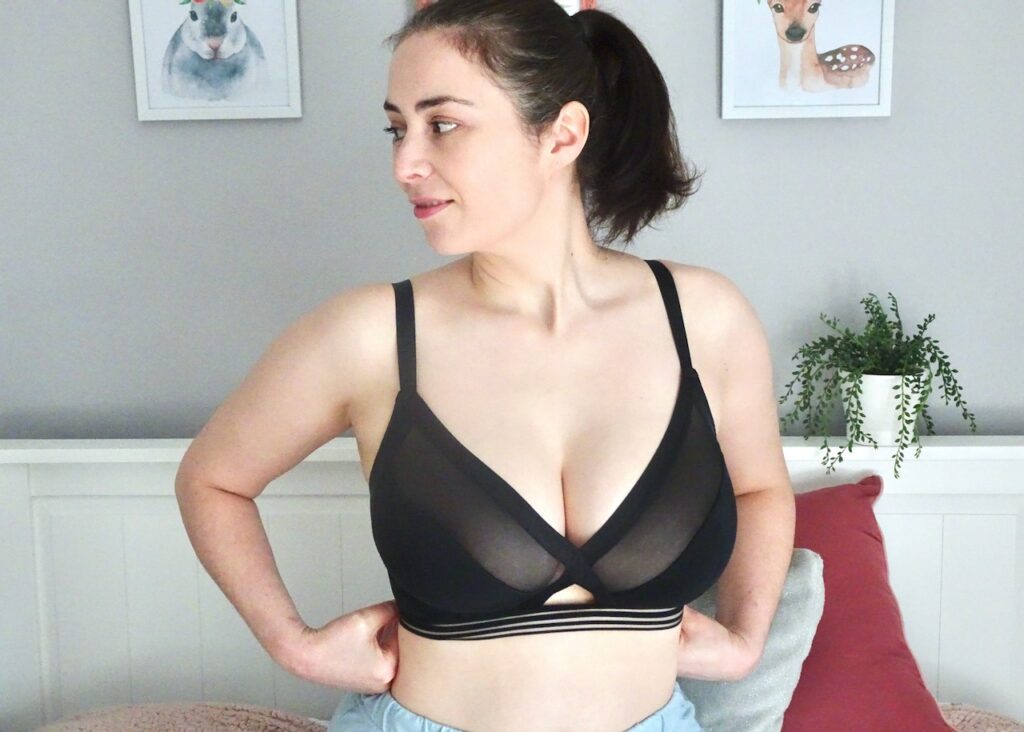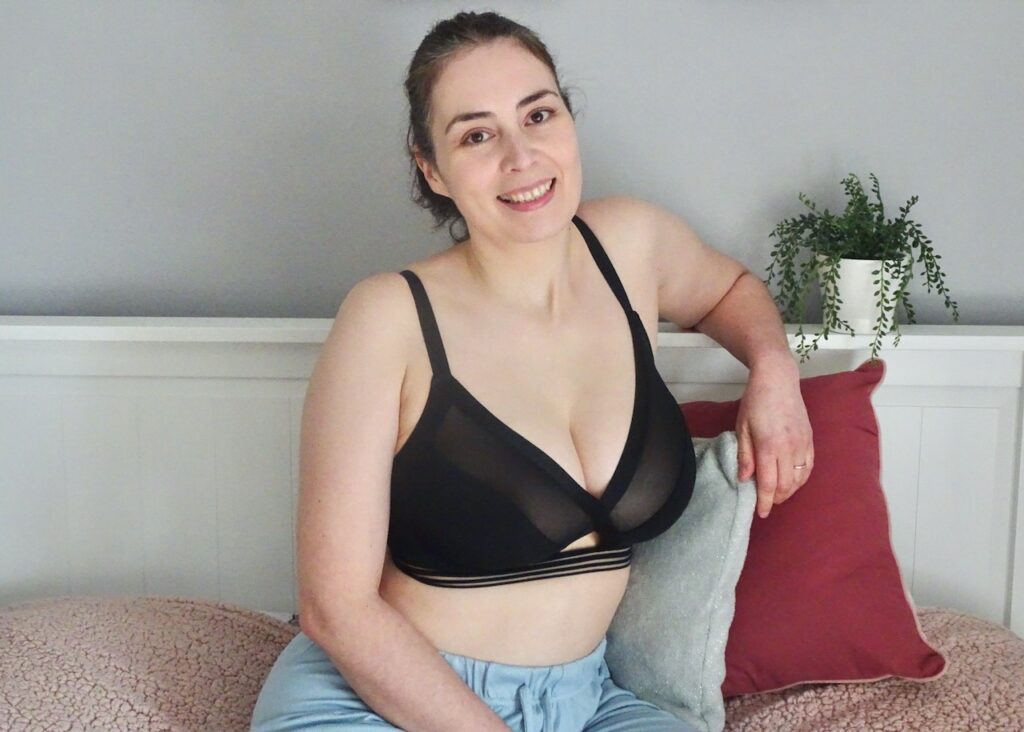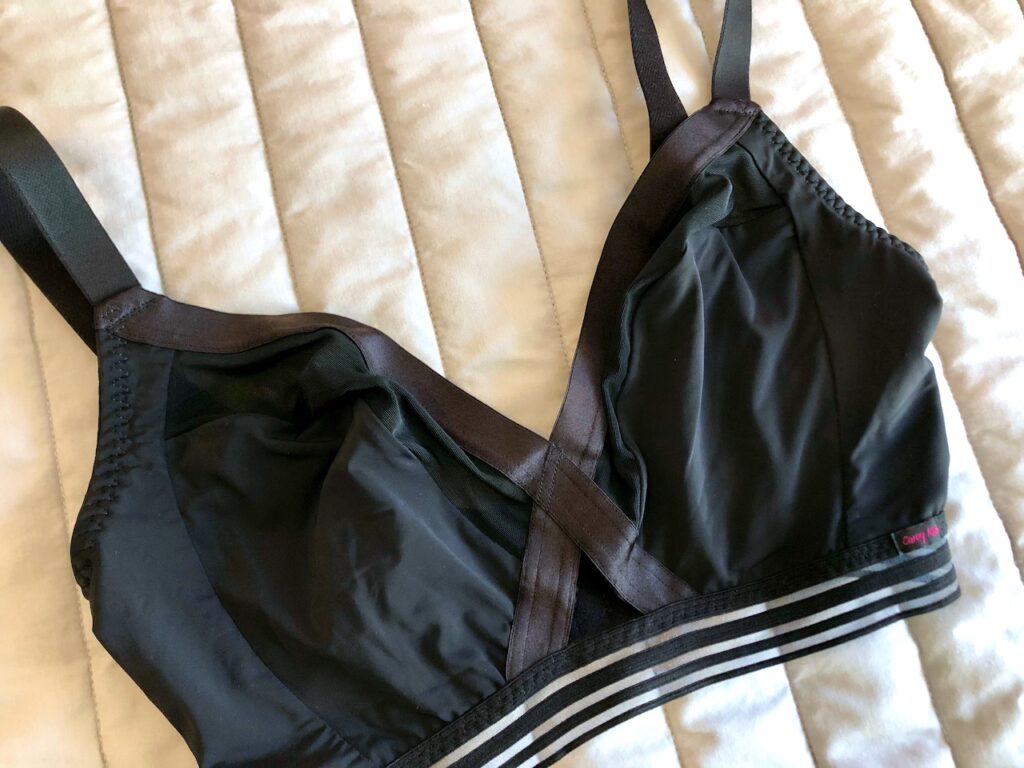 1. Curvy Kate 'Unwind' bralette (at Brastop*)
Lounging and bra-wearing don't always go well together, but what if you want, even need, the support of a bra while you're chilling at home? That's when wires just may need to go and unrestrictive soft cups come in.
For the purest, 'next to nude' feeling, Curvy Kate's Unwind bra allows the closest feeling to going bra-less but with the gentle support of a bra.
With a contemporary take on a retro inspired aesthetic, Unwind is a super lightweight bralette (the lightest weight bra in this list) that delivers through its simplicity. Featuring triangular shaping in a sheer stretchy mesh and microfibre, criss cross centre front with cut out detailing, and a gently supportive under band, Unwind is the easiest modern styled bra to wear on your down days.
I'm wearing the 30J/JJ size which is a cup size larger than I'd typically wear so you may need to go up a cup size in this one.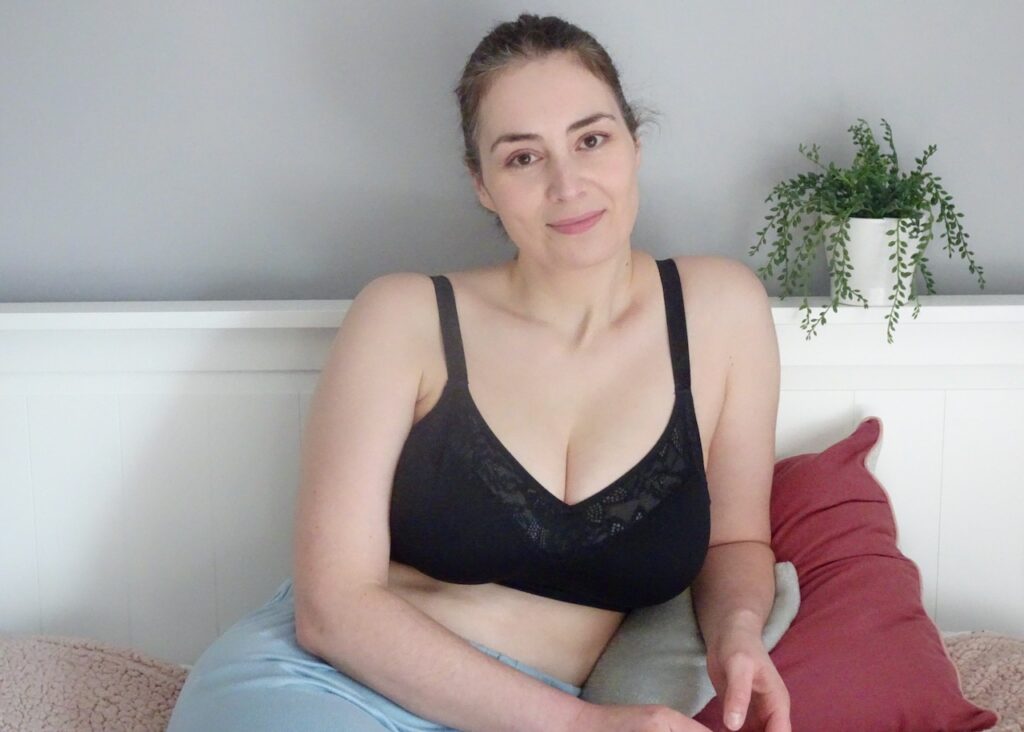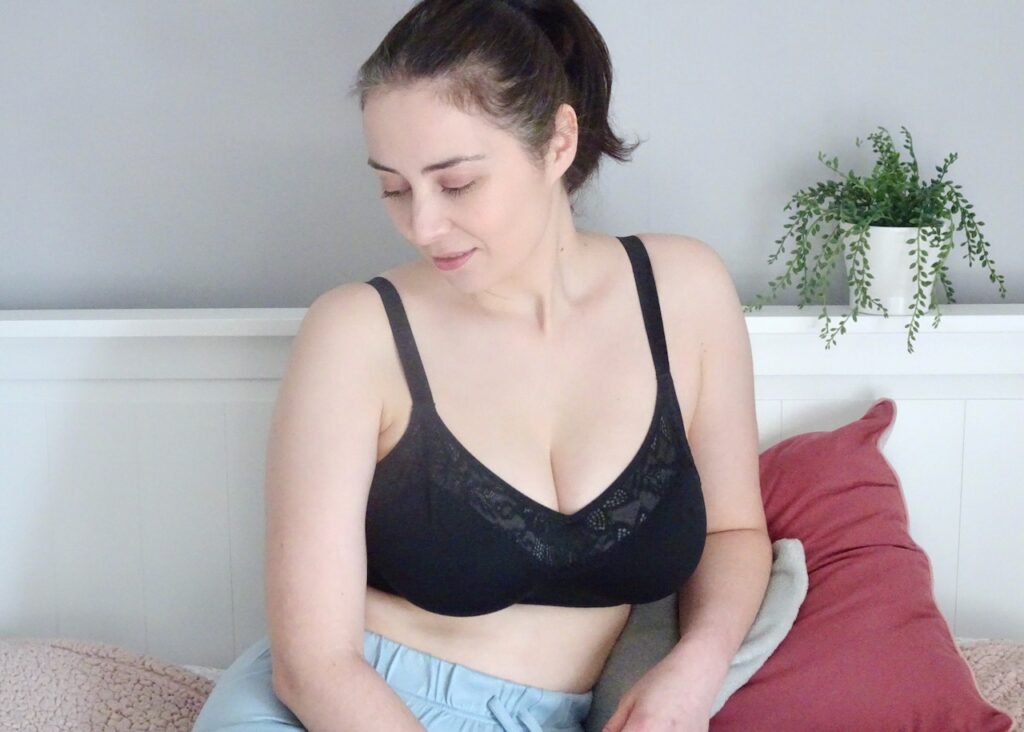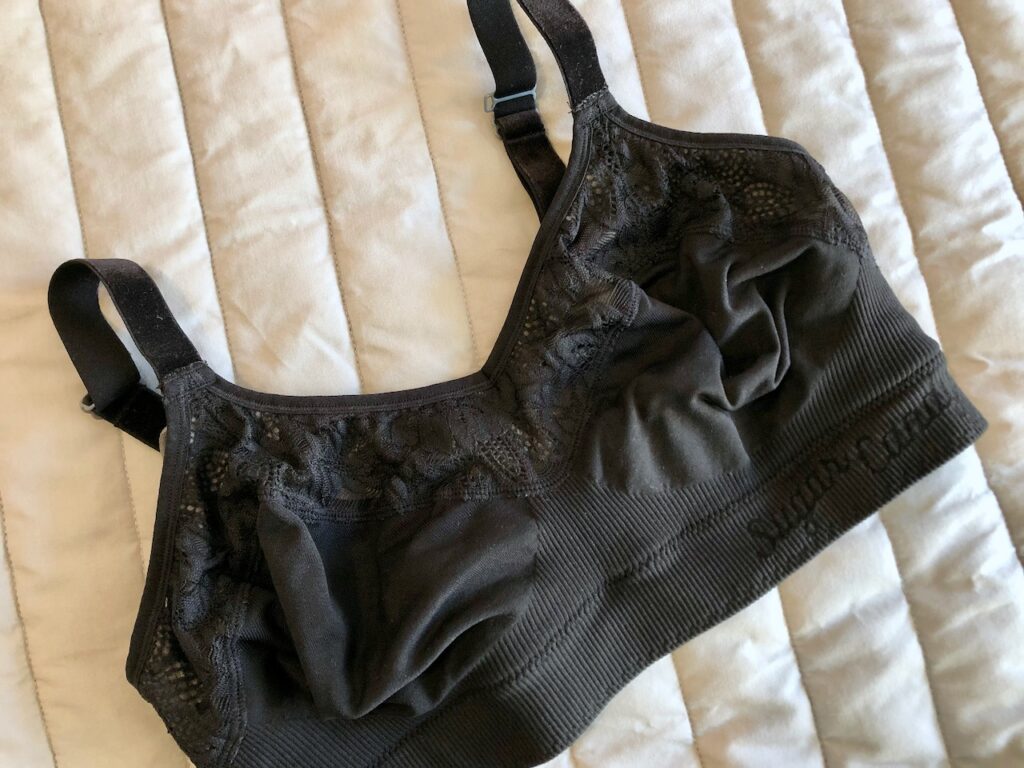 2. 'Lux' bralette (Sugar Candy*)
If you like your bras with a sports-like feel but don't want the firm hold, something with robust features will be what you're looking for.
Sugar Candy's Lux bra is the enhanced version of the brand's staple 'basic' bralette; a supremely comfortable crop-top style bra. If it looks familiar that's because it probably is! Sugar Candy is Cake Maternity's sister brand, with a focus on the fuller bust market.
Lux is a substantial piece; the weightiest of the bras in this list, but of a premium quality. The super soft fabric and inner cup fashioning means the bra hugs your curves perfectly, while the deep band and shaping boasts a ribbed texture for comfort and fit. Even the closure offers a generous six hook size adjustment. The details are what make Lux a particular treat; with gorgeous lined lace detailing running along the entire upper of the bra to the back, with plush velvet straps, Lux is a pretty, feminine option for lounging in style.
I'm wearing the medium size which fits me particularly well, although a smaller measured back would be more ideal for my figure.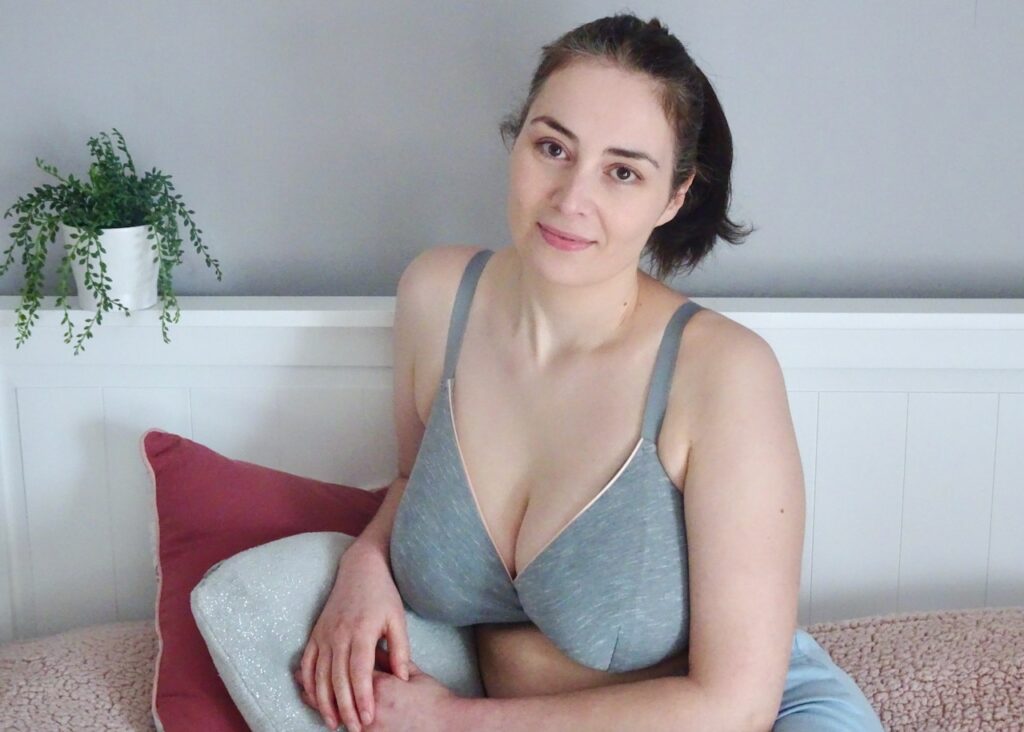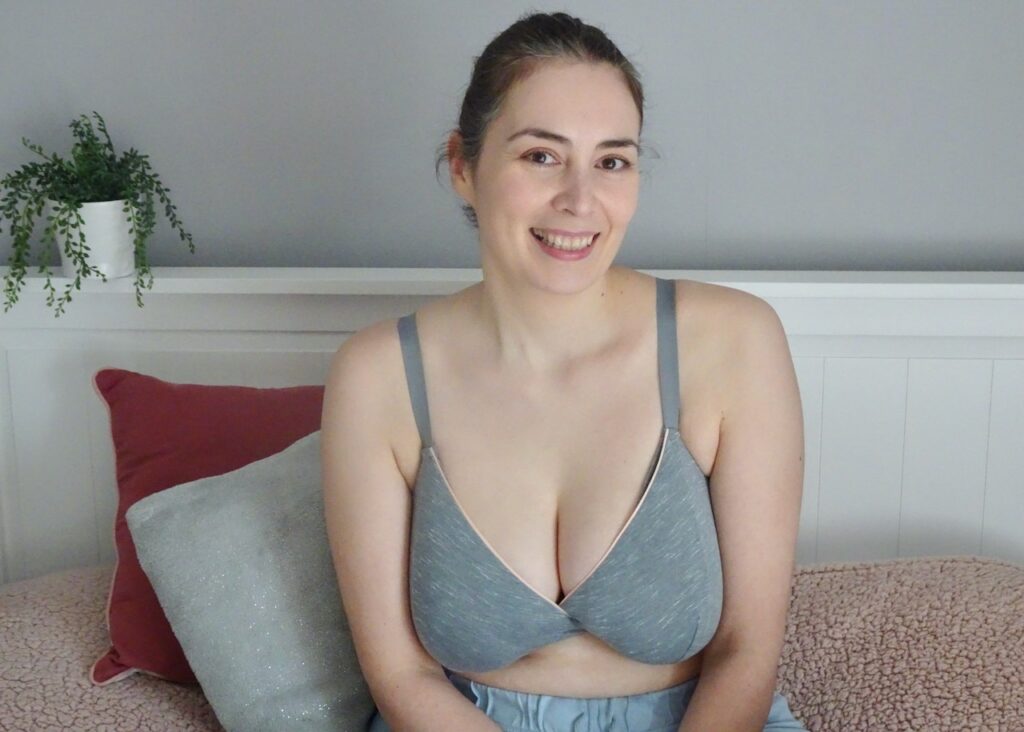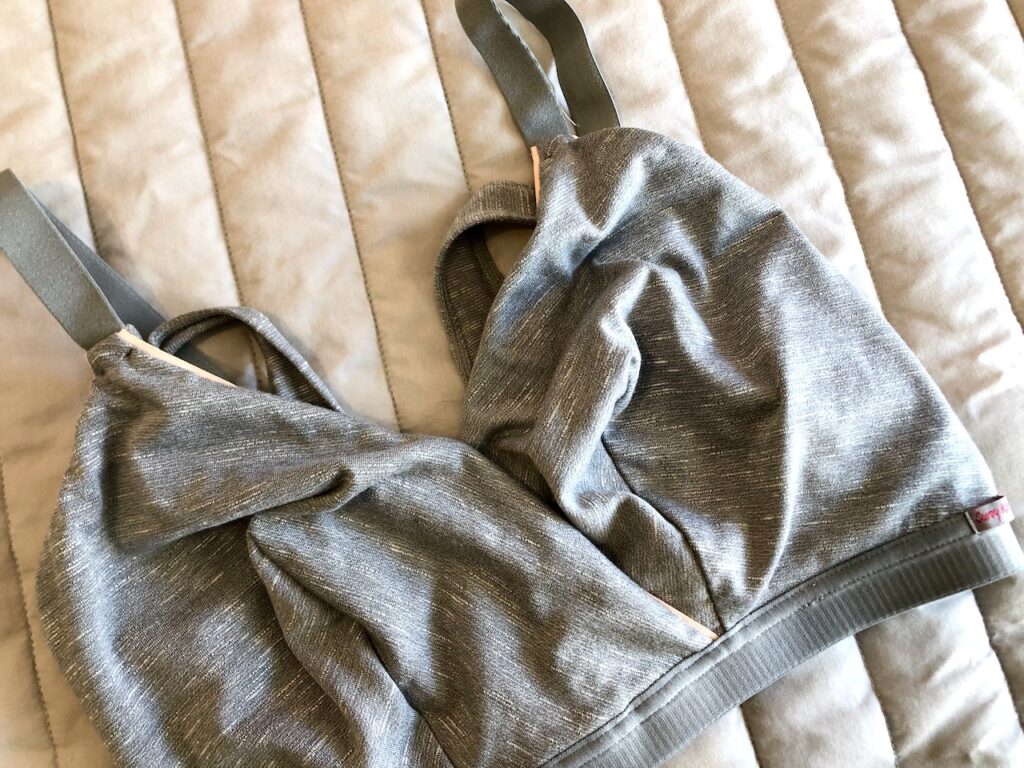 3. Curvy Kate 'In My Dreams' bralette (at Brastop*)
You know the days you don't need to leave the house but you still want to make *some* sort of an effort and, you know, get dressed? Well, if comfy loungewear is the order of the day, Curvy Kate's In My Dreams bra will be a match made in heaven.
A super soft yet supportive bralette, In Your Dreams is Curvy Kate's sleep solution that works equally well as a comfort day bra. With serene wearability being its focal point, chafing and irritation doesn't stand a chance.
The stretch fabrication blends fluid yarns with breathable mesh, while seams and stitching are smoothly overlocked. Not dissimilar to a crop top style, a generous band with the softest touch ribbing to the underside runs beneath the cups providing gentle lift. However, fully adjustable straps, a wide hook and eye back closure and unique breast separating slings make In Your Dreams a perfectly fitting, dreamy feeling bra.
I'm wearing the 32HH which is a gorgeous fit if I wear it on the tightest hook, so the 30HH would be my perfect size (it wasn't available at the time of review).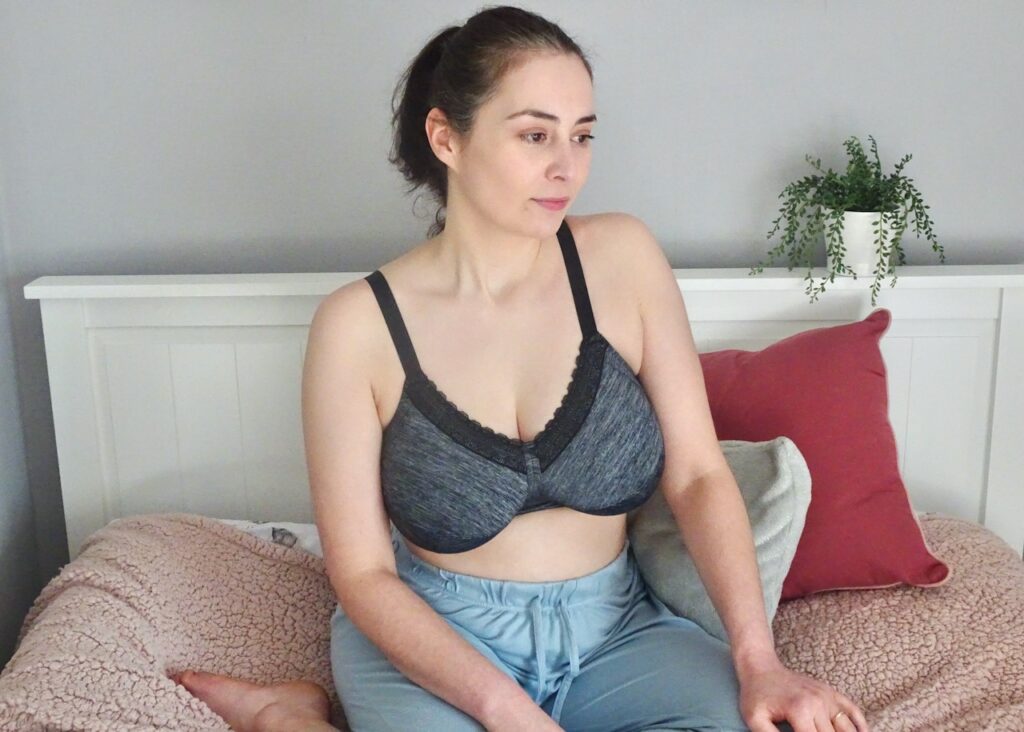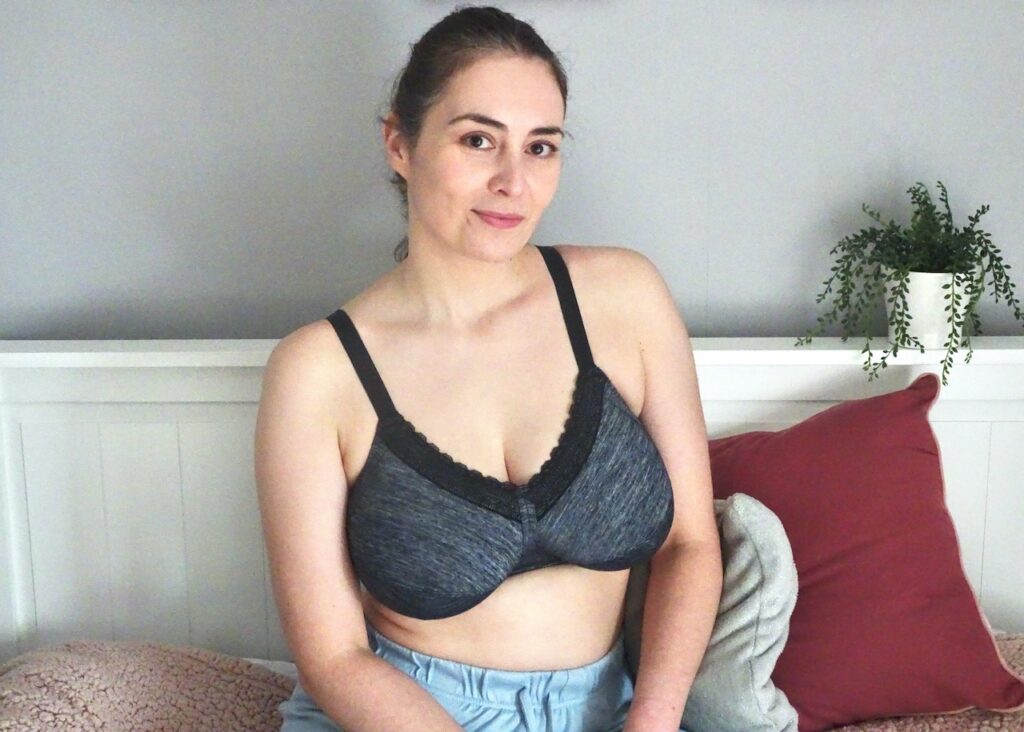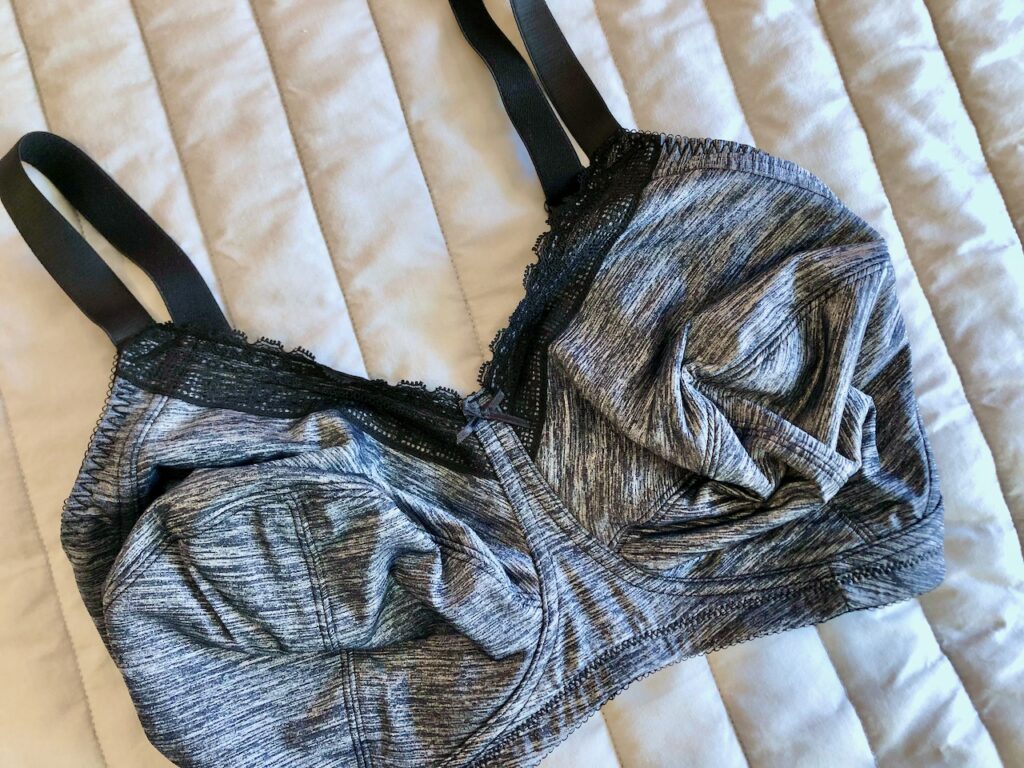 4. Royce 'Luna' bra (Royce Lingerie*)
Often the downside to soft bras is they can cause the dreaded 'uniboob' look, where a lack of underwiring structure fails to contain breast tissue. This is where wire-free experts Royce excel at, creating bra solutions that support boobs in their natural shape.
Royce Lingerie's Luna bra covers sizes up to a 40K, making it the accessible comfort bra choice for fuller busts.
Luna's modern anthracite fabric trimmed with lace sets this bra apart as an everyday bra just as ideal for casual wear at home. Featuring fully fashioned three part cups and full coverage, the bra offers a classical shape and fit that suits most busts. And when breast separation matters (hands up who can't stand boob sweat?), Luna's easy fit makes it an obvious choice.
I'm wearing the 32H which provides a spot on fit that isn't too firm.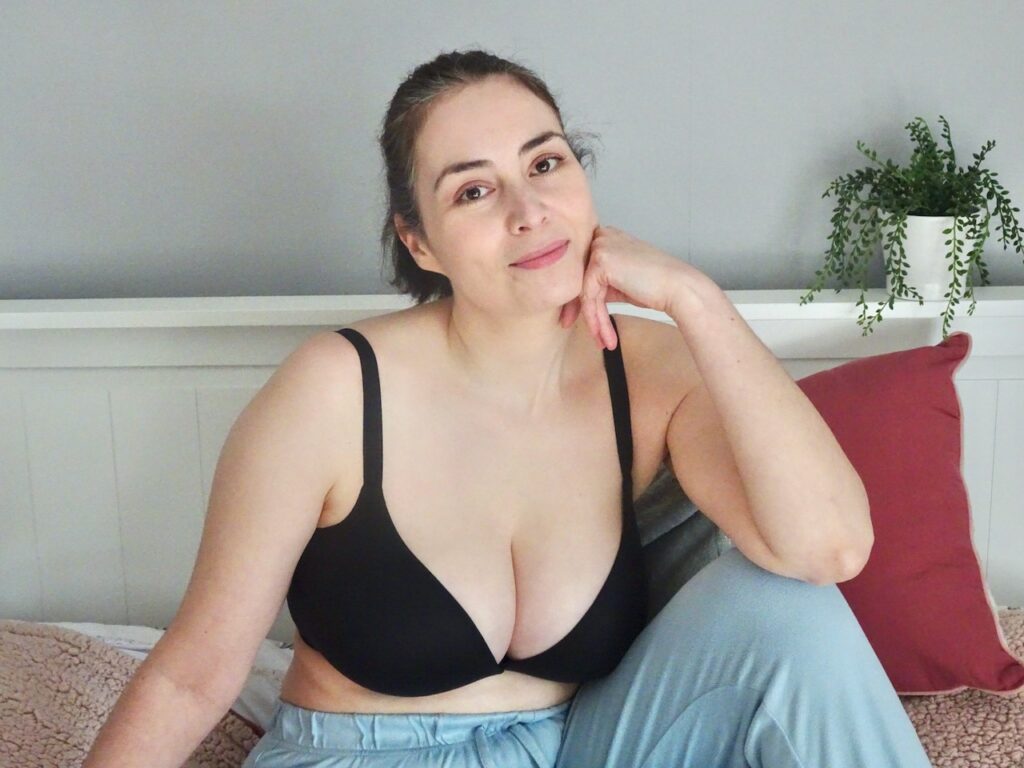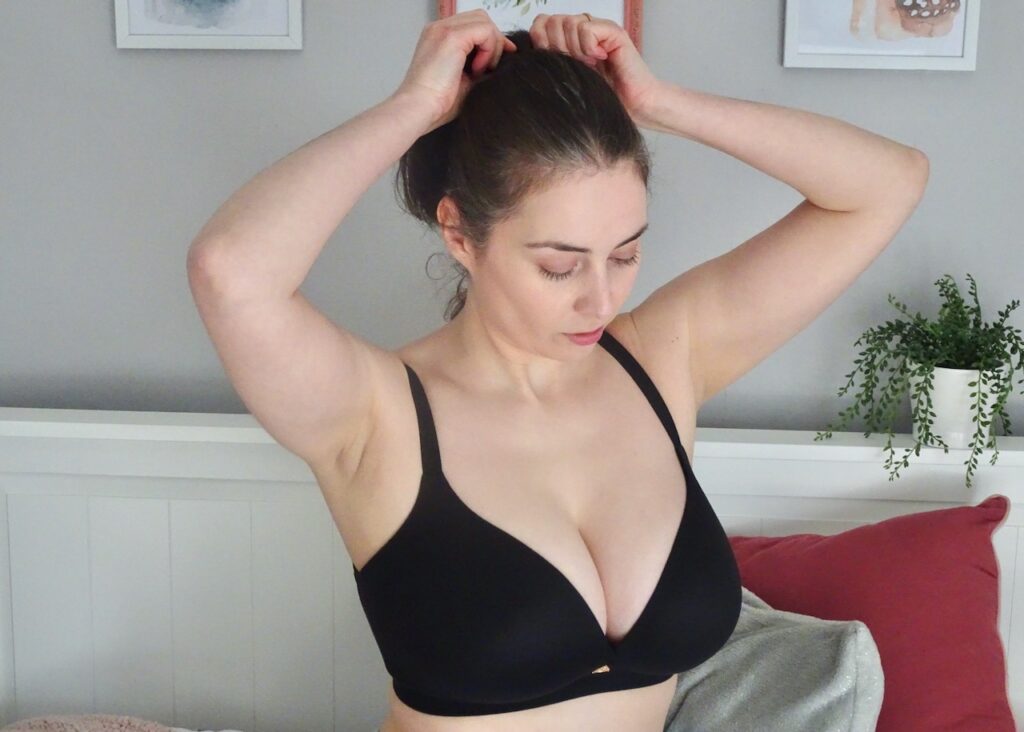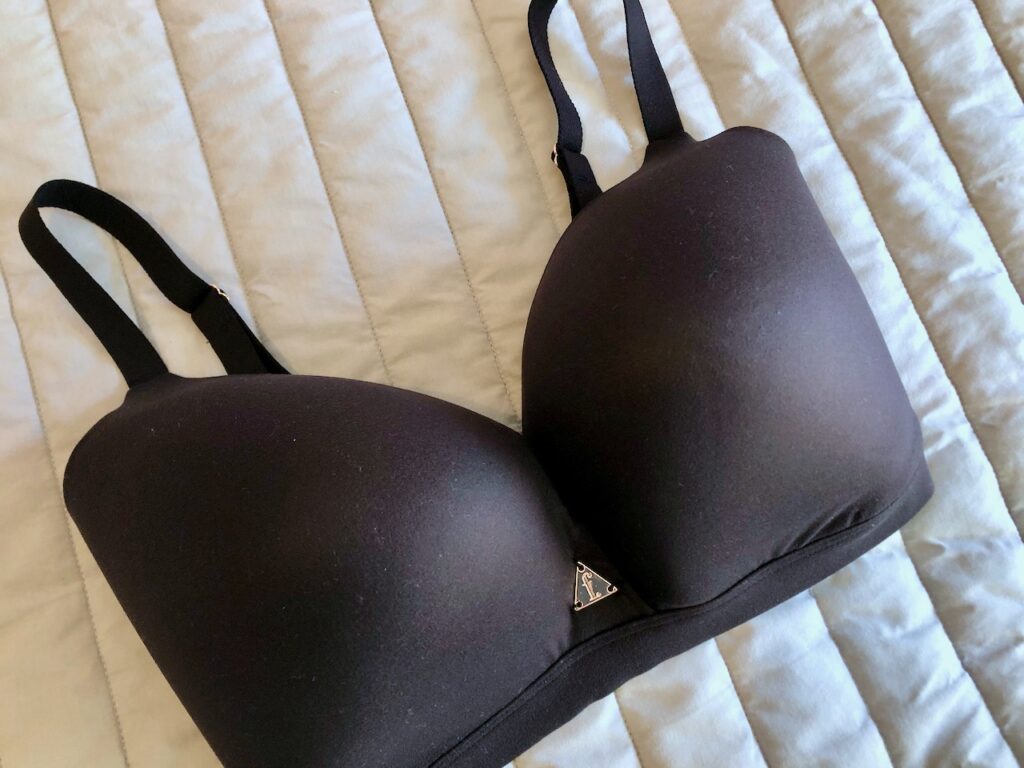 5. The 'Freedom' Bra (Wear My Freedom*)
Wear My Freedom is the freshest bra brand on my radar, which you'll see comes as an exciting revelation. If you never thought the words 'comfort bra' and 'cleavage' could go together, you'll be keen to hear about this one.
The Freedom bra is here for the days you want to feel your best without compromising comfort. Equally a fab bra for a night out (what's that?) this little number is a wonderful option for working from home or just chilling out.
Far from frumpy, the Freedom bra is a gently moulded cup bra that boasts the fit of a push up bra but without the underwiring. Super light and with a cotton soft feel, this is one gorgeous bra to wear. It's sumptuously shaped in a style that lifts and supports your boobs in a natural fashion but to maximum effect, so if it's a sexy neckline you're after, Freedom has you sorted.
I'm wearing the 30HH here which fits comfortably around the band and looks amazing, but I'd benefit from a cup or two sizes larger to fully contain me.
---
Which style bra would you go for?
---
---